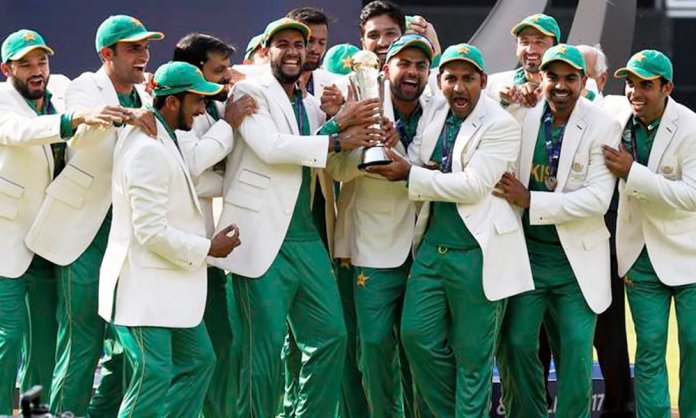 Pakistani batsmen, Ahmad Shahzad has been under constant backlash after his dismal performance in the recently ended ICC Champions Trophy which Pakistan won. The cricketer not only faced criticism from the public but has now been called out on media by a popular political talk show host, Javed Chaudhry.
He talked about Ahmad Shahzad's performance in the Champions Trophy and accused him to have taken the limelight after Pakistan won the trophy. Chaudhry then compared the cricketer with the ongoing policial situation in the country regarding the JIT case.
Here's what Javed Chaudhry had to say about Shahzad
Javed Chaudhary talking about Ahmed Shahzad & Panama Case… 😂😂😂 pic.twitter.com/rV4WiWUZC5

— Taimoor Zaman (@taimoorze) July 19, 2017
However, the cricketer being defamed, shut down all haters! This is what the 'selfie king' tweeted:
Is this the comedy section of the show?!! Hilarious 😂

Tho I 100% disagree sir..sports n politics shld have no connection #PakistanZindabad https://t.co/mhVW2Mk4OH

— Ahmad Shahzad (@iamAhmadshahzad) July 20, 2017
Ahmed Shahzad was not left to defend himself against the allegations made against him. It was good to see his brothers in green coming out to support him! Many of the Pakistan cricket team have stood up for their colleague!
Here's what the Pakistani Cricket Squad Had to Say on the Statements Passed by Javed Chaudhry
We stand with you @iamAhmadshahzad You have done alot for Pakistan and will do in future.
Please keep #politicsawayfromcricket

— Junaid khan 83 (@JunaidkhanREAL) July 20, 2017
Stop crossing the limits and do ur respective jobs #keep support cricket # Pakistan zindabad

— Imad Wasim (@simadwasim) July 20, 2017
I agree with you Ahmad bhai. Politics should be kept out of cricket. Keep supporting sports in Pakistan #PakistanZindabad

— Hasan Ali (@RealHa55an) July 20, 2017
Very true Ahmad bhai we shouldn't bring politics into cricket. Back our Sports #PakistanZindabad

— Shadab Khan (@76Shadabkhan) July 20, 2017
Cricket is only charm left in our country for people,so connecting sports with politics isn't really a good idea,or disgracing any player

— Ali Waqas (@AliWaqas235) July 20, 2017
However, looks like a fellow journalist was there to support his colleague Javed Chaudhry.
May b wrong comparison but 100% agreed what he said about @iamAhmadshahzad

— Salman Mirza (@SalmanMrza) July 20, 2017
Have anything to add to the story? Let us know in the comments below.
Stay tuned to Brandsynario for latest news and updates.