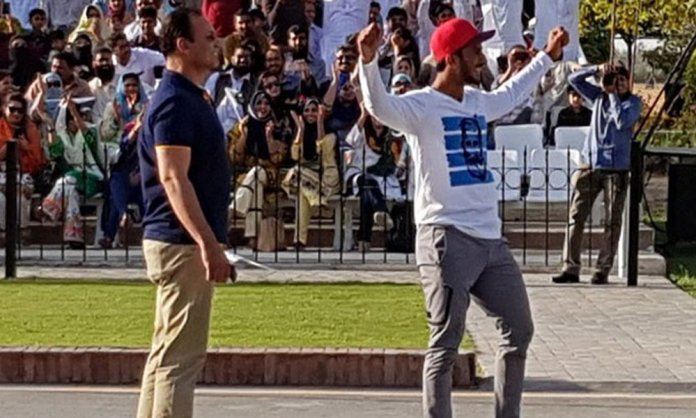 We all love Hassan Ali for his performance on the field, however, this time around, the young Pakistani fast bowler is under fire for a stunt he pulled at Wagah Border which has ignited fumes within the Indian Army.
Ali walked up to the gate during the ceremony and displayed his signature move, which he usually does after taking wickets.
Pakistan Test team visit Wagah border for the flag lowering ceremony pic.twitter.com/Nj7WqHLNAE

— PCB Official (@TheRealPCB) April 21, 2018
Pakistan Test team visit Wagah border for the flag lowering ceremony pic.twitter.com/nxhYWtknpr

— PCB Official (@TheRealPCB) April 21, 2018
Despite getting a cheerful response from his supporters on his side of the border, the other side felt like someone had punched them in the gut.
However, many Pakistanis have also spoken against his action saying it was a childish thing to do for someone like Hassan Ali at Wagah Border where countries and the army is involved.
Social Media Reaction to Hassan Ali at Wagah Border
Pakistani cricketer Hasan Ali's latest stunt at Wagah-Attari border just reiterates that this beating retreat is hateful and should be done away with. India and Pakistan have enough jingoism as it is. pic.twitter.com/XVTLvO3LR2

— Naila Inayat (@nailainayat) April 22, 2018
Hassan ali Liberals ki nazron sey aab uttar gaya.

— M.Munir (@92MAK) April 23, 2018
Oh plzzz if you don't know the reason thn keep ur mouth shut .Last time an Indian Comedian came at wagah he trolled Sarfraz by sung a song tht time no one objected nd Now Hassan Ali Did his special celebration nd now indian media is crying , That's y I m saying ths

— its Nisha Not Esha (@_NiSha_N_) April 23, 2018
Sports style should not demonstrate on the borders. In my personal views, Hassan Ali should not have done that in this sensitive area. What if Virat Kohli or Rohit Sharma does that against us on the same border? Let's remain the cricket as sports instead of war.

— Salaar Sulaman (@salaarsulaman) April 23, 2018
To Hassan ali bhi sirf crowd ko entertain krny aya tha , na ky india sy nfrat show krny
us ky act ko positvie sense m lo aap log💆‍♂️💆‍♂️

— چوئی بین (@AREMUS6464) April 23, 2018
If u people remember moka moka at wahga border from indian side then u should not criticise hassan ali …being Pakistani am happy i support hassan ali…indians can do whatever they want and we can't?

— Tehmina Misbah (@MisbahTehmina) April 23, 2018
1/3
FOR INSULT & CRIMINAL PROVOCATION OF CRICKETER HASSAN ALI
AT WAGA BORDER TOWARDS INDIAN CRICKET LOVING PEOPLE
& ITS IRRESPONSIBLE SUPPORT BY CPT. SRFRAZ MUST BE PUNISHED.

1. BLACK OUT HASSAN ALI & CPT. SRFRAZ FROM INTERNATIONAL & CRICKET, PAKISTAN

— iftikhar ahmed (@iftikhar4814) April 23, 2018
2/3
PEOPLE OF PAKISTAN>

SEARCH YOUR "ISLAMIC-CULTURE"& LEARN TO RESPECT YOUR
NEIGHBORS/COUNTRIES

CRICKETER "HASAN ALI HAS SHOWED DOG-LIKE BARKING & "INDECENCY" FOR INDIA AT WAGA-BORDER

SUCH HARAMI-HARAMZADAS MUST BE JAILED FOR INDECENT ACTS TO
INFLAME HOSTILITIES IN KASHMIR https://t.co/VLqavTgwrL

— iftikhar ahmed (@iftikhar4814) April 23, 2018
3/3
NOT ROWDY CRICKETER HASSAN ALI & TERRORISTS MUST DAMAGE
PAKISTAN,S RELATIONS WITH INDIAN PEOPLE

ON ONE HAND YOU WANT TO PLAY CRICKET WITH INDIA & ON THE OTHER HAND YOU INSULT CRICKET-LOVING INDIA WITH YOUR
GOONDA PROVOCATION.

CPT. SRFRAZ SUPPORTED HASSAN ALI< CRIMINALLY

— iftikhar ahmed (@iftikhar4814) April 23, 2018
Hassan Ali can only do this behind the line, because once he crosses the line, it will be a no-ball and there will be a "free-hit".

— Julius N W Singh (@i_msahil555) April 23, 2018
Has the army weakened that now they are planting the players? #HassanAli #Afridi Nincompoops! https://t.co/TYcVLUPWwv

— Siddharrth Jain (@TweepleLeaf) April 23, 2018
Fakhar Zaman instead of Sami Aslam and Rabat ali instead of Hassan Ali. This is my team. Fakhar Zaman will help to add some valuable quick runs in tough batting conditions.

— shoaib ahmad khan (@shoaibahmadkha2) April 23, 2018
Phle Sarfaraz Ka Moqa Moqa
Then Afridi Ka Kashmir ko Support
Ab Hassan Ali Ki Celebration Ne Tu Aag Laga Di ❤❤ pic.twitter.com/Q4RA4mxfBx

— YashfeenAli (@YashfeenAli1) April 23, 2018
Parade at wagha border is for entertainment of the crowd of both sides if Hassan Ali did his celebration to cheer up the crowd whats the big deal, why cant the crybabies across the border digest it.

— The Joker (@jokerforever00) April 23, 2018
Watch Full Video Below!
https://youtu.be/xmWEpNBQSno
Should Hassan Ali have done this stunt a sportsman? What do you think?
Stay tuned to Brandsynario for more news and updates.
Sana Mir Slams Hair Removal Companies for Body Shaming Women!