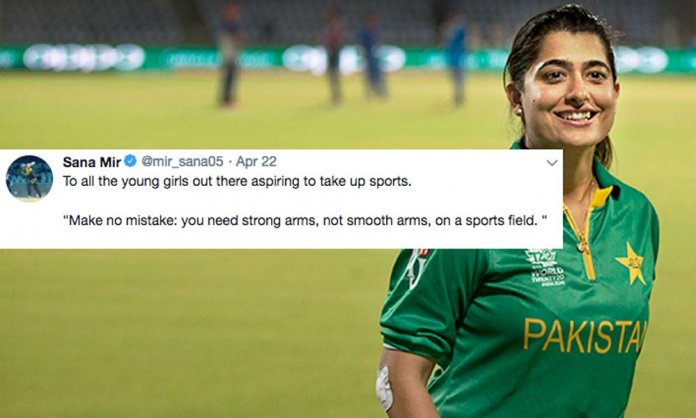 We love it when a Pakistani makes us proud internationally.
We love it even more if the Pakistani belongs to the female gender.
Sana Mir, Former captain of Pakistan's women cricket team, along with five other women who have stood out in their respective fields, have been chosen for the prestigious Asia Game Changers Award by the Asia Society.
Alhamdolillah !

Truly humbled and honoured to be receiving this award alongside amazing world leaders. Super proud to represent my country 🇵🇰 and the sport of cricket🏏 at @AsiaSociety. https://t.co/w8RckaMSQj

— Sana Mir ثناء میر (@mir_sana05) September 11, 2019
"In a country where many women still struggle for basic rights, Mir's success has been a lodestar. Unwilling to simply rest on her laurels, Mir is an outspoken advocate for women's rights, working to change attitudes about women's participation in the traditionally male-dominated sport of cricket — and beyond."

"An avid social media user who is followed by hundreds of thousands, Mir employs her platform to advocate for everything from compulsory cricket programs for schoolgirls to an end to body-shaming advertisement,"
The Asia Society aims to honour game-changing leaders every year from a broad geographic range and a variety of backgrounds. What's even more wonderful about it is that, this year, all of the honorees are women.
The award ceremony will be held in New York City on October 24, 2019.
Here's what a statement from the Asia Society read:
"Asia Society is honouring Sana Mir, recognized as one of the world's greatest cricket players and former captain of Pakistan's national team, who has championed women's participation in this male-dominated sport,"
Here's what Josette Sheeran, Asia Society President and CEO said:
"Our 2019 Asia Game Changers are women who have truly championed gender equality while making enormous contributions to society and social structures within their home countries. They are inspiring agents of change who are building a better world — for women and for everyone — by changing the rules, changing the game, and challenging all of us to follow their lead."
Not only has Sana Mir been an excellent captain to the Pakistan Women's Cricket Team, but she also plays a major role in building women and their self esteems on social media by encouraging them to be themselves and fulfill their dreams.
We wish her all the best and hope she continues to make us proud.
Have anything to add to the story? Let us know in the comments!
Stay tuned to Brandsynario for more news and updates.