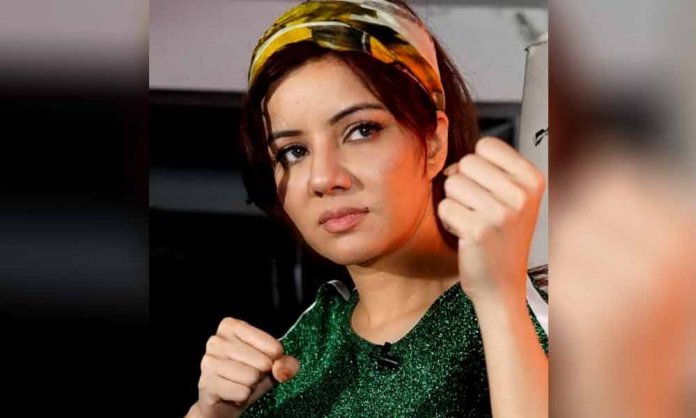 Rabi Pirzada might have been a popular face a few years back in Pakistan's entertainment industry. However, her stardom now appears to be fading and the singer-turned-actress is vying hard to stay in the limelight.
Time and again, her controversial statements have sparked an uproar on social media. She has fearlessly exchanged barbs with stars like Armeena Rana Khan and Meera. And her Twitter rants seem to be never-ending.
Aamir Liaquat & Second Wife Exchange Romantic Notes on Twitter!
Yet again, she has made it to the news and this time, the reason is the worst of all!
Apparently, the songstress tweeted a contentious post about sacrificing one's life in the name of love. The picture shows Rabi lying in blood with her wrist slashed as if she has committed suicide.
If this was not enough, the star has also posed herself to be stabbed in the stomach, making us wonder what her social media stunt is really about!
Clearly, Rabi is up to no good!
Goodbyes are only for those who love with their eyes. Because for those who love with heart and soul there is no such thing as separation. Admin #death #kiahaitujo #rabipirzada pic.twitter.com/kNWKuYMDcZ

— Rabi Pirzada (@Rabipirzada) October 16, 2018
The post has caught the attention of various celebrities who are now showing no mercy towards Rabi.
The supermodel turned actress Zainab Qayoom slammed the singer for glorifying suicide.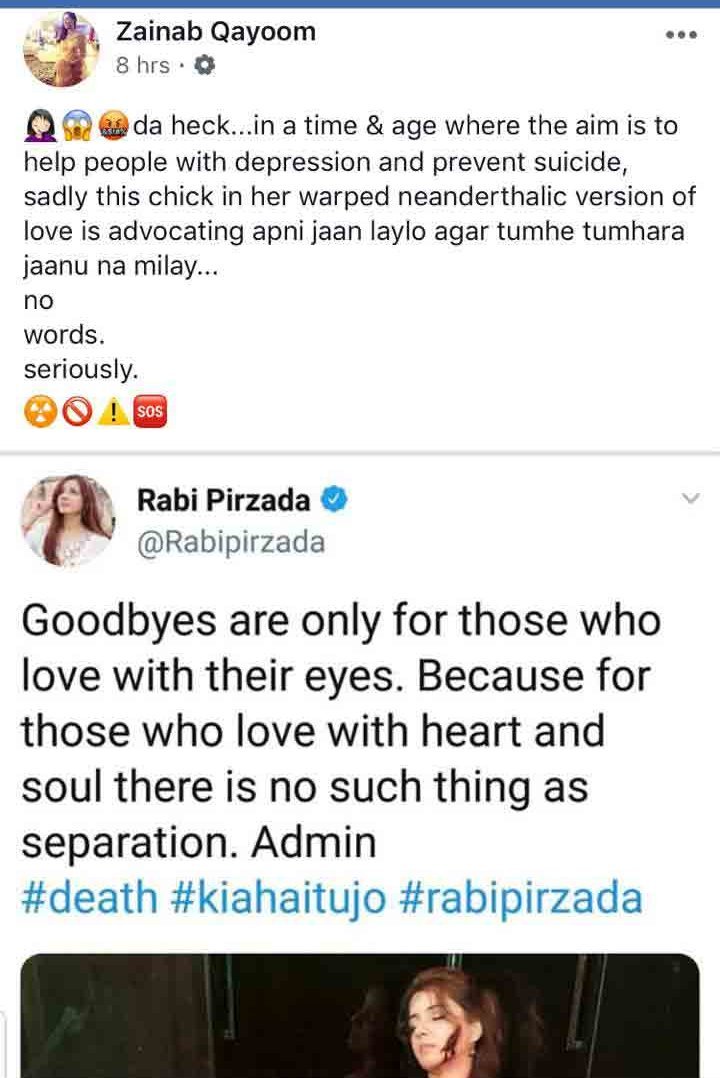 Aamir Liaquat's wife, Tuba too joined the bandwagon and schooled Rabi like a boss! 
I think you have a serious attention seeking problem. What a horrible way to depict whatever you are trying. Misleading and disgusting. People look up to personalities and here you are, promoting self harm and suicide by this. https://t.co/J00s7ZTvQq

— SYEDA TUBA ANWAR (@TubaAtweets) October 17, 2018
Twitterverse too is outraged at her careless post!
So immature of you! At least be careful of ehat you share because there are so many people looking up to you as a celebrity and an inspiration, the vulnerability of some might push them further to do it actually what you hav just acted and glorified just for the sake of publicity

— Anisa Saba Abbasi (@Anisahsabah20) October 17, 2018
DELETE this ignorant/horrid tweet & apologize. You idiotic celebrities sensationalize everything! Everything is entertainment. Get off Twitter & take some 'responsible use of SM' classes.

— Meher Khan (@ArtByMeher) October 16, 2018
People are urging her to take down the tweet!
Seconded. Please take down this post, we need to take mental and emotional health more seriously as a nation. At risk individuals may see this and feel motivated to do the same. Please delete it.

— Pax Femina (@PaxFemina) October 17, 2018
With depression cases on the rise, such messages should be highly avoided.
Dear @Rabipirzada
This picture is highly inappropriate. There is already an exponential rise in #depression & #suicide attempts in our society. If you are suffering from depression please get help. If this is just a drama you are creating then ..still get help#DepressionIsReal https://t.co/blislNlbzE

— BintePasha (@Solitary_Walk) October 17, 2018
Following the backlash, Rabia responded that the picture is a not a suicide scene but that of a murder.
This isnt a scene of suicide… its murder… n things like that do happen in our society… wait n watch what's coming up…

— Rabi Pirzada (@Rabipirzada) October 17, 2018
We wonder what was the need for tweeting such a sensitive image in the first place.
What do you think of Rabia's tweet? Let us know in the comments below.