Pakistani celebrities have all spoken up against the tragedy at Minar-e-Pakistan. They collectively condemn the incident, the regressive state of the society and pressurise the government to wake up. Here's all about who said what:
Nauman Ijaz
Nauman Ijaz, the veteran actor, made a video in which he expresses his thoughts. He shares how hurt, embarrassed and ashamed he is of what has happened. He beseeches the Prime Minister to take strict action against all the 400 in the mob.
View this post on Instagram
Mahira Khan
Mahira Khan has always been vocal in such cases and this time was no different. She put out a tweet that was sarcastic in nature. Mahira Khan is indirectly condemning all those who blame the woman, not the man. Not the 400 men.
Damn I'm sorry.. I keep forgetting – it was Her fault!! Poor 400 men.. they couldn't help it. #MinarePakistan

— Mahira Khan (@TheMahiraKhan) August 17, 2021
Jibran Nasir
Nasir's tweet also spoke volumes. The politician had some hard truths to say as he condemned the tragedy of Minar-e-Pakistan. Read his tweet here and reflect on it, everyone should read it.
They didn't care for sanctity of another person's body, they didn't care about sanctity of #MinarePakistan, they didn't care about sanctity of #Muharram and they didn't care that stripping a women carries the death penalty. Laws alone can't fix our moral and social degenaration.

— M. Jibran Nasir 🇵🇸 (@MJibranNasir) August 17, 2021
Farhan Saeed
Farhan Saeed had many things to say about the tragedy at Minar-e-Pakistan also. However, what really stood out was when he said he is ashamed to be a man today. He expressed that he was also ashamed of this country for letting the law always let them go.
Disgusted , Furious , Heartbroken , Ashamed !
Ashamed of being a man today , ashamed that the men of this country keep doing these horrible acts every other day, ashamed that the law of my country does not hang these predators so that this doesn't happen again #MinarePakistan

— Farhan Saeed (@farhan_saeed) August 17, 2021
Ayeza Khan
Although Ayeza Khan has played problematic roles in dramas that indirectly disadvantage women, she also had something to say. She reminds people that Allah's azaab came on those nations who did terrible things and never corrected their actions.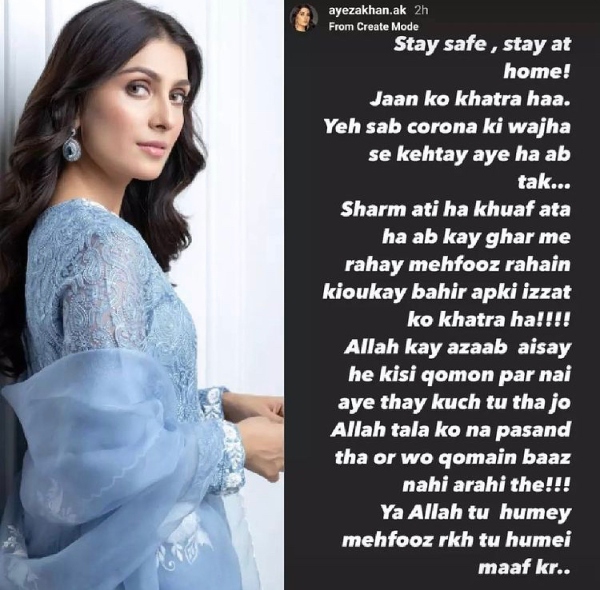 Sajal Aly
Aly also took to her stories to express her horror over the events on 14th August. She expressed how the incident has left her traumatised and hopeless for the future of the country.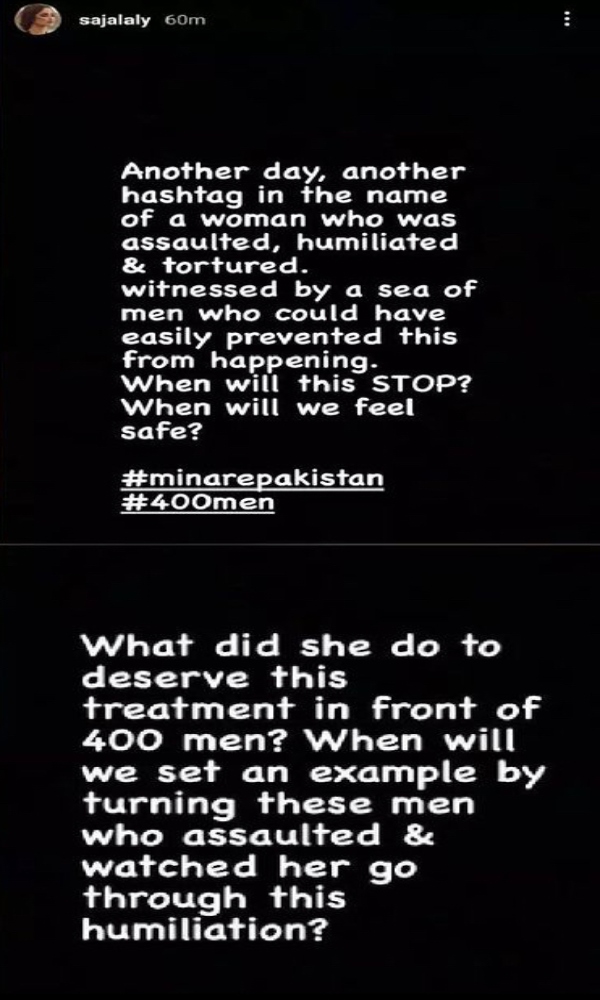 Minal Khan
Minal Khan was also horrified and shocked at what has happened. She reminded her followers of what happened during Karbala also and why that should resonate with us today. Being a mother of a daughter herself, we can imagine how terrified she must be.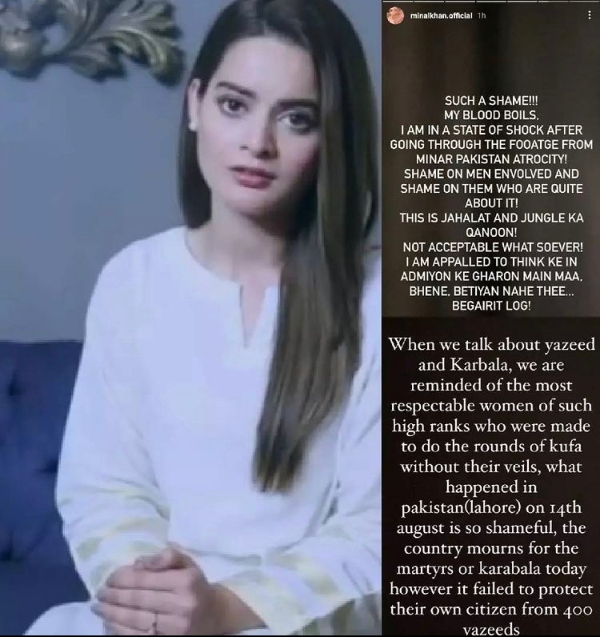 Shehzad Roy
Roy is a humanitarian through and through and has done so much for Pakistan in terms of corporal punishments for children. He also made an in-depth video in which he laments the state of the society. His video is titled "aakhir wo hogaya jiska dar tha" and that simple sentence gives us goosebumps because it is true.
Aaj wohi huwa jis ka dar tha #minarepakistan pic.twitter.com/lWycrHAmmf

— Shehzad Roy (@ShehzadRoy) August 18, 2021
Stay tuned to Brandsynario for the latest news and updates.