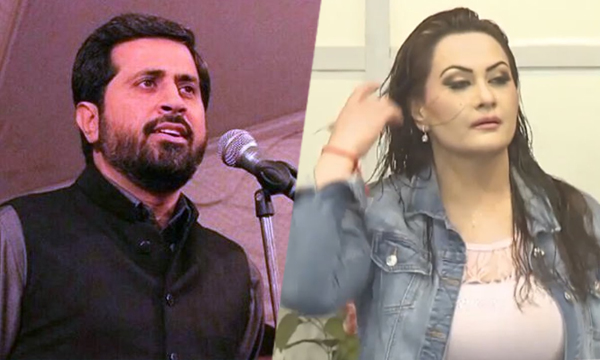 Earlier this week, newly-appointed Punjab Information Minister Fayyaz Ul Hassan Chohan created an uproar when he passed obscene remarks about Pakistani female artists and private news channels.
At a mixed gathering in Lahore, the minister was heard saying that he would have transformed one of the famous actresses Nargis to Haji Nargis.
He said: 
If I had the authority, I would have made Nargis offer Hajj and Megha keep as much as 300 fasts a year.
As soon as the actress heard the remarks through local news channels, she took no time to slam the minister and said that she has quit the entertainment industry and leading an ideal life at her home.
She said:
 whoever this minister is, I have heard his statement and I would only like to tell him that you are on a responsible post. Choose your words rightly. Such words are not used for any woman sitting back at home.

Neither I discuss anyone nor I want any person to discuss me.
She further threatened the minister for legal action over his unacceptable remarks: 
Minister sahib, every individual has respect; be careful next time or else every respectable person reserves the right to take a legal action.
As soon as he got to know her reply, Fayyazul Hassan Chohan Chohan apologized through certain news channels, a clip of which was widely shared on social media as well. 
So while speaking with regard to that a word slipped my tongue about Nargis sahiba and a TV channel hyped it too much.

I apologise to Nargis sahiba from the core of my heart. She is a very respectable person, a star of Pakistan film industry and a [cultural] ambassador of Pakistan.
He also apologized to a few private news channels and said that he would be careful next time. 
I also apologise to the owners and employees of Kohinoor and Royal news channels. God willing, next time caution would be exercised with regard to all these things.
What do you think about Fayyaz Ul Hassan Chohan's remarks? Let us know in the comments section below.
Originally published on Veryfilmi.com
Contributed by: Hira Ahmed