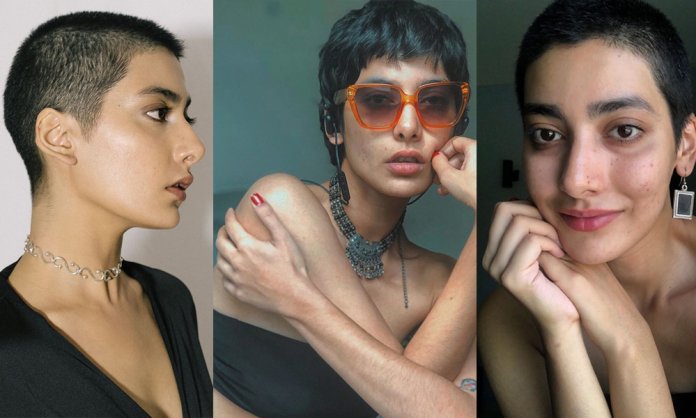 The world of fashion is equal to a storm; it's a whirlwind of endless fluctuations and innovation.
It is a race in which change and development is key. Nonetheless, the most evolved ideas that come to be fierce symbols have a rich history, as is the case with Pakistani models sporting a shaved head.
It's no surprise that what was once a lice-prevention technique opted by wealthy women in ancient Egypt is presently a symbol of a modern woman who's empowered. Moreover, shaved heads are still commonly correlated with ailments.
Not very long ago, a gorgeous model and preaching feminist Eman Suleman was seen chopping off her long locks for a sleeker, bolder look, slipping out of her oft-observed, conventional avatar into something that seems to echo with her personality on social media – unapologetic, rebellious and fierce.
Eman Suleman is recognized for her witty Instagram descriptions and her impeccable fashion choices. She's just your every day relatable go-to gal who loves commencing for social spurs such as the Aurat March and the Haqooq-e-Khalq Movement.
Her bald look was a fresh breath of air in our narrow-minded society that still deems women with long hair fit.
Suleman broke all stereotypes and when she shaved her head and unfolded as the woman to look up to in our fashion industry.
Have a look at the response of people when Suleman shared her newest look. 
LOOK AT YOUR EARS, YOU BEAUTIFUL LITTLE PIXIE

— Hira Mannan (@themewlyweds) August 23, 2019
I LOVE THIS! 🌻 SO BADASS

— Javaria (@JavariaWaseem) August 23, 2019
Bloody iconic!

— Boss Lady (@McPr0zac) August 23, 2019
Anne Hathaway from Les miserables vibes

— FHK, MD (@drfudk) August 23, 2019
There were many tweets that lauded Suleman on her new look and apart from Twitter users there were several celebs who admired her new avatar.
From Meesha Shafi to makeup artist Tariq Amin, model Rehmat Ajmal, Cybil Chaudhry, Zara Peerzada, Saheefa Jabbar Khattak, and Adnan Malik praised Eman as she looked like a perfect Milli Bobbi Brown – the character Eleven, from Netflix's hit series "Stranger Things," who slayed the look of a badass bald female in the show.
Apart from being the superwoman, Suleman looked marvelous at her wedding as she donned in a red and ivory angrakha by Zara Shahjahan.
The model clearly doesn't shy away while haunting her look and we can only wish to be as bold and confident as her. Maybe in an alternate universe, we even are!
Basically, you go girl!