A few weeks back, the Government of the United Kingdom announced the emergence of a new variant of the Corona Virus which was a cause behind the number of cases increasing rapidly. The announcement of this mutation alarmed countries all around the world to take strict measures to prevent the spread of this new mutant of the already disruptive and deadly Covid-19.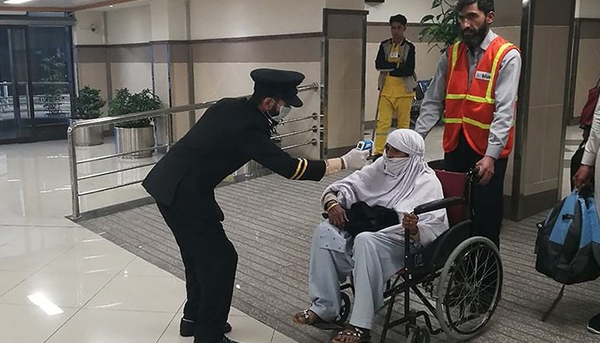 Emergence Of The New Strain In Pakistan
The new strain of the coronavirus which is referred to as B.1.17 lineage has been detected in three out of six Covid positive travellers that landed to Karachi from the UK.
"The Genotyping showed 95% match of the new variant from the UK. These samples will go through another phase of genotyping" said Meeran Yousuf who is the Sindh Health Department's spokesperson. He also revealed the fact that all three cases were detected at Karachi Airport.
The Sindh Health Department claims to inform about the revelations to the Special Assistant of Prime Minister Of Pakistan, Imran Khan on National Health Services, Dr. Faisal Sultan about the latest updates regarding the existence of this new variant within the Pakistani borders
The provincial health department has also stated that the contract tracing of these patients has been started and the people with whom these patients were under contact with will be isolated as well to prevent the spread of this strain any further.
What Has Been Known About The New Coronavirus Mutant?
According to the announcement by British Government, the health professionals in the UK claim that the variant is said to be up to 70% more transmissible than the virus normally is, making it more infectious than it initially was.
After this news broke, many countries including Pakistan placed travel bans to the UK to prevent the strain from crossing the border of the United Kingdom.
The Civil Aviation Authority (CAA) revised the travel ban policy on Tuesday and allowed Business Visa, Visit Visa and Transit Visa holders with Pakistani Passports to be allowed to return upon showing a negative PCR test which is to be taken 72 hours before they travel back to Pakistan.
The identification of this new variant in patients that arrived in Karachi from the UK is alarming as the Pakistani health system is already exhausted with active Covid 19 cases that have severely affected the lives of Pakistanis, urging the government to revise its policies and take stern measures to enforce social distancing amongst the public to prevent the virus from spreading any further.
Let's hope this alarming situation settles down soon so that the loss of lives and the disruptions caused by it could be prevented and we could go back to our normal lives.
Follow Brandsynario for more news and updates.