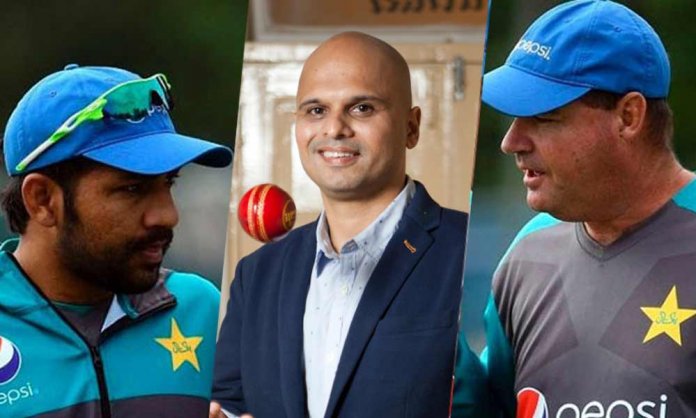 Pakistani cricket enthusiasts are busy discussing Pakistan head coach Mickey Arthur's (who has been working as head coach with the Pakistan team since mid-2016) recommendation to PCB of having Sarfaraz Ahmed step down as Captain of the team.
Reportedly Arthur has suggested that Sarfaraz should be replaced by Shahdab Khan as captain in the limited-over formats while Babar Azam should be given the reins of the Test side.
Here is what Arthur reportedly told the PCB:
"I need two more years with the Pakistan team and then I can deliver remarkable results,"
"I need two more years with the Pakistan team and then I can deliver remarkable results,"

Mickey Arthur reportedly seeks a two-year extension as coach, while recommending Sarfaraz Ahmed to be sacked as captain.https://t.co/r6KeMiWvvR

— Circle of Cricket (@circleofcricket) August 5, 2019
Some are praising Mickey for this recommendation.
Well done micky
Coach Mickey Arthur suggests two players to replace Sarfaraz Ahmed as Pakistan captain | cricket | Hindustan Times https://t.co/ZDytNqAF1H

— Hash zai (@hukyz) August 6, 2019
While others think Mickey is being selfish and political.
@iRashidLatif @shoaib100mph @nouman @wasimakramlive
How selfish can Mickey Arthur be? He has bad mouthed poor Sarfaraz to the PCB just to save his own back. Throw that joker out. Pak performs best with a coach from Pak. Enough of Goras. Love from India

— Dr Raj Prem (@rajprem1) August 6, 2019
Why doesn't the PCB remove this political man? He was discarded by AUS and hired by PAK

"Pakistan coach Mickey Arthur recommends Sarfaraz's removal as captain" https://t.co/SmMVnlyPyp

— azhar khan (@azharkhn4) August 5, 2019
Indian Stand-up Comedian and Cricket Humorist also joined the debate when he took to Twitter to post his comments on the matter.
Mickey Arthur says Sarfraz should go and Babar Azam should be captain and for limited overs it should be Shadab. Don't worry Mickey let him be , Pakistan is used to having many captains in the team.

— Vikram Sathaye (@vikramsathaye) August 6, 2019
What do you think about it? Should Sarfraz Ahmed continue to be Captain?
Let us know in the comments!
Stay tuned to Brandsynario for more updates and news.