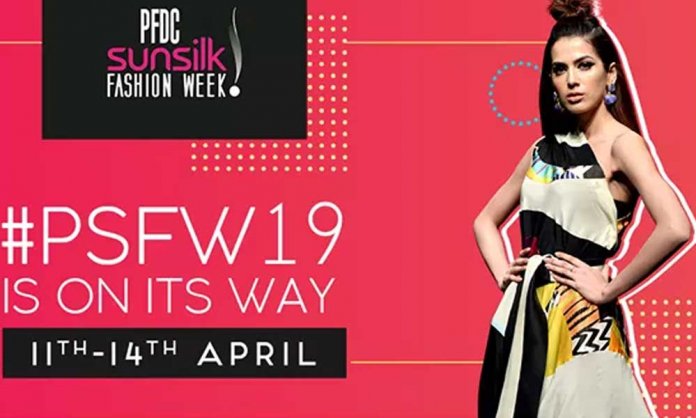 The PFDC Sunsilk Fashion Week celebrates its 12th consecutive fashion week, from the 11th- 13th April 2019.
Being the pioneers in the business of fashion, PFDC, collaborates with Trade Development Authority Pakistan (TDAP), with the first venture, TEXPO exhibition in Lahore.
This is a collaborative effort to not only boost the exports of value-added goods but to promote a softer image of the country.
The PFDC Sunsilk Fashion Week [PSFW'19] as a platform continues to evolve, expanding its reach to welcome some of the most exciting designers and brands; with a packed schedule featuring HSY, The House of Kamiar Rokni, Zaha by Khadija Shah, Zara Shahjahan, Sana Safinaz, Yahsir Waheed, Saira Shakira, Chapter 2, Nomi Ansari, Hussain Rehar, Sania Maskatiya, Republic by Omar Farooq, and Fahad Hussayn in the evening.
The early evening shows will represent high-street, lawn, and debut designers featuring So Kamal, Rici Melion, Zasimo, Sameer Karasu, Almirah, Hana, Khaas, and Sanoor.
To further PFDC's commitment for developing the future generation of designers, PFDC is partnering with leading water brand, Aquafina to mentor "The Rising Talent" segment which focuses on injecting new talent into the industry. The process started with 24 Fashion students and were narrowed down to three students, Zeeshan Mohy-ud-din, Hafsa Mahmood, and Mahnoor Azam to showcase their collections at PSFW'19.
The PFDC is proud to continue their partnership with the global giant Unilever's hair care brand, Sunsilk as their title sponsor and Aquafina as the Blue Carpet and beverage partner.
The Media Partner is HUM TV, the Footwear Partner is Borjan, the Fragrance Partner is J. Fragrances, Transportation Partner is Careem, and the Radio Partner is FM 89. The Associate Sponsors are Lipton, Engine, and Almirah.
The teams that bring PSFW'19 together are Sadia Siddiqui of Mustang Productions as the show director, Talking Point as the PR management agency, Nabila as the hair and makeup stylist, Kamiar Rokni as the spokesperson for PFDC, Production 021 for backstage management, Red Communications for digital support, Rehan Babar as the red carpet host, Maheen Kardar Ali for front stage management, Restart Branding Solutions for branding and logistics, Empact Activation Services for event architecture and safety, AI Solutions for crowd management and live stream, and Faisal Farooqui of Dragonfly as the photographer.