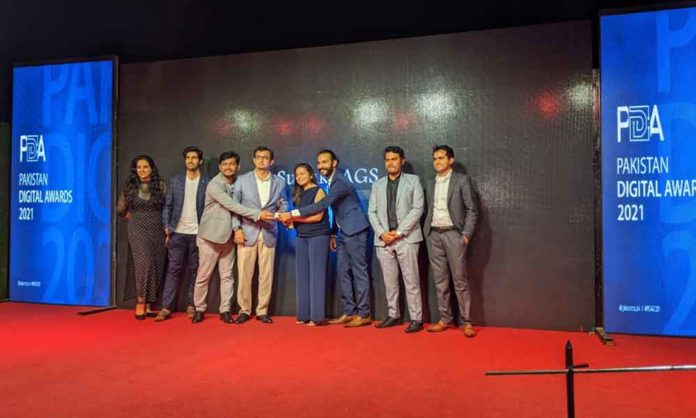 Pakistan Digital Awards are one of the most prestigious awards in the country's digital sphere. Getting even one award is wholesome but there were a few agencies that got not two but three to their names this year. Let's quickly take a look at the lucky agencies, shall we?
1. Synite Digital
Synite Digital bagged three awards in the award proceedings this year.
In the category of 'Best Short-Form Web Video', Synite took the award for their works on the Suzuki AGS brand.
The Best Social Media Campaign on Facebook was for Diners Winter Collection by Al Baraka Apparel.
Synite also won the award for 'Best Social Media Campaign' on the platform of Twitter for Pakistan Stock Exchange Limited.
2. BDigital
BDigital, a subsidiary of Blitz Advertising, also bagged three awards:
The best Social Media Campaign on TikTok was for Sarsabz (Fatima Fertilizers). The brand was Salam Kissan.
@asadrayofficial

Win an iphone 12 -Make a Tiktok on this song & use hashtag #Salamkissan to pay tribute to Farmers of Pakistan! Celebrating kissan Day On 18 th Dec
BDigital won the award for 'Best Digital Videos Creator' for the work on Hello! Mira Sethi, a brand of Golden Pearl Cosmetics.
The agency also conducted a campaign for Jazz and McDonald's which Pakistan Digital Awards 2021 termed as the 'Best Digital Campaign'.
3. WaveMaker
WaveMaker was also in the league of three award winners.
The first category for the award was Best Integrated Media strategy. Nestlé Pakistan Ltd's Cerelac – Nature's Selection was the brand.
For the same brand (Nestle Cerelac), they won another award for the Best Social Media Campaign on the Snapchat platform.
The third award was in the category of Best Use of Creativity/Innovation. Once again the organization was Nestle Pakistan Ltd. But the brand this time was Nido 1+ Tripple protection.
There were some other agencies that deserve honorary mention as well. Winning two PDA were Bulls Eye, Brandcom Pakistan, Z2C, and Prestige Communications. Be it multiple award winners or singular, we congratulate every single one of the brands and the agencies. Let's hope they continue with the winning streak the next year as well.
Stay tuned to Brandsynario for the latest news and updates!