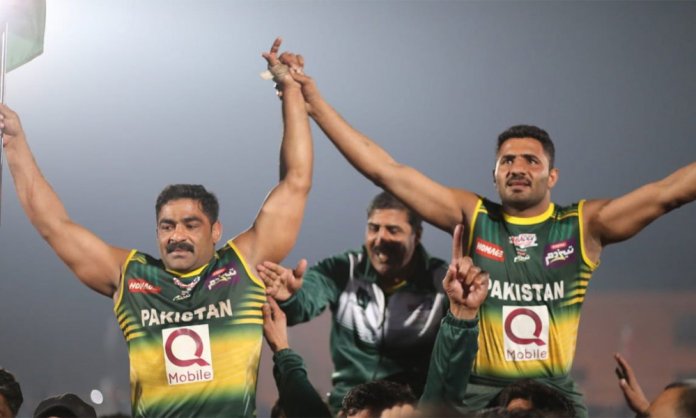 On Sunday 16 February 2020, Pakistan created history when they defeated India by 43-41 in final of Kabaddi World Cup 2020 at the Punjab Stadium in Lahore. Not only did they defeat India but it was Pakistan's first win ever.
With a jam-packed stadium, millions of online viewers, who knew this sport would be so popular among the masses? The epic win absolutely surprised the nation and well, our neighbors too.
Captain Muhammad Irfan aka Manna Jutt and Shafiq Chishti were the star performers of the final match
The award ceremony
The organizers had kept a handsome amount as the prize money for this nine-nation event. At the finals of WC Kabbadi 2020, Governor Punjab Chaudhry Mohammad Sarwar arrived as the chief guest for the final.
He later distributed the trophies, medals and awards to the leading teams and players. Team Pakistan was awarded over Rs. 10 million, while the runners up India, was awarded Rs. 7.5 million and Iran, who outclassed Australia in the third-place match, received Rs. 5 million.
The Pakistan Kabbaddi team was praised by many known Pakistani personalities including PM Imran Khan, boxer Amir Khan, Sayed Z. Bukhari and many more!
Congratulations to the Pakistan Kabbadi team for winning the Kabbadi World Cup after defeating India.

— Imran Khan (@ImranKhanPTI) February 17, 2020
Boxer Amir Khan sure enjoyed the win!
Respect to Pakistan Kabbadi team for winning their first ever World Cup and congratulations to everyone who was involved in making #KabaddiWC2020 happen in Pakistan. And the nail bitting final was just perfect. Mubarak everyone 🇵🇰🏆 @FlaminkoInc @AmeemHaq pic.twitter.com/NGCS8fcrL2

— Amir Khan (@amirkingkhan) February 16, 2020
Sayed Z. Bukhari was overjoyed with Pakistan's victory!
Green flies high 🇵🇰
Shabash team Pakistan
on a smashing victory in the finals!
🇵🇰 = 43
🇮🇳 = 41
#KabaddiWC2020 pic.twitter.com/kmc7nkCwYi

— Sayed Z Bukhari (@sayedzbukhari) February 16, 2020
Ali Khan was caught by surprise as to how popular this sport actually was! It was a BIG DEAL!
Completely blown away by the Kabbadi World Cup! What an event! Jam packed stadium, millions of online viewers. I knew it was popular, but not this popular! Wow. Hats off to the organisers, players and support staff. 👏🏼👏🏼👏🏼

— Ali Khan Tareen (@aliktareen) February 17, 2020
Moreover, Pakistan's win in Kabaddi World Cup has surely made the nation proud!
For latest news and updates, stay tuned to Brandsynario!