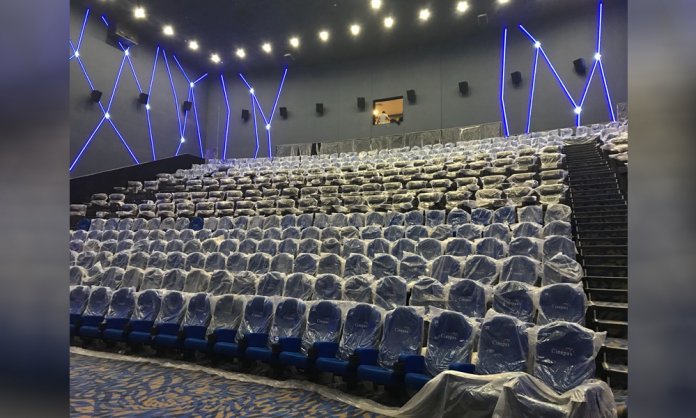 I went, I saw and I fell in love with the C Max theatre of Cinepax Cinema in Lahore's Packages Mall.
The screen is undoubtedly the largest in the region (read Asia) and is even bigger than the iMax in the same city.
What makes C Max a must watch place for cinegoers is the fact that it will be an out of the continent experience if not the world because there is simply no screen bigger than this!
Cinepax Cinemas was the second best thing to happen in Karachi after the arrival of Atrium Cinemas and before the advent of Nueplex Cinemas.
They are on the verge to become the first Cinema operators in the country to have 100 screens in the country when others don't even have a dozen!
It was unfortunate that they lost 1 screen in Karachi (at Ayesha Manzil) but since good things come to those who wait … their wait seems to be over and out.
So what makes Cinepax Cinemas' latest venture the best thing to happen this year?
It is going to be the biggest Cinema in the country not just in terms of size but also in terms of halls. It will open with 3 useable halls at first but will eventually house as many as 10 screens which are more than the 9 in Emporium.
It is 80 feet wide and four stories tall, making it the biggest cinema in Pakistan.
Also, since Packages Mall is the latest 'wow' mall in the country, people will throng to watch films here and it is likely to give tough time to Nueplex, Centaurus and Atrium mall, the most profitable cinemas in the country.
There was a time when single screen cinemas ruled the cinema circuit but no it's all about choices – these multiplexes give you many options to select films from and that seems to be the way forward.
The comfortable seats, the gigantic C Max screen, the huge snack counter and the impressive decor is what will make people fall in love with the Packages Mall Cinemas, just like this cinema lover from Karachi.
Cinepax opening tomorrow at Packages mall, Lahore.