On Thursday, the Pakistan Cricket Board (PCB) released the rates for the three-match ODI series between Pakistan and New Zealand beginning on January 9.
Ticket Information:
Tickets for the three Pakistan vs. New Zealand One-Day Internationals at the National Bank Cricket Arena are now on sale online at www.pcb.bookme.pk, according to PCB.
Easypaisa, Jazz Cash, credit or debit cards, bank transfers, and other payment options are available to fans for ticket purchases.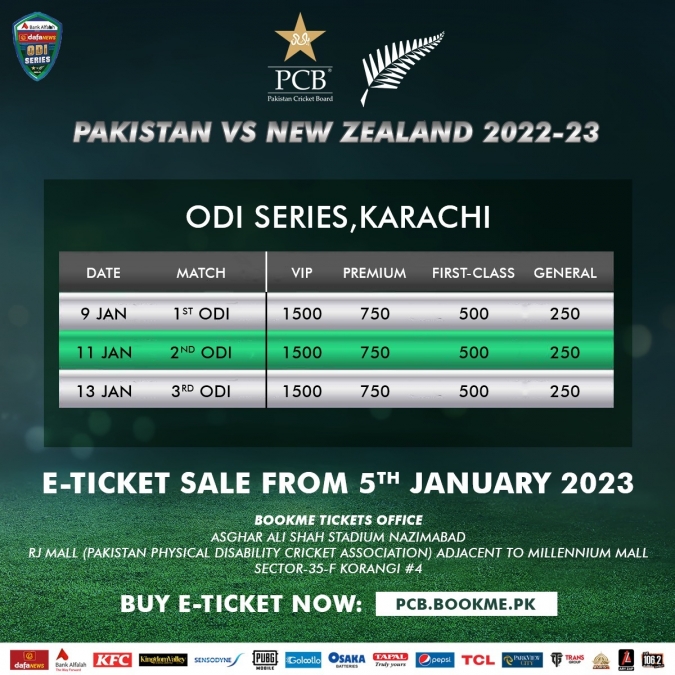 General enclosures:
PKR 250 (Nasim-ul-Ghani, Iqbal Qasim, Mohammad Brothers, Intikhab Alam and Wasim Bari).
Asif Iqbal, Waqar Hasan, and Majid Khan pay PKR500 for first-class, and PKR750 for premium (Imran Khan, Quaid, Wasim Akram and Zaheer Abbas).
VIP:
PKR 1500 (Hanif Mohammad, Javed Miandad and Fazal Mahmood).
Asghar Ali Shah Stadium is where e-ticket sales are being conducted.
From January 4 to 8, the Asghar Ali Shah Stadium in Nazimabad, RJ Mall (home of the Pakistan Physical Disability Cricket Association), and Sector-35-F Korangi number four will serve as e-ticket offices.
On the days of the matches, the tickets will also be available at the China Ground and Gareeb Nawaz parking lots, according to the PCB.
Important Information:
Please provide your current ID card or B-Form number when purchasing tickets online and display it to the Bookme staff upon entering the stadium. Fans can use their smartphones to scan the barcode on their digital or PDF tickets before entering.
Entry into the venue on a match day will only be permitted with an ID card or B-Form used to purchase the ticket; E tickets are not permitted.
It is against the law to carry any weapons inside the stadium, including real or toy guns, explosives, firecrackers, cigarettes, matches, lighters, and knives.
No food, beverages, or glass or plastic bottles are permitted.
In the stadium, only the flags of Pakistan and New Zealand are permitted.
The terms and conditions set forth by the organisers, which are available at www.bookme.pk, apply to the issuance of tickets at particular venues.
Every individual, including children 4 years and above, must have their own original ID Card/B-Form & ticket to enter the stadium and while sitting inside the enclosure during the match.
Stay tuned to Brandsynario for the latest news and updates.