Pakistan on Wednesday confirmed the first two deaths from the coronavirus outbreak in the country. Both deaths were reported in the northwestern Khyber Pakhtunkhwa (KP) province, one in its capital Peshawar and the other in the Mardan district.
Furthermore, the global death toll hit 10,000 and jobless numbers soared due to the novel virus. There has been a partial lockdown in Pakistan in order to avoid any further close contact which is why the poor are suffering from lack of money and wages.
There are NGOs that are striving to gather enough cash and goods for the poor so they can feed their family.
1. Robin Hood Army has partnered with Orange Tree that seems to be set up with a Dubai bank for donations with IBAN codes. This collaboration can bring funds internationally as well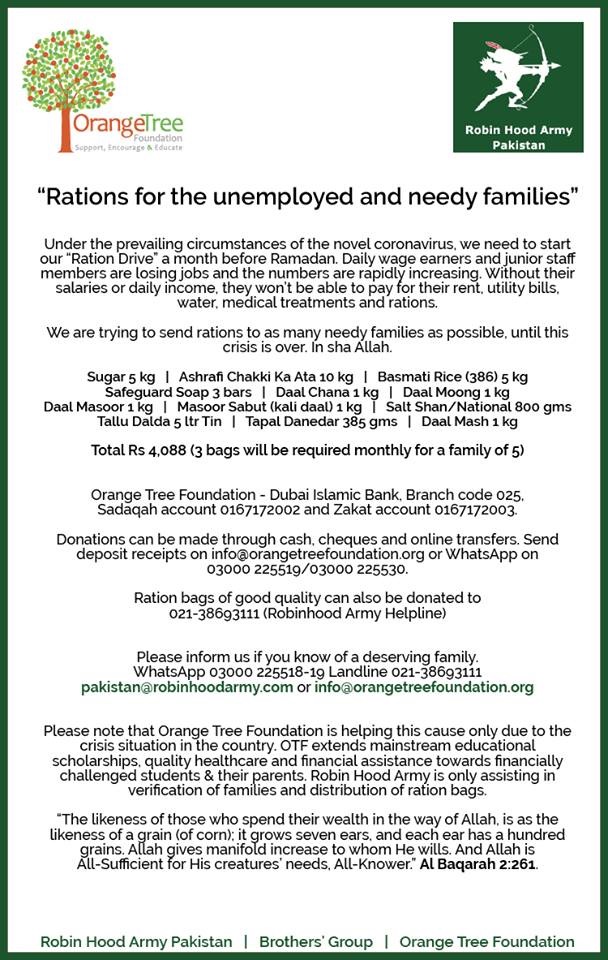 2. Another foundation with the name of Salman Sufi is doing a great initiative where they're offering basic food to the people who are in a dire need of it.
سلمان صوفی فاونڈیشن #StepUp کے تحت
آٹا
گھی
دودھ
لاہور,کراچی,پنڈی میں رعایتی نرخوں پر فراہم کر رہے

نرخ درجذیل:
10 کلو آٹا – 445 روپے (اتحاد مل)
5 پیکٹ صوفی دسترخوان گھی ۔915 روپے
5 پیکٹ صوفی آئل ۔935 روپے Good Milk 15 لیٹر۔ 1575 روپے
Awesome initiative @SalmanSufi7 pic.twitter.com/IjKMFWbGck

— Dr Humma Saeef (@HummaSaif) March 19, 2020
You can contact them at the given number
Important info: @SalmanSufi7 's foundation is now providing discounted ration and supplies to those who may need it in #karachi #lahore #islamabad and #peshawar (so far). You can contact at *3**44*9489 (the * are zeroes cos someone will report my account if i put the full no 🙁

— Zarrar Khuhro (@ZarrarKhuhro) March 19, 2020
3. Furthermore, Saylani Welfare Trust is offering the underprivileged suffering due to the virus the service of Roti Bank where they can acquire cooked food free of cost. It's an excellent initiative from Saylani Welfare
4. Al-Khidmat Foundation also rolled up their sleeves to help the patients of Covid 19 as much as they can while offering their facilities to the Sindh Government. Their hospitals in Thar and Punjab are being used by the government. They're also generating funds for the people suffering from the virus.
It's high time all of us contribute to society in this problematic time.