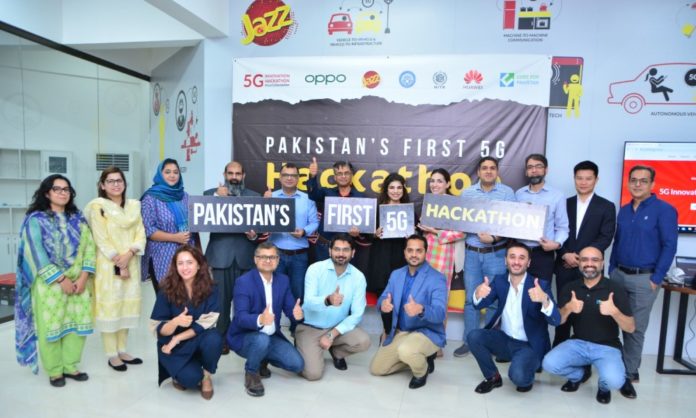 September 27, 2023, LAHORE – OPPO, a global leader renowned for its cutting-edge technology and innovation, is thrilled to announce a groundbreaking partnership with Jazz, Pakistan's leading digital communications company, and the prestigious National University of Sciences and Technology (NUST) 5G Research Lab. This alliance marks a historic moment in Pakistan's technological landscape, solidifying OPPO's commitment to driving innovation and spearheading technological advancements in the country.
This strategic partnership signifies OPPO's unwavering dedication to delivering state-of-the-art devices and pioneering technologies, allowing consumers to embrace the future today. By collaborating with NUST's esteemed 5G Research Lab, OPPO is poised to explore new horizons in the realm of 5G technology, ensuring Pakistan's prominent position in the global technological revolution.
The synergy between OPPO, Jazz, and NUST promises to be transformative, as these entities share a deep commitment to pushing the boundaries of technological excellence. By pooling their resources and expertise, OPPO, Jazz, and NUST aim to accelerate the development and deployment of 5G technology in Pakistan, ushering in an era of unparalleled connectivity and transformative experiences for consumers.
George Long, CEO – OPPO Pakistan, Authorized Exclusive Distributor, expressed enthusiasm about the collaboration, stating "We're excited to partner with NUST's 5G Research Lab, a renowned institution at the forefront of technology. This collaboration aligns perfectly with OPPO's mission to deliver cutting-edge devices and drive tech progress in Pakistan. We anticipate a fruitful partnership that benefits our brand and advances the 5G ecosystem in the region."
Jazz NUST 5G Innovation Lab holds immense promise for shaping the future of telecommunications in Pakistan. With some of the brightest minds and advanced equipment, this institution is poised to pioneer innovative advancements in 5G technology, benefitting Pakistan's citizens. OPPO's collaboration underscores its commitment to being at the forefront of these transformative developments.
Through this partnership, OPPO aims to bolster the research and expertise at NUST's 5G Research Lab to further enhance the capabilities of its devices. This ensures that OPPO smartphones continue to provide users with trailblazing features and seamless connectivity. Additionally, this collaboration will pave the way for the development of 5G use cases with the potential to revolutionize various industries, including healthcare, education, entertainment, and more.
As the collaboration between OPPO and NUST's 5G Research Lab takes shape, the anticipation of what the future holds is nothing short of electrifying. Pakistan stands on the brink of a technological renaissance, and OPPO takes pride in leading this revolution, championing innovation, and bringing the transformative benefits of 5G technology to the masses.