[Update]: Karachi University had conducted online classes for some time due to COVID. But as the fear of covid dwindled, it resumed physical classes. But the third wave has been deadly. The government had to impose lockdown even during eid. This is why universities including KU are being instructed to resume online classes.
Basically, in-person classes are all suspended. All classes will be held online. Modified timing for all university personnel has been announced for both, morning as well as evening, programs.
The notification also says that the exams will be held as per schedule. So, no postponing. However, the authorities will be deciding on the mode of exams after 15th June 2021.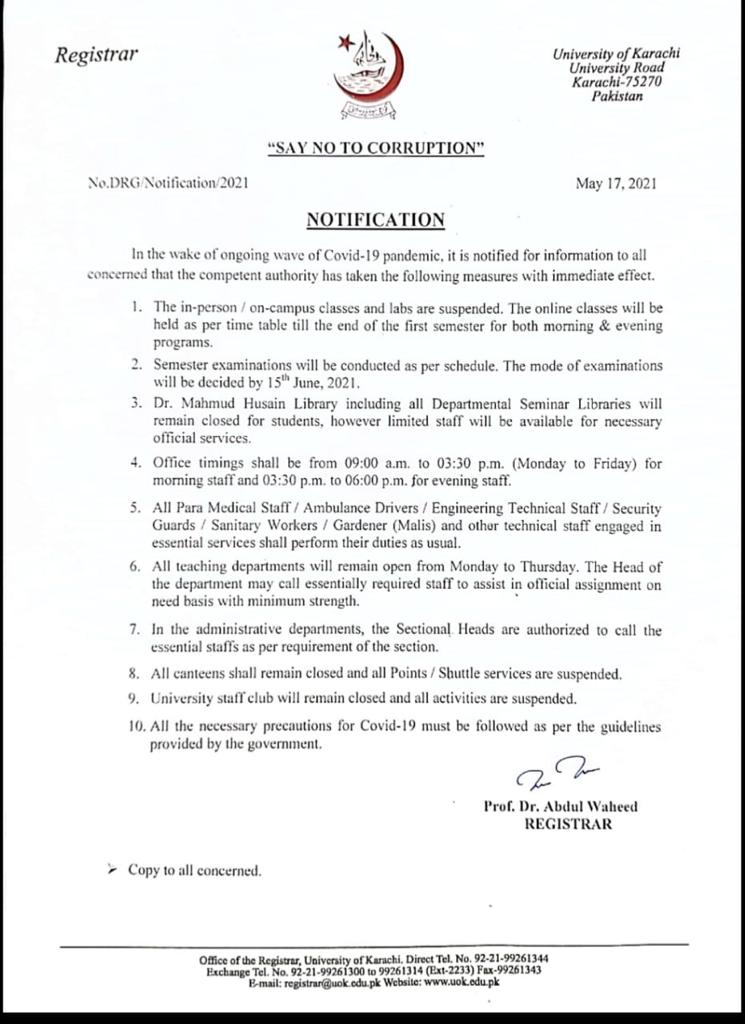 ---
---
[17th April 2020]:
KU Is All Geared Up For Online Classes Amidst COVID-19
As educational institutes are now changing the way they operate, more and more schools, colleges, and universities are slowly moving towards online classes. Just recently, the University of Karachi has also announced to conduct online classes.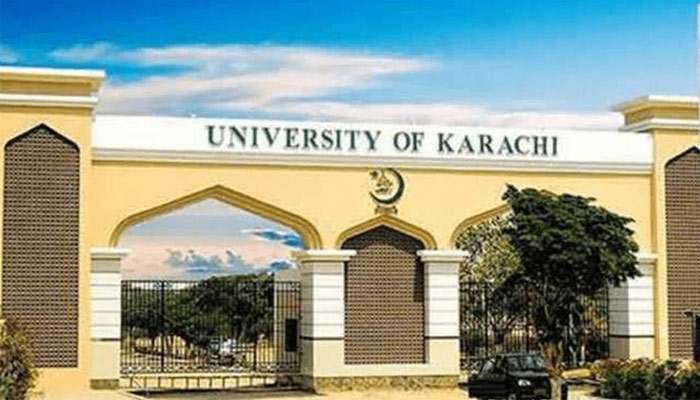 On Wednesday, a meeting was held in this regard at the KU Vice Chancellor (VC) Secretariat. In the meeting, KU VC Prof Dr Khalid Mahmood Iraqi said,
"We need to ensure that the learning process continues. Given the number of students at the University of Karachi, we need to make sure that our house is in order before we start online classes. We do not want to go for any misadventure in this regard,"
He further added,
What we need is a well-thought-out strategy to enable each and every student to learn and meet the course learning objectives."
Moreover, the meeting was also attended by KU Registrar Prof Dr. Saleem Shahzad, all the deans, Students' Adviser Dr. Syed Asim Ali, Main Communication Network Incharge Prof Dr. Sadiq Ali Khan, and Quality Enhancement Cell (QEC) Deputy Director Jawaid Akram. The agenda of the meeting was to plan and strategize how the online classes can be made better for teachers and students.
It was decided that Karachi University would incorporate the Learning Management System as their online learning platform within two weeks while the varsity's QEC would prepare tutorial content for the students and videos for commonly used online learning tools like Zoom, Adobe Connect, and others.
---
---
All educational institutions will remain closed for the next three weeks amidst the threat of the ongoing pandemic on orders of the federal government. However, the HEC Chairperson has stated that studies would not be compromised during school closure.
The HEC has launched online classes for university and college students across the country. During the three weeks, the teachers would be giving lectures online as mentioned by Chairperson, Tariq Banuri.
According to the HEC, an online learning management system will be introduced in more than 70 classes and a team of experts will also be formed.
Banuri further mentioned,
"Institutions that don't have these systems will get them installed within two weeks."
It has been decided that the list of all the online classes would be compiled and would then be aired on television. The teachers would also be provided with an online evaluation system for grading purposes.
In order for online learning to take place, students and teachers both need to have access to the internet. HEC Chairperson also spoke about what they would be doing in case someone does not have access.
"We will also ensure that internet services are provided to all those areas that don't have service and modern technological systems are installed there"
As technology has progressed immensely, various apps and tools have been invented for the ease of online teaching worldwide. The 'google classroom' and 'Zoom' are some of the apps currently being used all over the world where schools have been shut down to curb the coronavirus outbreak.
Follow Brandsynario for latest news and updates.