The virtual event, One World, Together at Home, which was organised by Coca-Cola in collaboration with the Global Citizen, united various artists from across the world! The main event was a 2-hour long virtual stream of online performances with a 6-hour long pre-show available for streaming beforehand.
Lady Gaga was the one who had curated the line up for the show. Among the many artists to perform were Taylor Swift, Sir Paul Mc Cartney, The Killers, The Rolling Stones, Jennifer Lopez, Sam Smith, Sir Elton John, Andrea Bocelli, The Killers, Kacey Musgraves and Jennifer Hudson.
Highlights of the event:
1. Lady Gaga dedicates her performance to the front-liners
2. Taylor Swift's Emotional Performance Made us All Cry!
The singer performed on Soon You'll Get Better, a song that she had vowed never to sing live since it was too difficult for her due to the emotional attachment it had with her mother's cancer diagnosis. However, she powered through it!
3. Stevie Wonder Paid Tribute to Bill Withers in this soulful classic!
4. Jennifer Lopez
All that we missed out was seeing J-Lo dressed up in a glamorous outfit for the event!
5. Christine And The Queens
Mental health was discussed where the singer spoke about the importance of reaching out to loved ones during this difficult time and that it was okay to ask for help when you need it. Christine added, "I know it's hard [but] don't hesitate to reach out to people virtually if you feel down."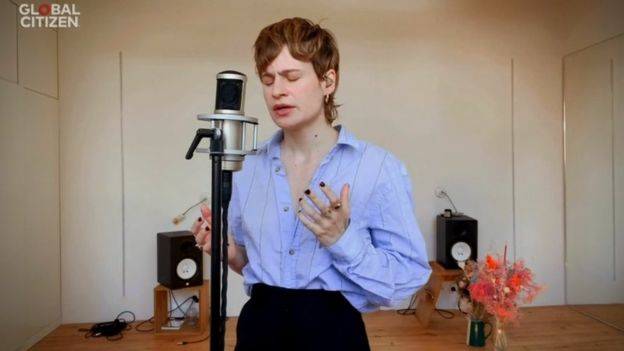 6. John Legend's Interactive Dance While Being in isolation was a treat!
John Legend performed his single Bigger Love that featured several dancers interacting with one another, despite being in self-isolation.  Watch it below:
7. Annie Lennox Addressed an important issue
Netizens believe, Annie Lennox addressed President Trump and said, "In this unprecedented moment in history we have a collective responsibility to make sure that global health systems are strong enough to identify and prevent future pandemics before they happen again," although she didn't mention President Trump by name it was believed the message was from him as he recently threatened to cut WHO funding.
In case you missed it, the show can be watched on streaming websites right now! Go ahead and watch your favourite stars live in a never before seen event of a lifetime.
Follow Brandsynario for the latest news and updates.