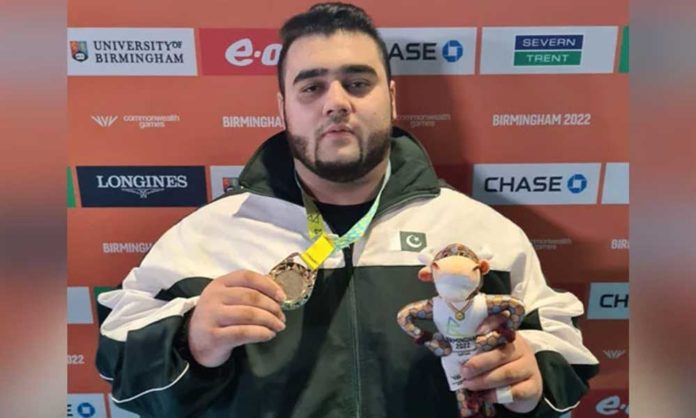 Nooh Dastgir Butt, won Pakistan's maiden gold medal in Commonwealth Games (CWG) 2022 at Birmingham. He won the gold medal men's +109 kg weightlifting event. Butt lifted 173kg in the snatch category, while he lifted 232kg in clean and jerk setting another record. He lifted 405kg overall, which is also a record in CWG 2022.
Before this, Pakistan has won the gold medal in weightlifting events only once, at Commonwealth Games 2006, when Shujauddin Malik won the gold medal in the 85 kg category.
Nooh Dastgir Butt was congratulated by Prime Minister Shehbaz Sharif following his gold medal victory.
Well done, Butt saab. https://t.co/C87hZIO8q9

— Shehbaz Sharif (@CMShehbaz) August 3, 2022
Pakistan has also won a bronze medal in CWG 2022, with Shah Hussain Shah defeating South African Thomas-Laszlo Breytnbach in the 90kg category of Judo. Shah had never competed in a 90 kg event before, having previously competed in the 100kg category. He is the son of Hussain Shah, a former Pakistani Olympic boxer who won the country's first Olympic boxing medal, a bronze medal, in the 1988 Summer Olympics in Seoul, Korea.
🏅 medal winning moment 🏅 🇵🇰#Congratulations Pakistan's Judoka Shah Hussain Shah who won Bronze Medal🥉 in Commonwealth Games by beating his opponent just in 1:30sec. @birminghamcg22 @NOCPakistan @anilakhawaja pic.twitter.com/Gw0i9A8oYA

— Inam Butt (@InamTheWrestler) August 3, 2022
Nooh Dastagir Butt also won the bronze medal in the 105+ kg category in Commonwealth Games 2018, while he also won a silver medal in last year's CWG event.
He dedicated his gold medal win to his father. He said, "It was not easy for me to lift such a heavy weight. But I pulled off doing it with hard work of 12 to 13 years. I dedicate this gold to my father, who worked for 12 years and helped me reach this stage."
The GOLDEN MOMENT 🥇

Commonwealth Champion
Muhammad Nooh Butt 🇵🇰#CommonwealthGames #NoohDastgir #PakistanZindabad #B2022 @noohbuttstyle pic.twitter.com/l311W2bwOd

— Urooj Mumtaz Khan (@uroojmumtazkhan) August 4, 2022