An Indian girl put out a matrimonial ad hoping to get the attention of her desired man. However, the ad has instead gone viral and gotten her the attention of all of the internet. Hopefully, she got some applications out of this virality.
The Matrimonial Ad For A Feminist
The special thing about the ad is that it is for a "feminist" girl. A feminist girl was looking for her match, surely this should be interesting. What, after all, do feminist women want in their lifelong partner? If you have ever wondered that, here is the answer ( a rather humorous prototype).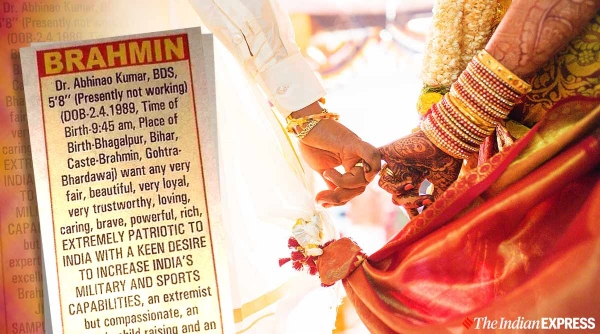 What Are The Demands?
The girl wants a handsome guy first of all. However, we're unsure of whether the spellings in the ad are deliberately this way or a joke. Regardless, besides being facially gifted, the man should also be of a particular age. Strict rules apply: he must be within the 25-28 bracket and not be the same age as her, 30 years old.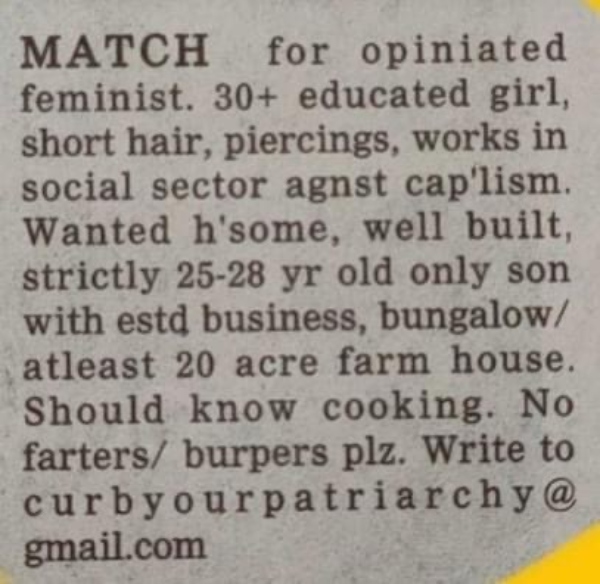 Moreover, this handsome man must also be financially gifted. He needs to have an esteemed business that would have helped him afford a 20-acre farmhouse. Nothing less will do, more however can. Additionally, while people don't usually have control over this, this girl is also seeking an only son.
The Special Demand That Caught The Internet's Attention
Though many demands until now are humorous and strange, there is a special one. Only this demand could have gone viral and it did! The girl wants strictly "no farters/burpers please". This has left us and all the people who have seen the ad, rolling on the floor laughing.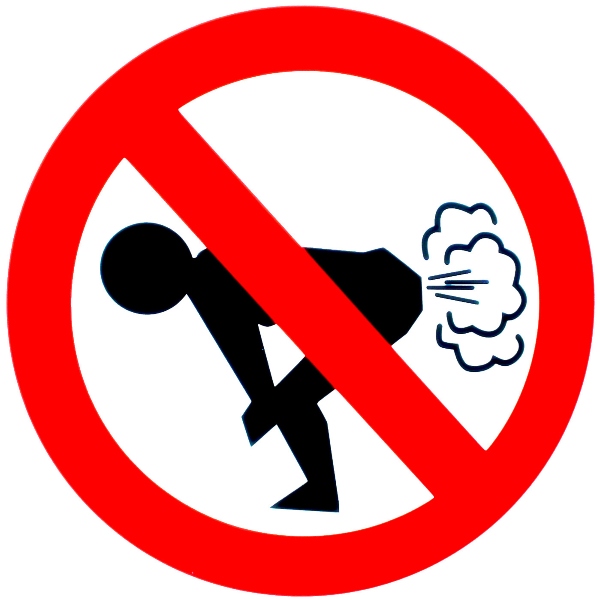 It is incredible how this girl has an issue with a natural body function (hey, we do too) but one can not possibly eliminate people over this. Moreover, what is even more special is that she had the confidence to write this in an ad. We're only wondering about what she must have experienced in a rishta once that now "no farters and burpers" are allowed.
Is This A Joke?
However, all jokes aside, this ad does feel like a well-played joke. There is an emphasis on the girl being a feminist etc. However, the application is just as sexist and materialist as anyone. The expectations of a man to have such riches by 25-28 are unrealistic. However, her feminist mark in the ad is visible when she says "the boy must know cooking". What do you think?
Stay tuned to Brandsynario for the latest news and updates.