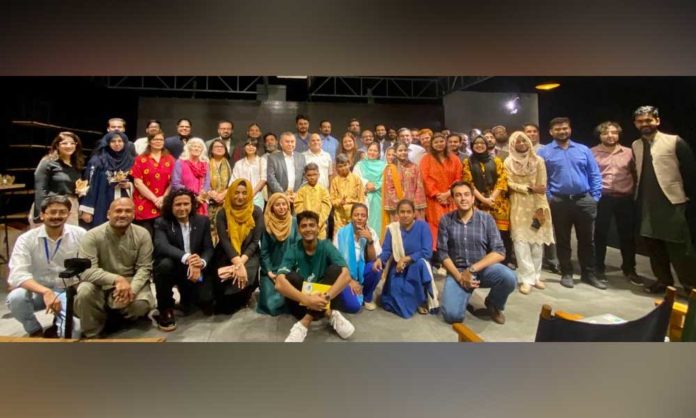 October, 2022, the National Incubation Center Karachi, in collaboration with The Asia Foundation, launched the 'Impact Collective'. The initiative is a consortium of organizations committed to initiating research and technology-driven dialogue to address the Environmental, Social, and Governance (ESG) issues in Pakistan.
This consortium has brought together academia, think tanks, entrepreneur support organizations, and civil society organizations to discuss and solve the most pressing issues related to climate change and its adverse effects on the environment and society.
The event called for a panel of experts that discussed the importance of research and technology in the fight against climate change and how initiative like the Impact Collective can empower academic institutions in researching climate change on a grassroots level. The panel consisted of Durlabh Ashok (Climate Advocate), Afia Salam (Climate Activist], Dr. Noman Ahmad (Dean Architecture & Management Sciences NED University), Farva Minhas (Program Coordinator, The Asia Foundation). The Asia Foundation also launched an app to engage, educate, and mobilize the masses to take action on addressing the climate crisis. This app will serve as a platform to disseminate information and insights about climate change and will also help climate activists organize and coordinate their activities.
The event also hosted three social entrepreneurs who are building climate resilience by implementing disruptive solutions. In their keynote speeches Emaan Danish, Founder – Earth Warriorz, Shahzad Qureshi, Founder – Urban Forest Initiative, and Ahmad Shabbar, Founder – Garbage CAN, stressed on the urgency and importance of climate change, they urged the startup ecosystem to embed Environment Social and Governance framework in their bottom line to ensure the climate change is halted and reversed in time.
As a testament to LMKT's commitment to the livelihood and economic rehabilitation and restoration of the flood affectees across Pakistan, Project Director NICK offered a donation of PKR 1 Million on behalf of LMKT to The Citizen's Foundation at the event's conclusion.