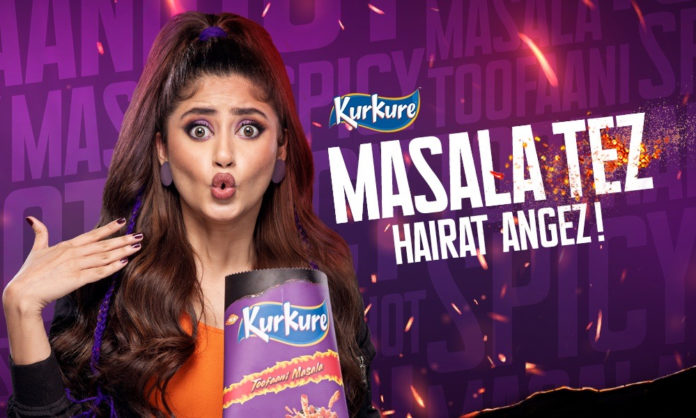 Kurkure and fun go hand in hand. From their advertising campaigns to their product launches – everything is purely iconic. Not to mention the actual product, the taste and revolutionary flavors offered by Kurkure aren't just tempting, but they are truly irresistible.
Starting with the Red Chilli Jhatka flavor, Kurkure has come a long way. Now their range of products includes a variety of flavors catered to every individual – be it a spice lover or someone who likes to keep it simple. Their extensive range of flavors includes the Chutney Chaska and Toofaani Mirch.
However, if that wasn't enough Kurkure is back at it again with a new Masalaydaar flavor which surely will make us jump out of our seats. 'Yes, you definitely shouldn't underestimate the spice level with this one.'
Kurkure Toofaani Masala 
The Kurkure 'Toofaani Masala' flavor comes in an appealing bright purple packaging. The disruptive pack is sure to catch your eyes in the snack aisle. The Toofaani Masala flavour has taken the spice level to another dimension and if you have tried and loved the 'Toofaani Mirch' flavor then be sure to try the new one, because you are going to love it.
The new Kurkure AD
The new Kurkure AD has become the talk of the town with its captivating visuals. The AD featuring Sajal Aly shows bright futuristic animations with food shots that look nothing less than mind-blowing. The purple-colored theme also seems attractive and a treat to the eyes.
Kurkure has always managed to come out with iconic ads featuring our favorite celebrities and the recent one is nothing short of brilliant. Tapping into the auditory simulation after the super cool TV ad with Sajal, they have launched another one that is unique in its own way! The Masala Remix, as they call it, has sounds of crunch and spice with upbeat music that is a treat for the ears.
Kurkure Launch
Kurkure has embarked on this fun journey to launch a new flavor in style. As part of the launch, Kurkure Pakistan has released a one-of-a-kind game on TikTok which is really fun and enjoyable! Check it out below:
Kurkure sure is the perfect option to add to your snack list when you're looking to indulge and unwind. Kurkure's Toofaani Masala is bound to become the go-to choice as it satisfies all your spicy snack cravings.
Are you excited to try this new flavor? Let us know in the comments below.
Stay tuned to Brandsynario for the latest news and updates.