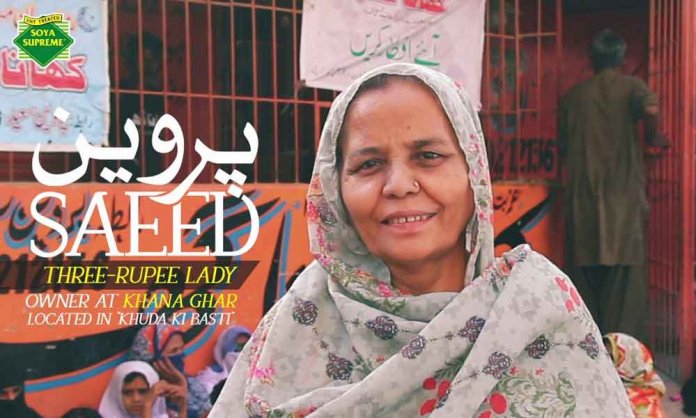 The holy month of Ramzan is truly unique. There is love, philanthropy and a motivation to be more generous all around.
Those who are selfless and put others before themselves will earn higher rewards for every Neiki they carry out.
This Ramzan, Soya Supreme has also been associated with a selfless act of good. The brand joined hands with Parween Saeed, an inspiring activist who is also the heart and soul behind the NGO 'Khana Ghar' based in Karachi.
There are so many residents of the sprawling city of Karachi who don't have the means to pay for their meals. Khana Ghar stepped in to take the initiative feeding anyone for just about Rs.3!
Through their Ramzan campaign Neiki ki Recipe, Soya Supreme paid tribute to the unsung hero, Parween, and her initiative of Neiki highlighting her efforts and spirit.
Parween Saeed- The 3 Rupee Lady
The story is best told when narrated by Parween as she narrates what compelled her to take on this noble act.
I started Khana Ghar when I found out that a mother had killed her own two children because they hadn't eaten for two days.

When I asked her what had compelled her to take the lives of her own offspring, she said, "you'd know if your children were dying of hunger.
This means hunger can even make a mother kill her children. The pain of seeing her children starving must have been so severe that it is difficult to comprehend.
That was the deciding moment for Parween, and she hence began her NGO named Khana Ghar.
Watch the full video here.

Khana Ghar is a place that serves food to anyone for a negligible amount. That's how Parween spreads her light of goodness, and that is her 'Neiki ki Recipe'.
There is no doubt that kindness requires courage, and God takes care of the rest, says Parween.
How Soya Supreme Contributed to Parween's Neiki ki Recipe
Not only did Soya Supreme start a campaign highlighting the 3 Rupee Lady's efforts and spirit, but they also became a significant helping hand for Khana Ghar.
Soya Supreme helped in forming a Neiki Team including not only volunteers but also took bloggers to visit Khana Ghar to help Parveen by spreading the word about her act of kindness on their respective platforms.

The Neiki Team visited Khana Ghar on May 29th and posted about it on all their social media platforms. They also distributed clothes, shoes, and other items amongst the less privileged.
@Soya_Supreme helped in forming a Neiki Team including volunteers and bloggers to visit Khana Ghar to help Parveen by spreading the word about her act of kindness. #NeikiKiRecipe #SoyaSupreme pic.twitter.com/pTT1C5dQtK

— Brandsynario (@brandsynario) June 2, 2019
Neiki Recipe – A Supreme Way of Appreciating and Encouraging Kindness
The campaign Neiki ki Recipe sheds light on the widespread issue of hunger and poverty in Pakistan. It is a great way to help and appreciate individuals like Parween who, despite not having a lot themselves, extend their kindness towards others.
Moreover, it is also a commendable campaign as it will encourage others to be selfless when it comes to neiki, too.
We hope Soya Supreme's message spreads far and wide as intended, and that we see the difference they aim to make in the society by encouraging people to make their Neiki ki Recipe as Parween did.