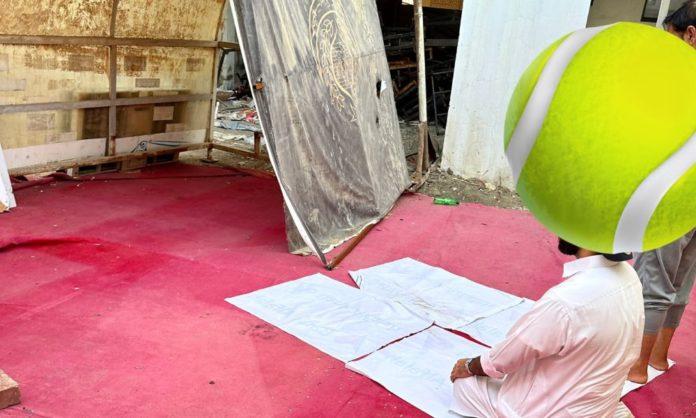 National Stadium is the official cricket ground of Karachi and has also been the heart of many iconic and legendary cricket matches. And let's be honest, having a cricket stadium of your own is a significant flex for the people living in that city. But what happens when that cricket stadium doesn't live up to its name and fame? Whose fault is it? Who is to blame? Who will fix it? And for how long will it stay like this? All such questions and more have been ringing in cricket fans' minds since last night after a viral tweet.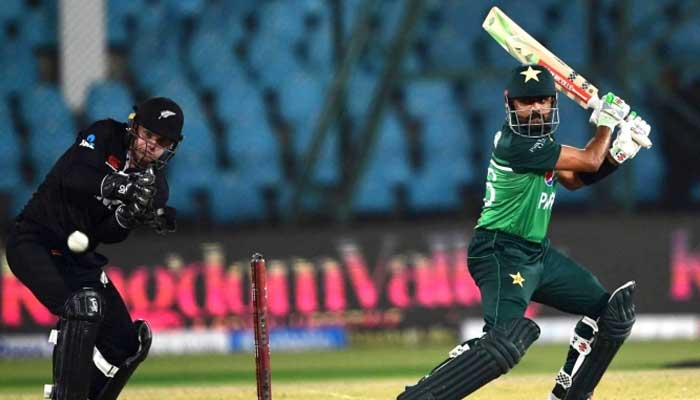 On 4th of May, the fourth ODI match between New Zealand and Pakistan took place in Karachi's National Stadium. The stadium was filled with New Zealander fans and Pakistani fans obviously. However, they were not welcomed by a pretty sight when they went to the prayer area. The disappointment of fans wouldn't have come to light if this one user on Twitter wouldn't have shared the view of the prayer area. Here have a look.
National Stadium Karachi. On the left is the entrance and on the right is the prayer area closest to our stand. This is unacceptable in any stadium let alone an international sporting venue in the biggest city. You simply cannot treat spectators like this. Someone must answer pic.twitter.com/4XjCimMdji

— Ali Asad (@aliasad1998) May 4, 2023
Ali Asad, a Twitter user uploaded two side-by-side pictures of the stadium's entrance and the prayer area. The difference was very much visible, shocking, and disappointing. The user even expressed his concern and anger saying that this was no way to treat spectators especially when it is an international match.
Who Is To Blame?  
When such a huge and grand event is conducted somewhere, there is the possibility of something going wrong and that is acceptable but what is not acceptable is that no one takes responsibility for the wrongs but everyone runs to take credit for all the rights. Similarly, who is to blame for this irresponsibility? Fans questioned PCB and authorities.
@najamsethi@shakilsh58@NumanButt3

— f (@fas___m) May 4, 2023
Ali it is sad to see passionate spectators being denied brother it is a travesty that it befalls in Karachi just like the state of affairs of governance at local levels @TheRealPCB seems to have forgotten the National Stadium and it's issues local government is to blame for this

— The Truth is out there (@Mueedbutt2017) May 4, 2023
Now hypothetically speaking, if we do move on and stop the blame game, then who is going to own up and get this fixed as soon as possible so further disappointment can be avoided? Fans have lost all hope and think no one will. Many users commented saying that now no one can blame the Karachi crowd for not showing up. They believe that for a good crowd turn up, all facilities and the environment should be spot on. Only then will people show up and be happy about showing up too. Have a look at what some fans had to say.
Then these chutiyaas says "Karachi ki awaam stadium nahi ati".. BC free main bhi na dekhay iss halat main koi

— Ammar Hassan (@ammar_hasan_me) May 4, 2023
I remember I offered prayer at the same place. Not only that, there was no Cold water when I last went in the Australia series. Can you imagine? No cold water in the stall in Karachi' scorching heat. Poor service

— Shahmeer Baloch (@iamshahmeeer) May 4, 2023
Match dekhne na jaaye jab tak app ko service nahi mil rahi

— Dino (@g0dhrawala) May 4, 2023
the reason karachites dont bother to enter stadium

— dr zahid pervez (@zahidpervez) May 5, 2023
Bro every place in Karachi is a no-go area you don't know that?

— Syed M Erdum Adnan (@erdumadnan) May 5, 2023
They don't care about the fans. Only care about the money from the media rights.

— Mahi097™️ (@sweetjesus097) May 4, 2023
@TheRealPCB that's why we don't visit National Stadium!

— Amin Rehman (@aminrehman15) May 4, 2023
One fan is so done with this treatment, they are waiting for the Bahria Town Stadium to finish building.
Karachi walas will show world how full stadium's look like .
Let the bahria town stadium complete.

— Rizu (@seeseesee090909) May 4, 2023
What is your stance on this? Let us know in the comments below.
Stay tuned to Brandsynario for more news and updates.