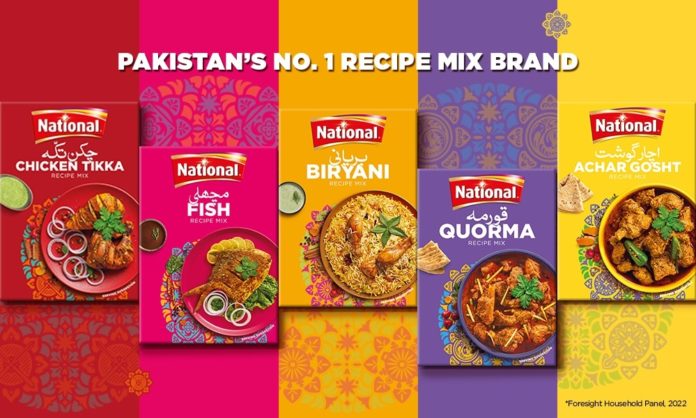 Karachi, June 13, 2022: One of the leading food brands of Pakistan; National Foods Limited is making strides toward a more innovative approach and has officially launched the redesigned packaging of its Recipe Mixes category. National Foods is the manufacturer of Pakistan's No. 1 Recipe Mix brand – as per Foresight Household Panel '22.
The pack communication is clean and easy to navigate, with ingredients always being the hero. The revamped design of the recipe mix range revolves around the concept of diverse and vibrant colors which depict the rich culture, tradition, and the proud nation of Pakistan. Each category is marked with distinguishing colors; the price range is marked with beautiful mustard whereas the Salan (Curry) range is depicted via a gorgeous purple. The fried range is shocking pink whereas a deep maroon brings in vitality to the succulent BBQ range.
The crescent pattern of the Pakistani flag lies at the heart of the National Recipe Mixes design, uniting the elements on the pack. Every motif at the pack distinguishes the diverse range that this category has to offer; Rice, Fried, BBQ, Salan, Haleem, and Stir-Fried (Bhunna) to name a few. While the Rice Range motif is shown via the traditional rice bowl, skewers and grills depict the mouth-watering BBQ range. Every Garnish is depicted as the star from Pakistan's flag.
Furthermore, a seamless and smooth customer journey has been ensured in multiple ways; preparation is explained in both English and Urdu with a visual depiction of each step. A unique spice meter indicates the level of hotness in the recipe mix. The MadeEasy QR code transports the consumer to the website for more creative dishes while the Hotlink establishes a direct connection between the customers and National Foods.
"The reason behind this redesigning is in line with National Foods being a national icon and the belief that those who use National Foods Recipe Mixes are proud to be crafters, inventors and innovators. Recognizable icons are important and design assets are effective because they trigger recognition, meaning and memory," said Aejaz Basrai, Chief Commercial Officer Culinary at National Foods.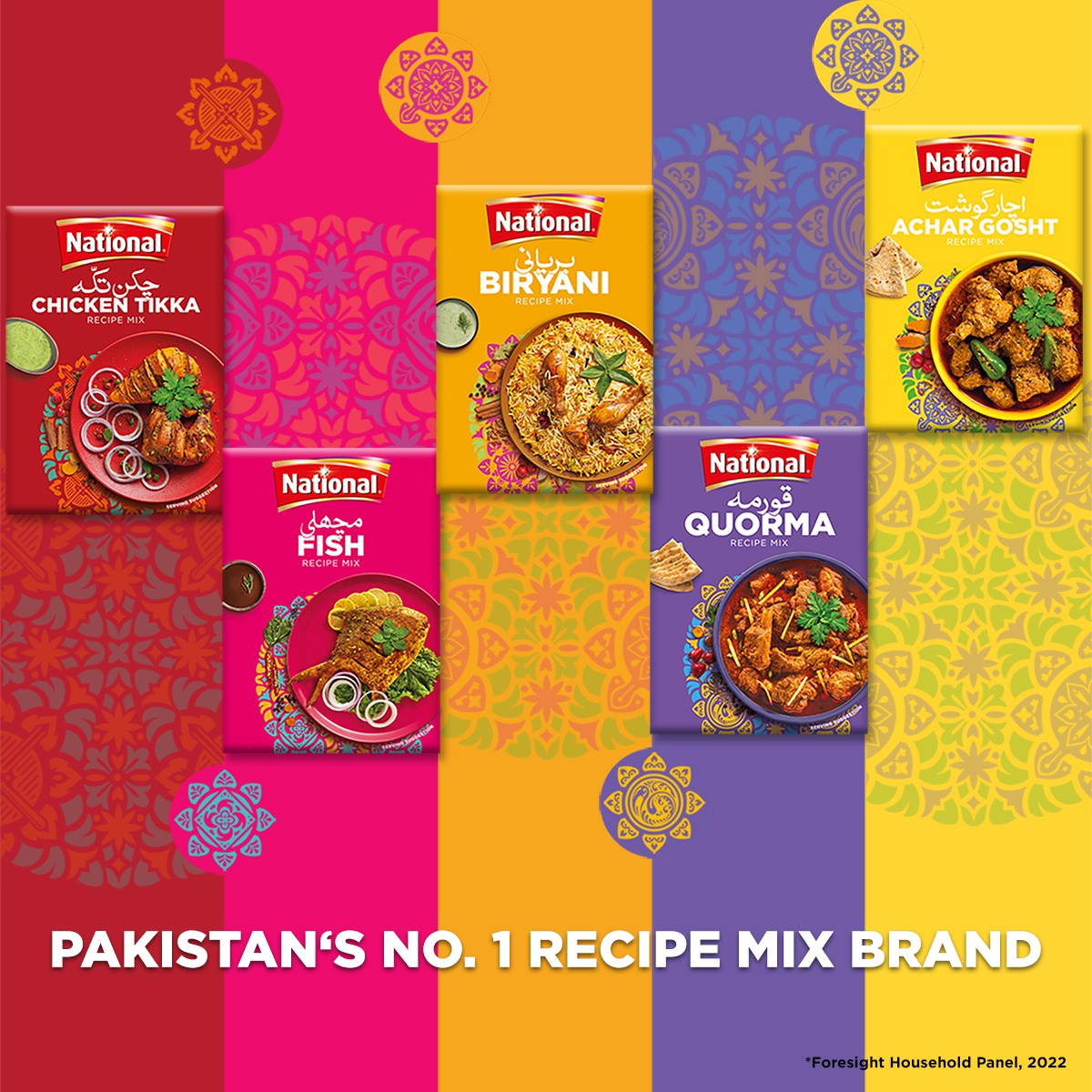 This once-in-a-decade relaunch of the massive Recipe Mixes category is augmented by a clutter-breaking, 360-degree approach via extensive digital platforms such as YouTube, Facebook, Insta, TikTok, and debut on Spotify; creative and eye-catching OOH displays in 7 cities at prominent locations; PR efforts for multiple stakeholders and mainstream media including Print, TV, and Radio utilized in a constructive manner including media roadblocks. The communication and approach to customers are eye-catching and give a breath of fresh air to the viewers.
With the new packaging launch, National Foods has once again set the bar high in terms of beautiful packaging and seamless customer experience.