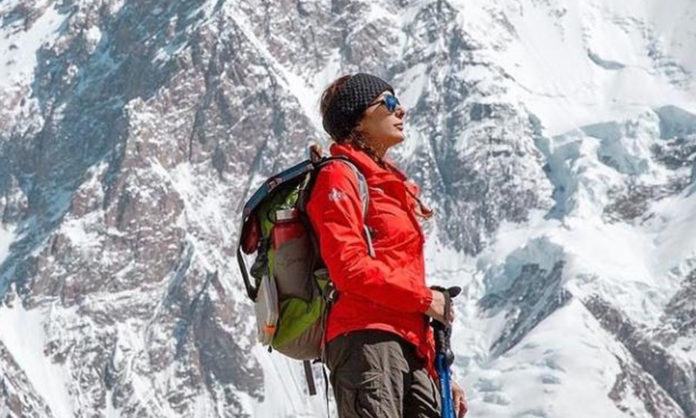 Pakistan– July 25, 2022: Naila Kiani, a Pakistani mountaineer and adventure sports enthusiast, has successfully summited the second highest mountain peak in the world, the K2, making her the first Pakistani female to scale K2 in her first attempt.
Naila Kiani's mountain climbing expedition, commenced in June 2022 from Skardu. Accompanied by Sirbaz Khan & Suhail Sakhi, Naila Kiani set out for the summit push at 10.40 am during the favorable weather window, and managed to reach the top of the 8,611 meters high mountain. Preceded only by Shimshali mountaineer Samina Baig by three hours, Naila Kiani has become the second Pakistani female ever to have scaled Mount Godwin Austin, (more commonly known as the K2), but the first Pakistani female to have done it in first attempt.
"This was one of the most difficult tasks I have undertaken in my life and it has only been passion for adventure sports and mountaineering that drove me to achieve this. My gratitude to the BARD Foundation for their immense support towards sponsoring my expedition – it would not have been possible without their noble vision of supporting Pakistani talent," Naila Kiani stated after her successful summit.
Razak Dawood, Chairman BARD Foundation, stated, "This is a moment of great pride for us that Naila and her team have achieved success in their monumental feat to summit the K2. She has been a truly resilient fighter.  We have always aimed to support Pakistani talent, especially women, to help provide them with opportunities to grow in the field of athletics and sports. Naila's successful summit bears testament to the potential women have to achieve anything they set their minds to."
BARD Foundation carries a deep vision to promote and facilitate local athletes and sportspersons in order to highlight their talent and true potential across the world. BARD Foundation is a human-development initiative, founded by the renowned industrialist & technocrat – Abdul Razak Dawood and his philanthropist wife – Mrs. Bilquis Dawood. This resourceful foundation has the vision to nurture the Pakistani youth in various professional or technical fields, by enabling these champions to learn more skills, receive better opportunities, and the kind of recognition needed to compete internationally.
Naila Kiani is a Dubai-based Pakistani banker and an amateur boxer. Prior to this, she has summited the world's 13th highest mountain, Gasherbrum II (8,035 meters) as well. She was presented with an award in December 2021 by the President of Pakistan, to acknowledge her great achievements and contributions towards mountaineering, and continues to inspire global competitiveness among the Pakistani women.