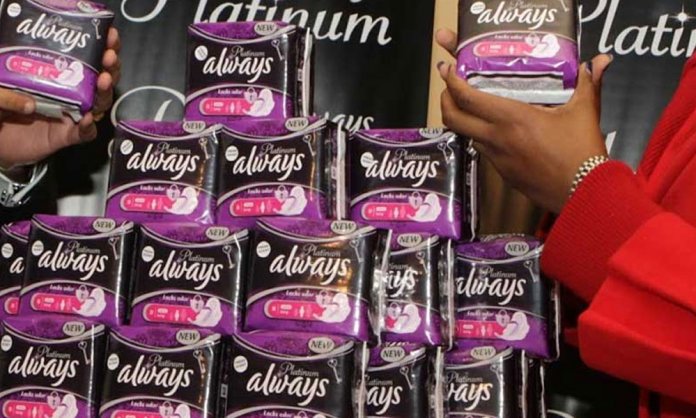 In March this year, Kenyan women started a campaign expressing outrage over their experience with the popular sanitary pad brand, Always.
Comparing the brand with other sanitary pads, the campaign #MyAlwaysExperience by women claimed that the brand was selling a lower quality product that gave rise to vaginal rashes and infections.
Kenyan women are using the Twitter hashtag #MyAlwaysExperience to express outrage over the Always brand of sanitary pads, which they say causes rashes, burns and discomfort. https://t.co/aEWZorvJbA pic.twitter.com/LYfIfXkcx6

— BBC News Africa (@BBCAfrica) March 13, 2019
What makes a case like this further difficult to comprehend is that, with a personal hygiene product, the experience can vary from person to person.
The worst part about #MyAlwaysExperience is how most of us suffered in silence thinking it was our bodies that were acting up because of periods. We made excuses for a brand that did so well with having catchy songs on TV. https://t.co/x2G40p3Rdd

— Valeria Mochere (@Valeria19220) March 12, 2019
This can even make a user doubt their own experience by making them think that perhaps they're the only ones going through it.
No one will understand the trauma of wearing a pad that burns & causes rashes,

add period pains on top of that,

firstly you don't know whether you are imagining things or what's happening. 😢

With the period stigma…who do you talk to?#MyAlwaysExperience

— Zola Ndwandwe South African Activist🔑👑💃🏽🇿🇦 (@ZolaNdwandwe) October 16, 2019
But when hundreds of women came out with the same complaint with one product, it became clear that the problem most probably lied with the product and not the user.
If Always pads are compliant with your standards, yet people are still complaining, isn't the problem your standards?

RAISE YOUR STANDARDS! #MyAlwaysExperience https://t.co/7SZn4Nevun

— humourless feminist killjoy (@brendawambui) March 14, 2019
They also compelled the manufacturer, Proctor & Gamble to apologize for producing a harmful personal hygiene product like that.
Thank you @scheafferoo @tugengirl and all the people pushing for better #MyAlwaysExperience. Before these conversations, I sincerely thought it was normal that my pad burnt. That I had to apply vaseline or arimis on my outer genitals to reduce the burns every time😭…

— 🦋yellow&mellow🌻 (@yellowyesmellow) March 13, 2019
The brand denied these claims, as expected.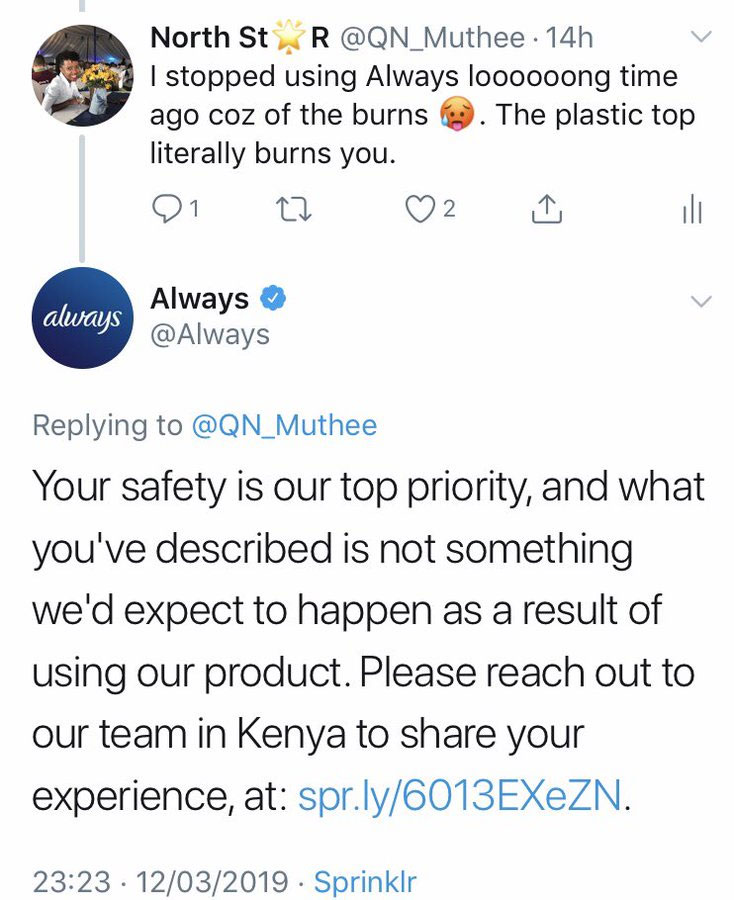 However, they were forced to create a Twitter account for Always Kenya, on which it defended its product, saying the quality is similar to those in other parts of the world, "including Germany, UK, US, South Africa".
It breaks our hearts to hear that some of our products have not given you the best experience and we are here to work with you to get the right product from our 8 variants to meet your needs. We keep innovating and that's why we re introduced our Ultra soft pad this past weekend. pic.twitter.com/LZgkz579hY

— Always Kenya (@Always_Kenya) March 12, 2019
Always is also a popular brand in Pakistan, and even though menstrual health awareness is not as high as it ideally should have been, Pakistani women have recently begun sharing their own experiences with the product.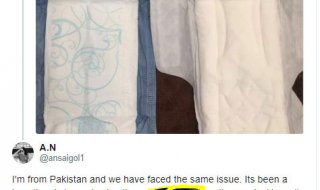 Worst quality pads I must say. I have stopped using these because they are so thin to absorb and I couldn't spend even 8 hours wearing these. #MyAlwaysExperience https://t.co/KDiPEUkFoD

— Heeba💫 (@hiba_jutt) October 21, 2019
Pakistani women are claiming that the occurrence of vaginal infections and rashes has gone down to almost zero after they stopped using Always.
Have you experienced anything similar? Let us know in the comments.
Stay tuned to Brandsynario for more news and updates.