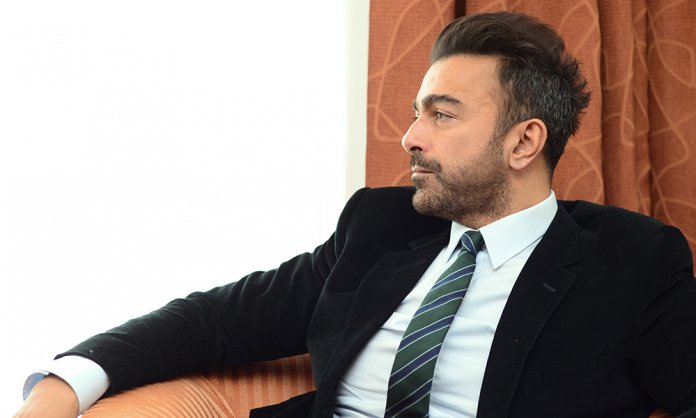 Arth, Shaan Shahid's remake of the Bollywood classic comes to life on cinema screens across Pakistan on 21st December 2017. Charming us for 27 years on screen, Shaan is not afraid to speak his mind off-screen.
We all know his stance towards actors choosing to work in Bollywood, having declined roles from across the border a number of times.
Despite a worldwide release, India has refused to screen it. Given all this, the first question that comes to mind is what inspired him to remake Mahesh Bhatt's 1982 classic thereby becoming the first Pakistani director to do so.
"I picked up an Indian film keeping in mind the collaboration between the two countries as far as trade is concerned. It was also to create a trust factor, showing them that we can do justice to their scripts by producing a quality film. I have transformed an art film into something more modern keeping in mind contemporary culture and fashion. "
So is it a fear of religious fanatics in India that currently prevents them from entertaining our actors in their films or in releasing them?
" No, they just want to disrespect us. We have had extremist elements in our country, but they have never banned Indian films or actors. We see Indian actors selling biscuits etc in our commercials, but none of our actors appear as their brand ambassadors. I feel as a Pakistani this is wrong. We need to have equal footing as far as respect, work and money are concerned. "
https://youtu.be/LJI7dAaY6Jw
"If I raise this question, I'm called a fundo and told that the world is a global village, but I think we should first earn respect and the money will follow. My agenda is to make the world respect Pakistan "
Shaan has always felt strongly about Pakistani actors working in India and he does not hold back on voicing his opinions: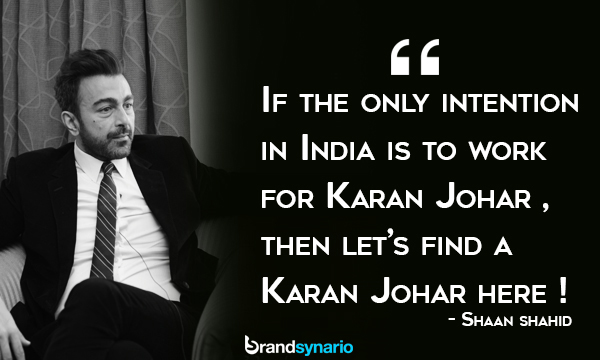 Another topic the director/actor/scriptwriter feels very strongly about is the portrayal of women in film and television.
" I've noticed in the past that there are many taboos in Pakistan where women are concerned. We come to the conclusion that if unfortunate circumstances fall upon a woman her life has ended. This really hurts me being raised by a single mother, being the father of 4 daughters and husband. It's high time that we stop telling a woman to be dependent"
https://youtu.be/EzmrVSs4ftY
"Once a woman stops being dependent she sees the beauty, talent, and confidence inside her. "
This message comes through in one of the lead characters in the film.
He adds, " Television has been currently showing weak women or those who are bad characters. Why is no one talking about it? A woman is not weak! A lot of dramas nowadays are not empowering women but tightening their chains "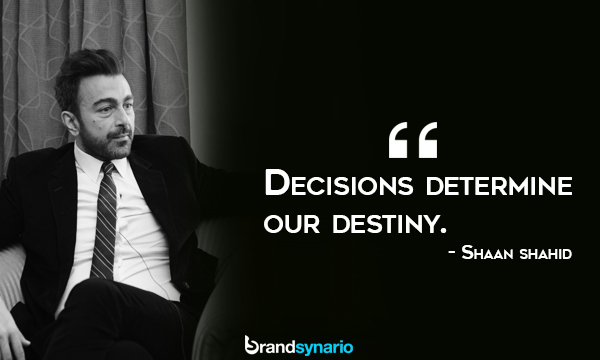 "The other key factor that is an integral part of the film's theme is how decisions determine destiny. "
https://youtu.be/pjlL80umLi8
Arth releases on the same day as Rangreza, however Shaan claims that he was not aware of this earlier. He does go on to add that there were 364 other days in the year that could have been opted for, giving each film breathing room.
https://www.youtube.com/watch?v=cYOlJL4xY7g&feature=youtu.be
The film has been shot in London and Lahore and has some great music. There are a total of 11 songs in the film with ' Murshed Ji " sung by Rahat Fateh Ali and Bagga being his favorite.
https://youtu.be/rEnthi6NcYY
Once Arth is screened, we hope to see more of Shaan. He tells us about his upcoming film Zarrar, which he excitedly mentions, is " a thriller showing our take on spy espionage – a Pakistani Bond!" He adds further that it would probably be one of the most expensive Pakistani films to be made to date with interesting locations including Turkey, the Pak – Afghan border, London, and Scotland. "
"It's a character I've not played before, I've done a lot of action films, but not like this one! "
(Stay tuned to read our review on Arth !