Mufti Abdul Qavi has become a part of controversies more than once. This time, he's caught onto the hook as a video of him with Hareem Shah surfaced.
What Is This New Controversy?
A video surfaced on the internet that went viral in which Mufti Qavi can be seen on a video call on Whatsapp. Hareem Shah is calling him the worst of things, saying that he contradicts Islam and everything else. However, he responds very casually, saying that everything that she says will go over his head. In other words, he is not bothered!
The Same Qavi, Different Woman
Previously, his videos and images surfaced with the late Qandeel Baloch. Whether they were released deliberately or they were leaked, it is still unknown. However, in the pictures, Baloch is seen making poses while Mufti Qavi sits calmly in the background.
Another video of him also recently surfaced in which he's seen dancing with a Korean woman. And it gets worse; his cap is also off!
معروف عالم دین اور رویت ہلال کمیٹی کے سابق رکن مفتی عبدالقوی کی ایک خاتون کے ساتھ رقص کرنے کی کوشش پر مبنی سوشل میڈیا پر وائرل pic.twitter.com/6omFLPksxO

— IBC URDU (@ibcurdu) September 9, 2020
A Past One Would Want To Forget
After his alleged involvement in the Qandeel Baloch case, Mufti Qavi was also arrested. His judicial remand lasted for over two weeks. When he was being brought to the court in handcuffs, he had a Tasbeeh held tightly in his hands.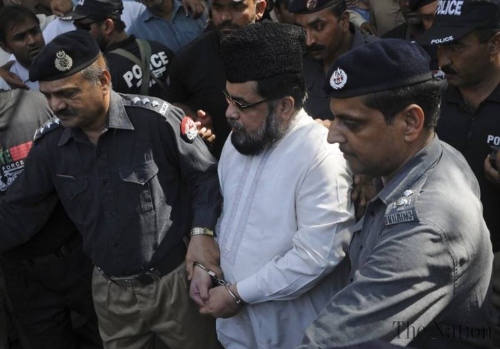 However, during this process and because he underwent a lie detector test, his health deteriorated for which he had to get several tests done.
Mufti Qavi or Muft Tharki?
آپ کو مفتی قوی کہا جائے یا مفتی ٹھرکی ؟
میں نہیں جاتا خواتین چل کر میرے پاس آتی
ہیں تو کیا کروں
Full Video:
https://t.co/hYcgrTiBwC pic.twitter.com/UGXjvk0UH4

— UrduPoint اردوپوائنٹ (@DailyUrduPoint) October 6, 2020
Mufti Qavi was going to be interviewed and, understandably, ridiculed. The interviewer is throwing one pun and snide remark after another, and Mufti Qavi's response is strange for two reasons.
Either he does not have a firm grasp over linguistics and does not understand what is being said about him, or he does not care! He also denies all the controversies and scandals, saying a lobby has been created against him because of his views on Modi.
The interviewer says these women are of your daughter; then, he asks whether we should call you Mufti Qavi or Mufti Tharki and so on. His response is evasive and too naive— he begins talking about how he makes a "schedule" for his week. Absurd right?
What is right and what isn't is unclear yet, but we're hoping truth can come to light soon.
Stay tuned to Brandsynario for the latest news and updates.