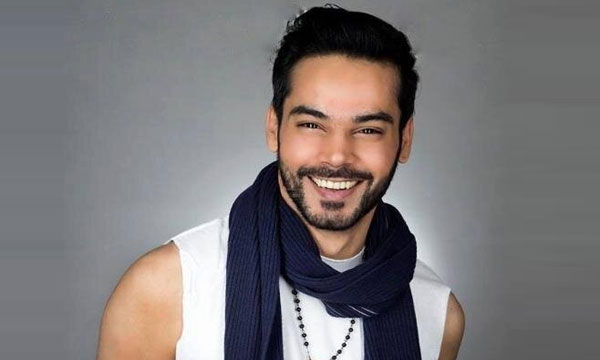 The actor that is everyone's favorite baddie, Gohar Rasheed, will be starring in Urdu's upcoming drama, 'Mujhay Jeene Dou'.
This time around, Rasheed will not be donning the full-blown antagonist avatar but will be close to an anti-hero. The star that looks for risky projects, moves to break his own stereotype.
In an exclusive interview, Gohar Rasheed opened up about his upcoming project.
Q. Who was your inspiration to choose an acting career?
When I started doing theater I was in 3rd grade, so I did not even know what the word inspiration meant back then. However, when I joined the industry I researched about acting and the actors that's when I started forming my views.
My all out inspiration is Daniel Day-Lewis and I tend to follow his footsteps to whatever level I can. In Pakistan, the Late Moin Akhtar inspired me.
Q. You always seem to play the antagonist, is this a wholehearted choice?
GR: I personally think that a hero is always a hero, but a villain gets more margin in terms of acting and also that's the character that increases the curiosity level of the audience. He keeps them on their toes.
Villains are unpredictable so their actions come as a shock and it adds the suspense of the story. That is why I feel baddies get more chance to grow in terms of acting. That's the kind of thing I look for, a meatier and substantial role. Plus I feel the writers focus more on the villain because we all know that the hero saves the day. What will the villain do? That's the question. It is what keeps you guessing. Therefore it gives me more room to act.
Q. Tell us about 'Mujhe Jeene Dou'
GR: The story deals with a child marriage which basically, I think is a major issue in our rural areas.
The drama 'Mujhe Jeene Do' is by John Hopkins and directed by Angeline Malik. When you take such a decision you usually have no idea that what will be the repercussions of this decision. We talk about the consequences of it.
While reading the script, some scenes were horrifying. You think that this act is done to a person who has no idea of what this all means. I mean it's just a little girl and you have wedded her off.
This drama serial is dealing with all those taboos attached to these things, things that need to be spoken about. Our audiences especially in the rural areas but even in the urban ones need to be informed and made more aware of such topics.
Q. What is your role in the upcoming drama 'Mujhe Jeene Dou'?
GR: This time it's not a baddie!
You have to break your own stereotypes. I want to bring something new to the audience because they have some sort of expectations from me.
The character's name is Naseeb. He is a good guy in the play. The reason why I chose this character is that in this play, you can't determine just within the first 15 minutes if he is a good guy or a bad guy. His decisions determine whether he is right or wrong so in this way it is realistic.
This character had a "human element to it" which is why I opted for it.
The actions he takes due to peer pressure and some legit circumstances. What he does after marriage is what this story is all about.
Q. How do you get into a character? How do you prepare for it? What kind of research do you do?
GR: The psyche of the character was hard to get into. While performing, I used to take some time and go sit with Angeline. Discuss how to get into the mindset of this character because I haven't experienced these situations or anything remotely similar to it. She used to give references to help me out and make the situations a little easier to understand.
For people like my character, it's just that "ye larki hai".
I did a lot of research and got the stats for the rural area because this is the norm there. The number of child marriages seems to be increasing. There is a law against it, but no one knows about the basic fundamental rights that protects under-aged people being forced into marriage.
I coincidentally met a little girl, in the outskirts of Lahore, where we were shooting who was married. I was just shocked.
Q. How is the experience of working with Sarmad Khoosat and Nadia Jamil?
GR: I always wanted to work with Nado (Nadia Jamil). Incidentally, from my struggling days, I had wanted to work with her because she is such a brilliant actor. Offset she is a sweetheart, it is fun to be with her. On the set, she is the one creating the shor sharaba. She is basically the life of the party.
With Sarmad, not many people know this but I have done my second telefilm for Geo with him. Back then he was a director. Now seeing him as an actor, I was blown away (referring to Sarmad's performance as Manto). I suggested that we should get him on-board. It has been a learning experience working with them. It's a good ensemble and combination of actors. It is a place where we learn while having fun too.
Q. Share with us a crazy story from the sets of 'Mujhe Jeene Dou'.
GR: Since we have only shot a small spell as of yet only one comes to mind.
So basically [an incident happened ] while [we were] shooting an intense scene with Nado and Ali Tahir. Our characters were in the heat of the moment, arguing about a very serious issue. It was going great, but out of nowhere we heard sounds like 'khar-khar'.
We looked at the source of disturbance and noticed two of the goats, tied to the tree in the background were busy making love. We had to call the scene off because of those two goats. It was hilarious the whole crew was in fits.
Q. A trend has emerged of creating dramas based on social issues. How do you think this impacts the society?
GR: Naturally, nobody wants to face their guilt or fear. As a human being, we all avoid situations that put us into discomfort when we are in the wrong. That is why I am not over ambitious about this project. We may not change the world but I feel if this show can prevent even one girl from getting married and facing such a miserable life; then I would consider myself lucky to have done the job.
Moreover, we are going to dub the show in the regional languages as well like Sindhi, Punjabi and it will be broadcasted at smaller channels as well because our target is to create awareness in rural areas. We hope people see this drama with a neutral and open mind. They need to unlearn some things that have become the norm. They need to know that customs like these are not okay.
Q. O21, Main Hoon Shahid Afridi, and Seedlings were your first projects on the silver screen. Currently, you are working on 2-3 more (Yalghaar, Rangreza, Maidaan and Kambakht). How would you say you have grown as an actor?
GR: As an actor, one thing I am glad about is that I have evolved. It's something I can vouch for. It is definitely a learning curve. The earlier films are when the new wave of Pakistani cinema was emerging; these films were the first batch. I was young at that time, it was all new to me.
Now as an actor, I am more open to taking risks. Plus I do not take myself so seriously and I am comfortable in transforming myself according to the demands of the character.
Like my long hair and mustache right now is for Rangreza. Right after this project, I have to go clean shave and shed off some weight. So I like taking risks and doing something new that is what I have gained working on these films.
Q. When you take-up projects, is there anything in particular which you look at first, like an interesting plot twist, or something, which makes you say yes to the project?
GR: It all depends on how unusual or risky the project is. The quintessential, good-looking boy-next-door, those stereotypes are very boring for me. They do not excite me at all. I do not want to see myself in such roles I feel there are lots of others who fit into it and are happy with these roles.
I want to see myself as an anti-hero.
For example, Deadpool or Lewis's role in Gangs of New York. Roles that push the envelope further those that do not fit in a box. You can't label them. That is what I look for.
I feel Mikael from Mann Mayal was such a character who everyone hated in the beginning but near the end, after his death. People actually sympathized with him and felt that he deserved a chance.
I like doing projects that trigger mixed emotions of hatred and sympathy.
I might do contemporary or quintessential roles down the lane, but not right now.
Q. Any actor/actress you would like to work with in the future?
GR: Daniel Day-Lewis. He is the epitome of acting. I really want to work with him.
In Pakistan, I would love to work with Bushra Ansari. We are in the talks for a project so hope it happens. With boys, I have worked with almost everyone.
Q. Of all the roles you have played, which was your favorite?
GR: The next one. It is always the next one.
Q. 5 years down the lane, where do you see yourself?
GR: I have no idea. I never plan my future, because the future is not in our hands.
The post first appeared on VeryFilmi.com