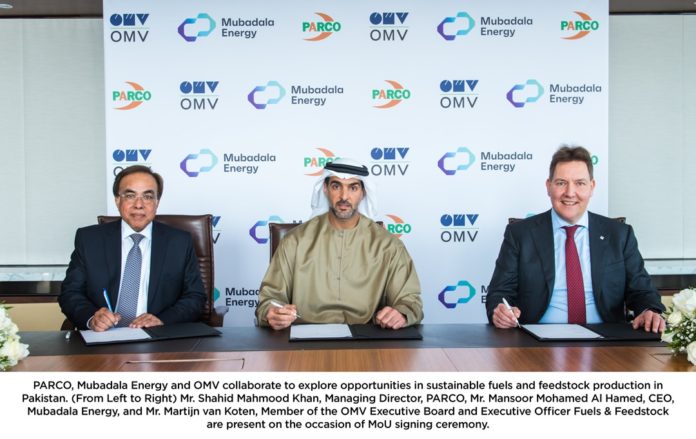 In order to investigate potential in the production of sustainable fuels and feedstocks in Pakistan, OMV Downstream GmbH and Pak-Arab Refinery Limited (PARCO) have signed a Memorandum of Understanding (MoU) with Mubadala Energy, a global energy corporation with its headquarters in Abu Dhabi.
As part of this agreement, the companies will look into the feasibility of pursuing initiatives in the circular economy, including the manufacture and recycling of plastics, the creation of sustainable fuels and feedstock, and the production of synthetic oil and chemical products. The alliance between Mubadala Energy, OMV, and PARCO is strengthened through this collaboration, which aims to make use of cutting-edge technology while utilizing already-existing infrastructure and market access.
The agreement supports Mubadala Energy's recently launched sustainability strategy, which identifies three key priorities: creating a positive environmental impact, supporting responsible operations, and being a partner of choice. This is in line with Mubadala Energy's strategy to pursue opportunities in new energy sectors and low carbon solutions. The parties to the MoU also intend to assist initiatives aimed at ensuring energy security in significant customer centres.
Mubadala Energy's CEO, Mansoor Mohamed Al Hamed, said: "We have outlined a clear plan to seek new energy sectors and low carbon solutions in support of the energy transformation. With the help of this agreement, current partners will combine cutting-edge technology, knowledge of the energy transition, and market infrastructure to fully realise the potential of circular economy solutions. I'm eager to see how this partnership can help the UAE achieve its objective of net zero emissions.
The initiative is in accordance with OMV's strategy to become a leading, cutting-edge producer of sustainable fuels and feedstock and supports the company's net zero emissions goals. The partnership has the potential to advance PARCO's position as a key participant in the circular economy and extend its integration with the chemicals and materials sector, all while actively developing sustainable, low-carbon solutions that support business diversification.
The Managing Director of PARCO, Mr. Shahid Mahmood Khan, stated, "As the country's energy lifeline, we commit to achieve a sustainable energy future for the Country. Pakistan has a lot of promise when it comes to switching to cleaner fuels. We are pleased to work with OMV and Mubadala Energy to hasten Pakistan's energy transition. Their technology and knowledge will be crucial in examining potential directions for the circular economy and sustainable fuels.
Fuels & Feedstock Executive Officer Martijn van Koten, a member of the OMV Executive Board, stated: "We are pleased to engage in this collaborative endeavor, which complements our sustainable business plan. Our goal to increase the production of sustainable fuels and our ReOil technology depends on our ability to source sustainable raw materials and plastic trash. With its wide expertise in important sustainable technologies, OMV, in my opinion, can significantly contribute to the success of this collaboration.
Stay tuned to Brandsynario for the latest news and updates.