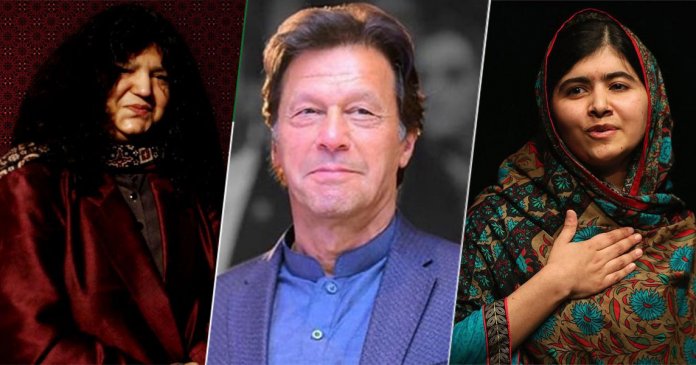 Prime Minister Imran Khan, Justice Sheikh Mohammad Taqi Usmani, Malala Yousafzai, Abida Parveen Ji and other Pakistanis are amongst the world's most influential Muslims.
Justice Sheikh Mohammad Taqi Usmani, the Deobandi figurehead ranked in the top 10 at #6.
PM Imran Khan improved from 450th in 2018 in the ranking to #29 in 2019. PM Imran Khan has been recognized for his efforts in improving the political situation, his humanitarian contributions, and efforts to curb corruption and money-laundering as well as achievements in sports.
Nobel Peace laureate Malala Yousafzai and Prominent religious scholar and preacher Maulana Tariq Jameel are also amongst the prominent figures.
Other Pakistanis mentioned in the list include:
Umar Saif,
Abida Parveen,
Sharmeen Obaid-Chinoy,
Irfan Siddique,
Dr. Abdul Qadeer Khan,
Professor Atta-ur-Rehman,
Muniba Mazari,
Bilquis Edhi,
Javed Ghamdi,
Maulana Fazal-ur-Rehman,
Siraj-ul-Haq,
Nawaz Sharif,
Dr. Tahir ul Qadri,
Dr. Farhat Hashmi.
World's Top 10 Most Influential Muslims
The following are the top 10 most influential Muslims in the world:
Recep Tayyib Erdogan – Turkey
King Salman bin Abdul Azia Al-Saud – Saudi Arabia
King Abdullah II – Jordan
Ayatollah Khamenei – Iran
King Mohammed VI – Morocco
Justice Sheikh Mohammad Taqi Usmani – Pakistan
Ayatollah Sayyid Ali Hussein Sistani – Iran
Sheikh Al-Habib Umar bin Hafiz – Yemen
Dr Sheikh Ahmad Muhammad Al-Tayyeb – Egypt
Sheikh Salman Al-Ouda – Saudi Arabia
Stay tuned to Brandsynario for more news and updates.