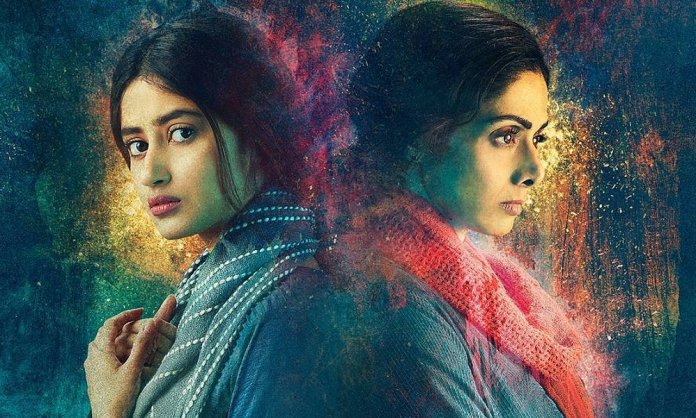 The reviews of Bollywood Mom are out! Sridevi has made a comeback and made sure she creates a big splash in the industry upon her return!
What is more, it features the oh-so-versatile Nawazuddin Siddiqui. But the most noteworthy part of the movie remains the presence of our favorite Pakistani stars, Sajal Ali and Adnan Siddiqui.
Yeap, we are really excited to see them rock their level best in 'Mom' and we are sure they are bound to make us proud like Fawad Khan, Mahira Khan and Saba Qamar.
Mom Gets a Thumbs Up By Indian Critics & Celebrities
Now early reviews of the movie have paved their way to social media. As expected, Indian critics are in love with Mom's story and Sridevi's acting.
All of them are singing praises about the movie, which makes us realize that Sajal and Adnan were wise enough to sign the movie.
However, reviews on their acting are not out yet and we are still waiting for Bollywood to react to Adnan Siddiqui's  and Sajal Ali's debut performance in Indian cinemas.
Read what Indian critics and stars are saying about 'Mom' movie!
#OneWordReview…#Mom: Superb.
What works: Relevant theme, taut screenwriting, effective background score and skilled direction.

— taran adarsh (@taran_adarsh) July 5, 2017
Feel like I saw the film of the yr! @SrideviBKapoor Ur beyond incredible in #MOM ❤️So is Sajal & @Nawazuddin_S ..Take a bow @raviudyawar 👏🏼 pic.twitter.com/dIrzzx2Tkw

— Sophie Choudry (@Sophie_Choudry) July 5, 2017
With these Legends at @MomTheMovie screening Fantastic performance by @SrideviBKapoor & wonderful direction by @raviudyawar #MustWatch pic.twitter.com/dTLzFA3ZT7

— Manish Malhotra (@ManishMalhotra) July 5, 2017
MOM- received a Standing ovation… MAJORITY of Ppl saying
"Sridevi best Performance till now"
Congratulations team #Mom..

— rohit jaiswal (@rohitjswl01) July 5, 2017
My god one word describes #MoMTheMovie wow just wow speechless #sridevi is a goddess … details tmrw

— Salilacharya (@Salilacharya) July 4, 2017
#MoMTheMovie is 1of the real good thrillers of bollywood . Really enjoyed . All the best @SrideviBKapoor @Nawazuddin_S @ZeeStudio and team

— Viki .Rajani (@vikirajani) July 5, 2017
As much as I am shaken watching #mom last night I now know why I worship @SrideviBKapoor the DEVI in ur name is there for a reason😍❤️🙌🏻😘

— Archana Pania (@Archanaapania) July 5, 2017
#MoMTheMovie shows starkly how one can override substantial evidence with money&power @raviudyawar u hav shown the DEVASTATION of a survivor

— Archana Pania (@Archanaapania) July 5, 2017
Not a scene wasted in #MoMTheMovie @raviudyawar ur attention to detail & poetic shots in the midst of high drama! Commendable 🙌🏻

— Archana Pania (@Archanaapania) July 5, 2017
Watched #MoMTheMovie yesterday, and I cannot recommend it more. Sridevi and Nawazuddin Siddiqui are brilliant. You've gotta watch it!

— Aashna Shroff (@AashnaShroff) July 5, 2017
#MOM @SrideviBKapoor … Sridevi maam is brilliant in the film, absolutely terrific… Another gem added to her glorious legacy. 🙏🏽👍🏽👏🏽👌🏽

— Shashank khaitan (@ShashankKhaitan) July 4, 2017
#MoMTheMovie– 4stars
beautifully shows protective instinct of a mom @SrideviBKapoor is soulstirring 👏@Nawazuddin_S nails it as DKdetective👍

— Kommal D Seth (@Kommaldseth) July 4, 2017
Sure… A Superhit!!! @MomTheMovie #MoMTheMovie #7thJuly @SrideviBKapoor @sajalaliactress @OfficialAdnanS @raviudyawar 🌸🌸 pic.twitter.com/SLbUL5AUDu

— ❄ Amol Ambekar ❄ (@AmolNAmbekar) July 5, 2017
@SrideviBKapoor #MoMTheMovie @divyaudit007 #Bollywood #cinema MOM's story moved my heart: Sridevi https://t.co/XtZRzSpvkU pic.twitter.com/5RyYVhSya6

— Garima Kapil (@KapilGarima23) July 5, 2017
Movie screening #MoMTheMovie great story, amazing performances, must watch film. pic.twitter.com/hVnhTSIScd

— Monisha Singh Katial (@MonishaKatial) July 4, 2017
Mom is all set to hit the theaters on 7th July. It is also set to release in Pakistan via Hum Films.
We are sure it will do crazy business in both Pakistan and India. Good luck to both Sajal Ali and Adnan Siddiqui.
Stay tuned to Brandsynario for more updates.