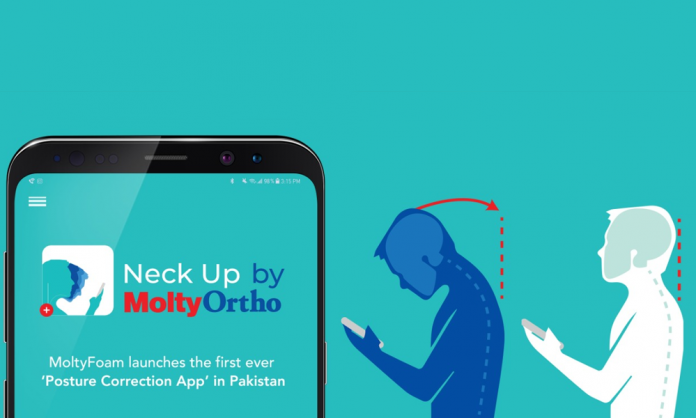 The past few years have observed an exponential increase in corporate spending their time and money on cause-related campaigns. It is great to see that our local businesses also recognized their responsibility and are contributing to the well-being of people.
Master MoltyFoam came up with this innovative idea of billbeds and also campaigned for 'women empowerment' under the name "beti bojh nahi". Master MoltyFoam also recognized the market gap and introduced a whole new range of best ortho mattresses called MoltyOrtho to help people with spine their health.
This time they came forward with an unspoken yet serious issue "Text Neck Syndrome". They took a lead in Text Neck syndrome awareness and launched Pakistan's first-ever posture correction app named "Neckup by MoltyOrtho"
We spend at least five hours of our day using our smartphones. The situation, in case of children, is rather alarming. It is believed that children between 6 to 13 years of age, on average, spend about 43 hours per week and about five to seven hours a day on phones. Regular use of smartphones in children is causing spinal degeneration and by the time they hit their 20s and 30s, degeneration of backbone is already set in.
Master MoltyFoam has taken it up a notch with Pakistan's first posture correction app 'Neckup by MoltyOrtho.'
As soon as it detects excessive use of the device, the app starts to send a notification to the screen on smartphones being used by children. These pop up can only be ended post entering the security code set by the parent.
For adults, the app can be set on an immediate, hourly or daily notification setting. Each time you are using your phone in an incorrect posture, the app blinks a warning as soon as it detects you beginning to develop Text Neck. Workable on the most ordinary of smartphones, it is absolutely user-friendly.
It's important to bear in mind that the risks of Text Neck include:
Early degeneration of the spine
Altered spinal curvature
Chronic neck and back pain
Chronic headache
Disc related injuries
Possible back and spinal surgery
Prevention is better than cure. Use your smartphones to minimum. Watch out for the signs of Text Neck and stop immediately when you feel discomfort or pain in the neck. Do strengthening and stretching exercises for the muscles of the cervical spine. Eat well and sleep right. Moreover, with the help of Neckup by MoltyOrtho, you can keep Text Neck at bay.
Download App on Andriod (PlayStore):
https://play.google.com/store/apps/details?id=com.molty.textneck
Download App on iOS (AppStore):
https://apps.apple.com/us/app/neckup-by-moltyortho/id1494091345