"Fahad hussayn was very normal, what happened to you? Donald duck peak mask. What do you eat to dress like this? Tell me so we eat that to see you?"
The film and television actress Mishi Khan is not tolerating two designers' outfits and has spoken up about it. Here's what she said about Fahad Hussayn and Ali Xeeshan's comical and Met Gala-esque looks.
"What Are You Guys On?"
Mishi Khan led the video with asking, "what are you guys on?" She asks Fahad Hussyn and Ali Xeeshan this based on their HUM Style Awards 2021 outfits. The outfits were so bizarre and wildly absurd that people were beyond amazed. In order to critique something, one must understand it first. The issue with their outfits is, that we can not understand them.
View this post on Instagram
Usually, it's Ali Xeeshan who dresses like this and sticks out like a sore thumb. However, this time Fahad Hussyn beat him in his game and overtook that title.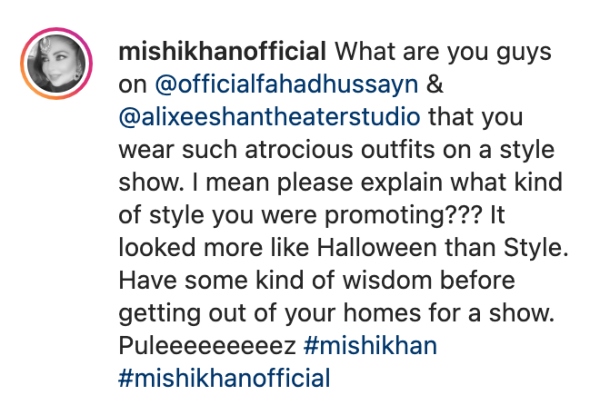 Have A Look At Their Outfits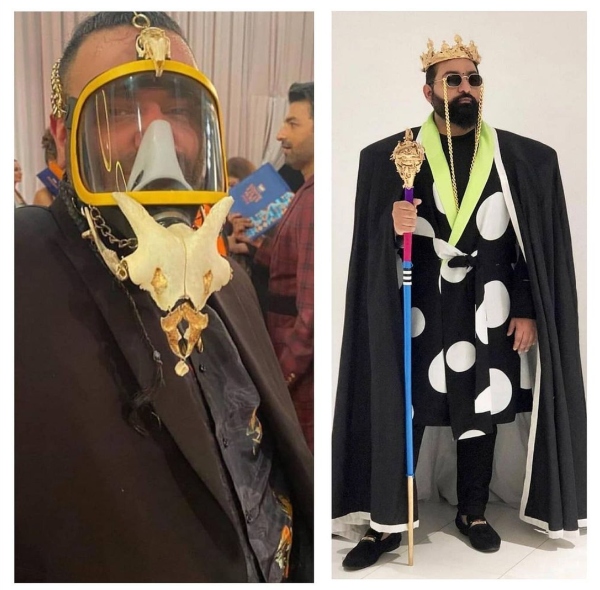 Mishi Khan Gets Real
Khan was appalled at the designers' dressing to an awards function that has 'style' in its name. She was wondering that they both charge 8-15 lakhs (and more) from brides, yet this is how you dress? Mishi Khan constantly kept emphasising that what the two are promoting by dressing like this is absurd.
View this post on Instagram
The message they impart is that this awards function is not serious. Make a fool of yourself in order to get attention. 
Critique of Fahad Hussyn
Mishi Khan also took her time out to singe out Fahad Hussyn.  She said I knew you in Karachi and would also come to meet you, you were always quite normal. "Just a good designer, busy designing." However, time changes and so does style, Mishi Khan! 
View this post on Instagram
Fahad Hussyn's outfit was even more strange than Ali Xeeshan. Mind you, that is saying something because Ali Xeeshan is the king of strange outfits. Mishi Khan ended by saying that whatever you (designers) eat to dress like this, please share. Share it so we can eat it to be able to look at you.
About Mishi Khan
Mishi Khan is one of Pakistan's most loved film and television actress and a TV host. She is most famous for starring as 'Uroosa' in PTV's Drama titled 'Uroosa' for her debut. Mishi Khan is also not known for gaining attention by calling other people out, however, it seems this time she has had enough.
Stay tuned to Brandsynario for the latest news and updates.