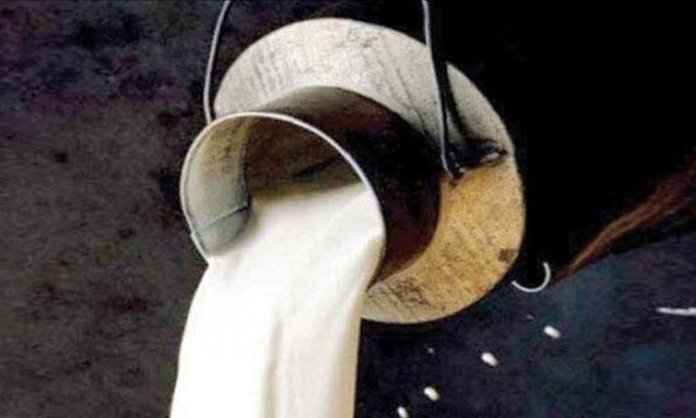 In the new wave of inflation, milk prices in Karachi have increased by Rs 23.
The Dairy Farm Association in Karachi on Wednesday has raised the price of milk by Rs26. Now  Dairy farmers across the city will now be selling milk to middlemen at the price of Rs108 per litre.
Consequently, the end buyer will now be facing a sudden surge in milk prices.
Dairy Farm Association Chief Shakir Umar revealed that price hike is a result of failed talks between the dairy farmers and Commissioner Karachi.
"We used to sell milk at Rs85 per litre to middlemen, however, we have now started implementing the price increase"
The milk prices have raised right after the increase in transport fares owing to costlier fuel, higher cow fodder costs, and other expenses.
On the contrary, the government has fixed the price of milk at Rs 94 per liter.
Citizens woke up to the shocking news this morning and are expressing their outrage over the increase.
Karachi: Increased in MILK Price Rs. 25/= Per Kgs. Sindh Government has failed to control prices and snatched away FOODS/MILKS from Poor Children/Poor People. People are Helpless in Riasat-e-Madina Why?. pic.twitter.com/LmpyyNW9YM

— KashfRANA (@kashf_rana) April 10, 2019
@Aadiiroy @dakhattak @Xadeejournalist @danney707 tabdeeli update for today!!!! Milk prices increased by Rs 25/litre in Karachi!!! Middle class wiping out at lightening speed in Naya Pakistan

— iffi (@iamiffi123) April 10, 2019
milk prices are increase by 23 ropees per kg in karachi.. es issue ko bhi lazmi take up kren janab

— Muhammad Imran (@Imran913Imran) April 10, 2019
What's your take on the story? Let us know in the comments below.