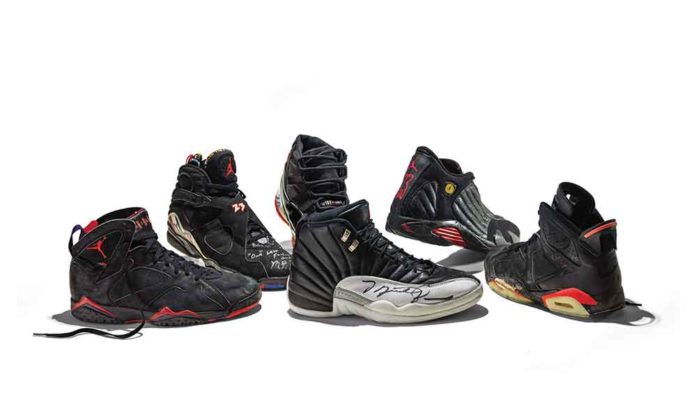 Certified Sports Guaranty (CSG) will pay tribute to Michael Jordan with a memorabilia series called the "Dynasty Collection." This collection will include all six of Jordan's championship-winning Air Jordan sneakers.
CSG authenticated the sneakers and will display them for the first time at the convention this week in Atlantic City, from July 27-31. Jordan has won the NBA championship in each of the following years: 1991, 1992, 1993, 1996, 1997, and 1998.
The Nike Air Jordan VI sneakers that he wore to win the championship in 1991 are included in the Dynasty Collection, as well as the Air Jordan XIV "Last Shot" that he wore to win his title in 1998.
After winning the NBA championship with the Chicago Bulls in 1991, Michael Jordan gave away one of his signature sneakers. The tradition was upheld all the way to his sixth title, which he won in 1998.
Because they were kept in such pristine condition for so many years, the sneakers are in a remarkable state of preservation, appearing almost exactly as they did when Michael Jordan took them off in the locker room.
"Even after examining the world's most important collectibles for four decades, the Dynasty Collection had the power to take my breath away," said Mark Salzberg, Chairman of the Certified Collectibles Group.
"For the role these shoes play in our collective consciousness, how they relate to sports, fashion and celebrity, they are the contemporary Ruby Slippers, only rarer."
Michael Jordan is still widely regarded as one of the most famous and influential sports personality across the globe, even after 25 years since his final NBA championship. His courage and dedication, together with his uncanny ability to deal with tough times, have inspired a whole generation and continue to motivate people to this day.
In 1984, when Jordan was still a rookie in the NBA, he signed a contract with Nike to produce a new sneaker brand, which they named "the Air Jordan". This was years before Jordan won his first NBA title. The sneakers became an instant hit, and in just its first year on the market, sales of the Air Jordan reached more than $100 million. With billions of dollars in new sales recorded each year on top of a booming secondary market, the Air Jordan brand and its iconic 'Jumpman' logo continue to be more notorious with each passing year. Air Jordans have become a cult in the sneaker industry, and a cultural icon across the globe.