Presidential news is soaring here and there everyday. Just yesterday, we saw the inauguration of the newest one in la long line of presidents. Yes, Joe Biden sees the latest in the ongoings of the country. He has been sworn in and now has five years to lead the country forward.
Every time the elections take place, many people become deeply invested in it. Whether it is campaigns or protests, everyone wishes to express their opinion on it. When Obama took the oval office, it was seen as an impressive accomplishment. History had seen its first black president and he led America through some tough times.
Similarly, when Trump was fighting in the elections four years ago, there were many candidates standing against him. One of them was Bernie Sanders.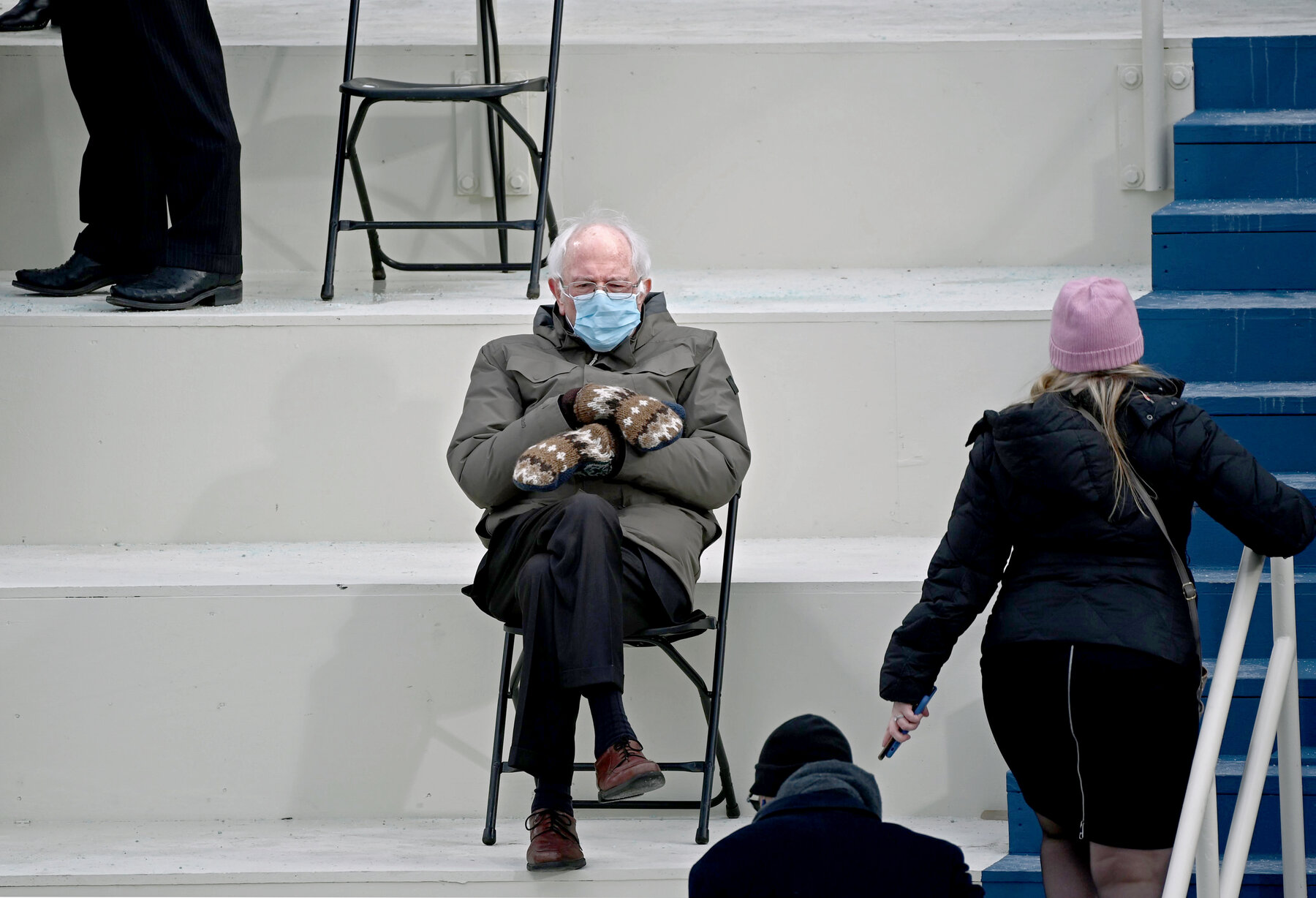 Presidential Candidates:
Even in this presidential race, Bernie Sanders had a front row seat to it all. He took part in many speeches and offered advice where it was needed. When Hillary Clinton was taking part in the war four years ago, Bernie Sanders was standing on those lines too. Over the years, he has gathered quite an audience.
However, recently, he has been the subject of numerous tweets and memes. Everyone is taking part in it and we are wondering how Bernie himself feels about this. Some of those tweets will leave you laughing for minutes and minutes. Let us dive into the details of the tweets.
Bernie Sanders On Twitter:
In a recent photograph moving about the corners of the internet, one can see Bernie Sanders. What is he doing? Apparently, simply sitting! So, what is the meme content? It is the way he is just sitting and gazing into the lens of the camera that has people whispering. Not just that, he is sitting with a mask on and no one in close proximity, giving rise to even more meme content.
In some of the following tweets, we see how people have shaped the image into innovative meme content. It is greatly entertaining to see any famous figure appearing in a plethora of memes here and there. After all, twitter is one of the most prime parts of the meme world. It is convenient and easy to post content over there and the audience is extremely supportive too!
bernie sanders social distancing with naruto pic.twitter.com/wrsb7COjuP

— Selim 🇹🇷 Cw: Bleach (@VintageManga) January 21, 2021
Some of my favorite Bernie Sanders sightings today: pic.twitter.com/Pxta5BO7Uu

— Seth Abramson (@SethAbramson) January 21, 2021
Bernie you can come back now, Trump is gone. pic.twitter.com/Og6ADCpw1z

— Bearings (@bearingsband) January 21, 2021
Uncle #Bernie trending lifted my spirits today for real. ☺️ pic.twitter.com/OiYPTgmZr8

— Dapo Adeola (@DapsDraws) January 21, 2021
Bernie on the drums#Inauguration #BernieSanders pic.twitter.com/rLAVpgJCvq

— Bernie Sanders Mitten Memes (@BernieMemes2021) January 21, 2021
Twitter For The Win:
Now, what we just saw was probably one of the most entertaining things ever. Whether you're pro Bernie or against him, you cannot deny you lit up at the tweets. Regardless, we must always keep in perspective that this is all in good humour. Nevertheless, the content is extremely hilarious!
We hope to see developments in the politics of US more throughout the year. It is always fun to read about world news, provided they are not about dire things like war. Yes, the writer of this article recommends you to check out CNN every now and then. Just the other day, we saw the performance of Lady Gaga and Jenifer Lopez at the inauguration ceremony! Get a load of that!
Stay tuned for more from Brandsynario!