Tamgha-e-Imtiaz holder Mehwish Hayat has made her name in Pakistani Television as well as the Film Industry. Be it Dil Lagi or Punjab Nahi Jaun Gi, Mehwish is known to give her all to the character, and it shows on the screen. But how do these celebrities with lives so full of acting and the rest of their responsibilities shed off their fatigue?
By adopting pastimes that take their minds off of a lot of other engagements.
Mehwish Hayat at Shooting Range
And Mehwish, in her recent Insta and Twitter post, shared with the followers of her current pastime. It was learning to shoot at a shooting range. Doesn't that sound extremely cool?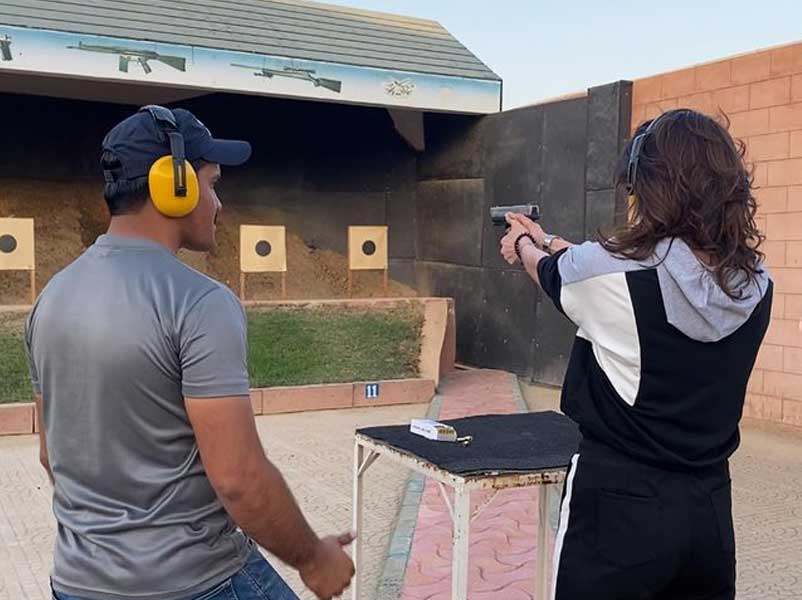 The actress coupled her pictures with the caption, "There's method to my madness."
The picture shows her standing in front of a table that overlooks targets for shooting. Standing nearby is an instructor who is teaching her the way to do it.
Twitterati Critics
While she is busy learning her new hobby, the followers who clearly are not her fans just had to find something to criticize her on. Involving legal angle, someone called it an exhibition of weapons.
گستاخی معاف 🙏🙏🙏
کیا یہ اسلحہ کی نمائش کے زمرے میں نہیں آتا @OfficialDPRPP @MashwaniAzhar
یا یہاں قانون کے پر جلتے ہیں؟؟؟

مجھے یقین ہے کہ اس ٹویٹ پر کوئی جواب نہیں دیا جائے گا۔
(شاباش قانون کے رکھوالو)

— صحرا نشین (@sehranasheen12) February 23, 2021
In other news, Mehwish was called out for where she was standing. They said she is standing too close by. I mean, people hold your horses. She is just beginning to learn it. It will take time until she is able to do it from this far a distance.
You're too close 😂 try it from original position next time pic.twitter.com/8OLmBMMn7A

— Z|_|Ba¡R (@EngineersAtWork) February 23, 2021
Promoting guns may not be right, but then again, they are pretty rampant all over the city. And if someone is just doing that vent off steam and not for destructive purposes, should we even criticize?
Promoting guns ? Not the best pastime

— Shaq (@IshaqIff) February 22, 2021
Critiquing her on her newfound pastime aside, it is a very much needed activity that Pakistani actors learned, considering every other Pakistani drama ends with the villain picking up a gun and shooting the protagonist without proper posture. And the errors of how to properly shoot are very much visible to the audience.
Stay tuned to Brandsynario for the latest news and updates!