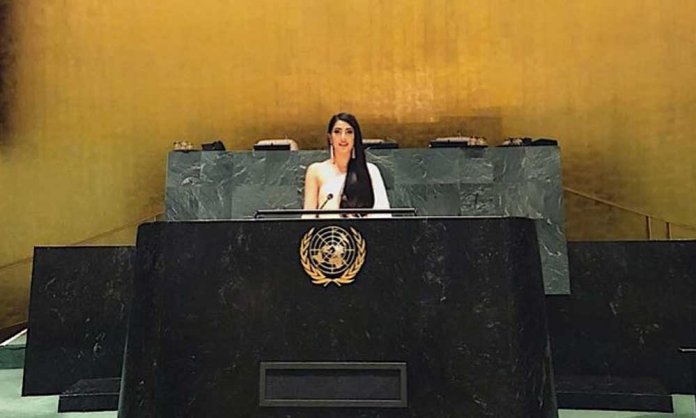 30th August: Pakistani actress Mehwish Hayat applauded BBC World for highlighting the serious issue of Kashmir.
She further writes that she is happy that the world is finally seeing what is really happening in Kashmir.
She further adds that this is just the tip of the iceberg.
Mehwish Hayat's Tweet:
Thank you @BBCWorld for highlighting what we have been saying for so long. Glad that world media is finally waking up to see what is really happening in Kashmir. This is only the tip of the iceberg. #SaveKashmir.
Thank you @BBCWorld for highlighting what we have been saying for so long..🙏
Glad that world media is finally waking up to see what is really happening in Kashmir. This is only the tip of the iceberg.#SaveKashmir https://t.co/knwyRB1VSD

— Mehwish Hayat TI (@MehwishHayat) August 30, 2019
The starlet retweeted the article titled 'Kashmiris Allege Violent Army Crackdown'. To show solidarity with Kashmir, Pakistan observed 'Kashmir Hour' as Pakistanis filled the roads to protest.
The national anthem was played and sirens blazed all across Pakistan.
---
---
16th August: Mehwish Hayat is both loved and criticized by Pakistani and international fans for the stellar display of her acting and dancing skills on the screen.
She stole the spotlight for both good and bad reasons after receiving the Tamgha-e-Imtiaz in March this year.
And she has stolen the spotlight yet again, after her address at a Peace event in Oslo(Norway) and recognized with an award for Pride of Performance.
See her speech below and you'll know exactly what we're talking about:
In her speech Mehwish Hayat emphasized on how film industries have mostly used their power and platform to present a negative image of Pakistan and Pakistanis, when they could actually have done the opposite and broken the stereotypes the world already holds about our country.
This takes us to another celebrity who has been trending all over social media, but for the wrong reasons:
Priyanka Chopra, popular Bollywood actress and a UNICEF Goodwill Ambassador, responded to a Pakistani-American woman's audacious question at the BeautyCon summit in Los Angeles and has been under the fire ever since.
The question was with regards to the tweet Chopra had posted in February in support of an announcement from India about launching airstrikes in Pakistani territory.
She was asked why she had been advocating war between two countries especially while she is an extremely influential persona and also a Goodwill Ambassador for UN.
Chopra's response was criticized all over the world for being condescending, and soon a comparison between Mehwish Hayat and Priyanka Chopra began.
Her acting gave her a spotlight but her National Award gave her the pedestal she needed. It's not so much about what we achieve but more about what we do with our achievements. The Tamgha-e-Imtiaz has given @MehwishHayat a very strong voice,one we need. She definitely has my vote

— Shaniera Akram (@iamShaniera) August 13, 2019
So well put @MehwishHayat !!!
Proud of you 🇵🇰❤️❤️❤️ #REPRESENT https://t.co/RVCSsfeRCw

— MAWRA HOCANE (@MawraHocane) August 13, 2019
In a world of Priyanka Chopras be like Mehwish Hayat. https://t.co/Rnv4XIJ2e9

— Faizan Lakhani (@faizanlakhani) August 13, 2019
Both Bollywood & Hollywood could've done better with representations about Pakistan & Muslims, says @MehwishHayat. Critical, brave speech from Oslo, especially considering what happened with @priyankachopra and @Spishaa. https://t.co/N9k7tFKyLp

— WSK (@WajSKhan) August 12, 2019
Here is what Chopra said:
"I hear you," she said. "Whenever you're done venting… Got it? Done? OK, cool. War is not something I'm really fond of, but I am patriotic."
priyanka chopra is so disappointing 🤯 she saw that bloody bodyguards taking the mic away from the girl and yet she did nothing. Also the f with that "whenever you're done venting" and "dOnT yeLL??" no chopra shes not done yetpic.twitter.com/KXvbZC4S6j

— 阿林 (🕷️🍑) (@jungsfairy) August 14, 2019
Chopra ended her response with the following demeaning lines:
"Girl, don't yell. We're all here for love. Don't yell. Don't embarrass yourself."
The comparison between Hayat and Chopra has gained so much traction that people have started petitions to take Chopra down as UN Goodwill Ambassador.
@UNICEF this amazing woman called out @priyankachopra rightfully so. Advocating war hardly screams ambassador of peace so we suggest if you truly take your position as a charity seriously reconsider who you hand out these roles to.

— Simran (@SimBerryy) August 11, 2019
#PriyankaChopra UNICEF: Priyanka Chopra doesn't deserve to be UN's Goodwill Ambassador – Sign the Petition!

— shoaib ahmed malik (@shoaibahmedmalk) August 12, 2019
This situation has also led people's attention back to when Mehwish Hayat received the Tamgha-e-Imtiaz and how she really does deserve the award.
So glad that I always stanned Mehwish Hayat ❤ and other people are now joining in after her speech 🙄🙄 Still remember all the crap she went through after recieving the Tamgha e Imtiaz 😑😑

— MAG 😉 (@BahrainiStark) August 13, 2019
I've always loved Mehwish Hayat but its funny that people who questioned her character just because she got a Tamgha-e-Imtiaz are now singing her praises just because what she's saying is nationalistic and counters an Indian narrative. Billi > Piggy #MehwishHayat #PriyankaChopra

— Fatima Shah (@FatimaShah95) August 12, 2019
Sahi tamgha e imtiaz mila hai Mehwish Hayat ko.#MehwishHayat

— Eesha Tehreem (@alookachalo) August 12, 2019
What are your thoughts on the story?
Let us know in the comments!
Stay tuned to Brandsynario for more news and updates.