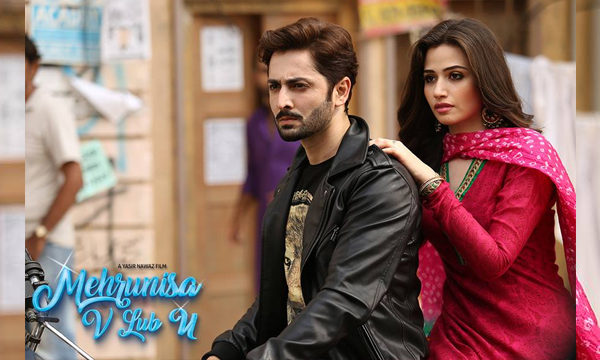 After Pakistani Movie Actor in Law, Urdu1 Pictures is all set to release another blockbuster Mehrunisa V Lub U
Cast
Danish Taimoor
Sana Javed
Javed Sheikh
Hina Bayat Khan
Qavi Khan
Release Date
The movie will hit the cinemas this Eid-ul-Fitr 2017.
Trailer of Mehrunisa V Lub U
From the looks of the teaser, the movie will create a mega revolution in the cinemas of Pakistan. Directed by Yasir Nawaz, the movie's promo flaunts a strong desi flavor! What is more, Danish & Sana's chemistry is super scintillating. But even better are the breath-taking visuals that will make you fall in love with Pakistan!
Songs
1) Tu Hi Tu
2. Badla
If you are streaming online for a romantic song, with powerful lyrics, and jam-packed with emotions, then the new music track from Urdu1 Picture's Mehrunisa V Lub U's "Tu Hi Tu" is your new it song!
Sung by the renowned Bollywood artist known for his soulful voice, Sukhwinder Singh, the song takes you on a journey of love set in Pakistan.