Update: December 16 2020:
On Tuesday, Lahore police claimed that the allegations made against Pakistani skipper Babar Azam have not proven to be true. They said that no solid evidence was provided in the case by the woman who accused him of sexual assault.
During the court hearing, the investigation officer presented the probe report before the judge which said that the case was filed back in 2017. However, the evidence was not enough to prove the allegations to be true.
Back Story: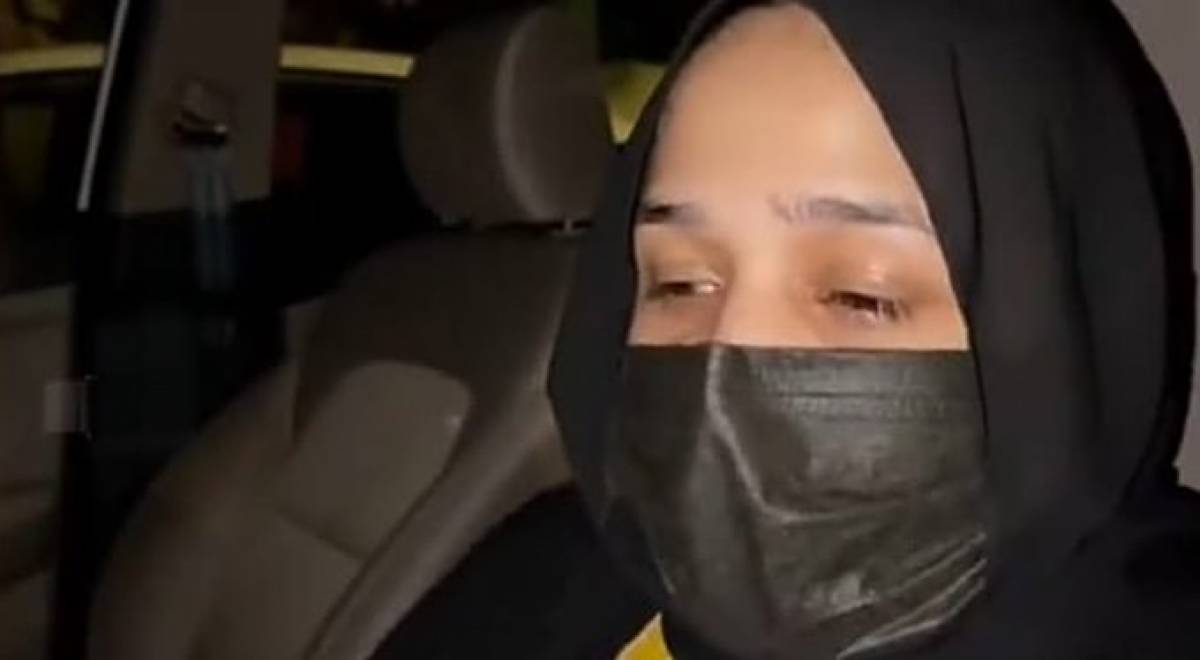 Earlier this month, a woman named Hamiza Mukhtar made allegations against Azam in a press conference claiming she was Azam's neighbour and an old school mate. She said the cricketer had "tricked her into love" and "tortured" her when she demanded him to marry her.
Instagram and Its Truths
Meesha Shafi finds herself in the middle of a controversy, and it involves Babar Azam! Sound strange enough yet?
A fan page of Babar Azam was possibly feeling bored because nothing can explain why or how someone would make this up. The fan page had put up a collage of Meesha Shafi and Babar Azam with a ridiculous quote. It read: " "I always stick to the television when he is batting, and when he gets out, I switch my television off." But that was not all. The ending really packs a punch by saying: "I would love to date him, I just love him."
Is it just us, or is this truly absurd and sounds fabricated? Check out the hilarious post here: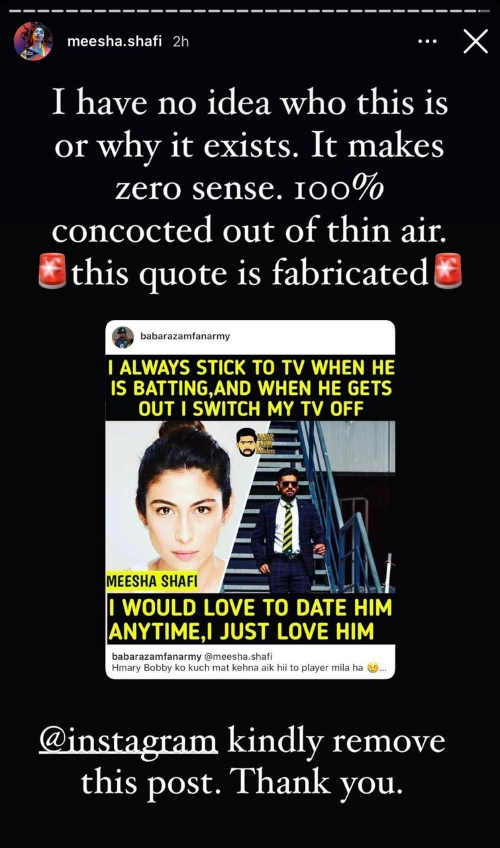 Anyhow, Meesha Shafi does not need anyone to stick up for her; she does it pretty well. 
Meesha Shafi Clapped Back
Meesha Shafi somehow came across that post and did not spare it. She put the post on her story on Instagram with a biting message and also a warning! In her story, she says, "I have no idea who this is or why this is. It makes 0 sense," which we totally agree with. Then she continued it! 
She added that "this is 100% concocted out of thin air" and that it is a "fabricated" truth. Meesha Shafi did not want to hold back- she even made sure to use effective emojis. However, that is still not all.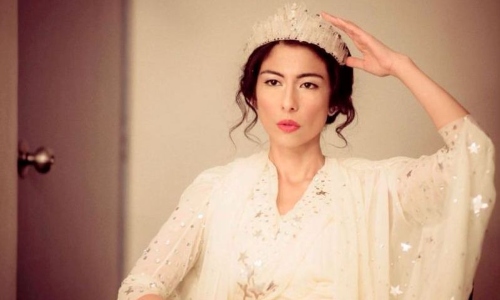 Shafi then proceeded to tag Instagram and asked them to delete the post. We love someone who knows how to clap back!
Creativity At Its Peak
Whoever came up with the quote must have thought long and hard about it. It's reasonable to believe that what if people put this much energy into actually covering good news or even elsewhere? This country and its people would definitely be in a much better place. Social media has created a culture that encourages people to continually attacks others.
Meesha Shafi and Controversies
Meesha Shafi's name is known to all. The impeccably talented singer now resides in Canada and recently came out – or still is in-a huge controversy involving Ali Zafar. Whatever the verdict or the allegations maybe, in our society, a woman is demonic from the moment she points the finger at a man. And well, Meesha Shafi is pretty demonic!
Stay tuned to Brandsynario for the latest news and updates.