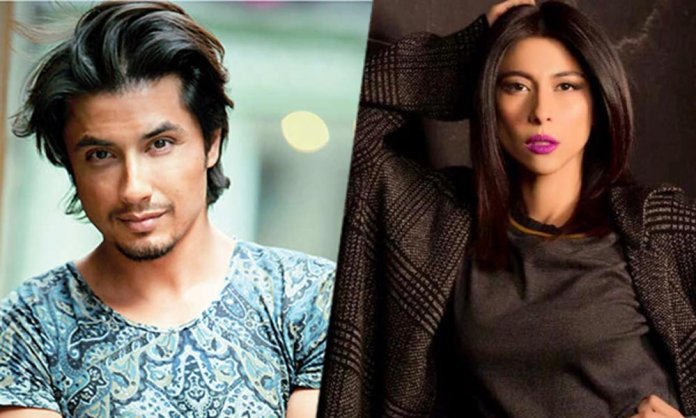 [Update]: 
In 2018, Meesha Shafi, wreaked havoc on social media with allegations of sexual harassment against Ali Zafar. However, Ali Zafar, pleaded and asked his fans to wait for the court proceedings and evidence. 2 years later, Shafi was declared guilty of online harassment along with many others.
After the declaration, Ali Zafar took to his official Facebook page to thank his fans for all the constant love and support throughout this period.
Here's what Ali Zafar had to say,
"Thank you all for your love and support always. We must always stand against oppression of any kind and raise our voice against slander, abuse, bullying, and character assassinations on public platforms whether it's a man or a woman.
It is time to expose all those who were a part of this organised campaign".
---
---
[Update]: The scandal that started in 2018 April with Meesha Shafi accusing Ali Zafar with sexual harassment has finally been put to bed. Meesha Shafi has been declared guilty of making false allegations against Ali Zafar. She involved the social media influencers as well which led to heightened defamation of Ali Zafar and so he involved FIA in that. Now that has been resolved with Meesha Shafi appearing guilty.
---
---
There was a lot of backlash on Meesha Shafi for not attending court hearings after the whole harassment fiasco and Ali Zafar's character assassination.
Ali Zafar also got FIA to send out notices with defamation charges to individuals who spoke up against Ali.
My statement on the relentless harassment I have been facing. I won't be silenced. Dirty pressure tactics won't work! #MeToo #TimesUp pic.twitter.com/Lh3N3FmloB

— Leena (@Leena_Ghani) September 17, 2019
A self proclaimed "rockstar" didn't like that I called him an "alleged harasser" and made a joke about him. If I got arrested for every satire piece I've written, I'd be a resident of Karachi Central Jail

— Ali Gul Pir (@Aligulpir) August 21, 2019
The latest update is that, in a Lahore sessions court, Meesha Shafi has filed a Rs2 billion damages suit against Ali Zafar for making untrue allegations against her on media.
The damages suit includes Rs1bn for the loss of goodwill and reputation caused, and Rs1bn for "mental torture and agony".
Moreover, Meesha has also asked the court to pass a decree to declare Zafar's statements regarding her as "false, malicious and defamatory" and "made to injure the reputation of the plaintiff".
Here is what the suit stated:
"It is prayed that the defendant (Zafar) be permanently restrained from making any further defamatory statement against the plaintiff (Shafi),"

"Moreover, it has caused mental agony and anguish to the plaintiff and for which [the] defendant is now liable to pay damages,"
Let's see what happens next!
Have anything to add to the story? Let us know in the comments.
Stay tuned to Brandsynario for more news and updates.