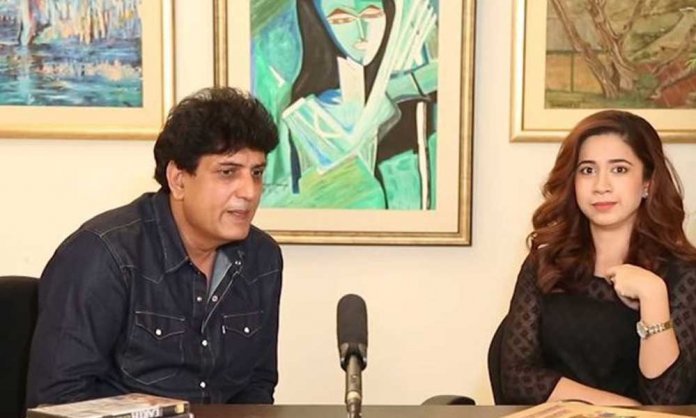 The writer of recently-released Kaaf Kangana has been under some serious fire after his controversial video interview that has gone viral in a day.
In the interview, Khalil ur Rehman Qamar is seen defending his ideas and 'Philosophy' on feminism, cheating, and the way he sees our society.
While discussing his popular drama Mere Pass Tum Ho which received plenty of criticism, here's what he said:
"It (Mere Pass Tum Ho) is a story of several men, not just one," he said. "I have come across multiple married couples who go through the same ordeal. I've observed when a married woman cheats, she doesn't feel ashamed at all. The reason behind her not feeling guilty is because she has been backed by another man. When an unmarried woman cheats, she feels guilty."

"But when a married man betrays his wife, he feels guilty. He feels embarrassed."
While blaming women for about everything that goes wrong on planet earth, Qamar maintained that women themselves have ridiculed men.
"To me, the only beautiful trait a woman can possess is her loyalty and her haya/modesty. If a woman isn't loyal then she is not a woman. Register an FIR against me for if you don't subscribe to my point of view but I won't budge."
The Kaaf Kangana director further elaborated that he is a feminist to the core, but he is slightly selective about his politics.
"Trust me, you'll not find a bigger feminist in Pakistan, but I fight for good women only. Loyalty is a woman's virtue; don't challenge it."
Since then, he is being mockingly called 'the biggest feminist and progressive writer' as social media users are bashing him left right and center.
Khalil ur Rehman truly believes he is a progressive in Lollywood. 🤦🏽‍♀️ #KhalilurRehmanQamar

— jami (@jamiazaad) November 1, 2019
Among them are a few influential celebrities who are using their voice to discourage such toxic mindsets.
Osman Khalid Butt. Iffat Omar. Ali Gulpir. Meesha Shafi. They're handful of ppl from the entertainment industry who had the guts to call out the blatant misogyny in #KhalilurRehmanQamar's iv.

Everyone else is unaware, perhaps, that KRQ's views are toxic, incel-ly & dangerous?

— Mahwash Ajaz (@mahwashajaz_) October 31, 2019
Popular Pakistani film director, Jami recently took to his Twitter account to express his views on the writer:
Khalil ur rehman Qamar types are present in almost every channel, film company or studio, fashion world, styling, media houses, post production, music industry, we all know it. It shows in our films morning shows News Tv dramas. Darkness is fed openly by creeps. Its all True!

— jami (@jamiazaad) November 1, 2019
Meesha Shafi also took the opportunity to shed light on the matter.
Ummmmmm 🤢🤮😷

Please get help when you're sick. Please. https://t.co/1ivnGab1YH

— MEESHA SHAFI (@itsmeeshashafi) October 31, 2019
Ali Gul Pir, comedian and writer also chimed in.
And this guy is the most sought-after writer in our TV industry. If he is the one writing the dramas then you can expect the kind of shit you see on TV https://t.co/R5txWrNK3Y

— Ali Gul Pir (@Aligulpir) October 31, 2019
And as expected, the Ehd-e-wafa star Osman Khalid Butt also spoke up:
Seriously, though, what fresh hell is this.https://t.co/FzbYNqwJDv

— Osman Khalid Butt (@aClockworkObi) October 31, 2019
Take a look at the full interview here:
What are your thoughts? Let us know in the comments.
Stay tuned to Brandsynario for more news and updates.