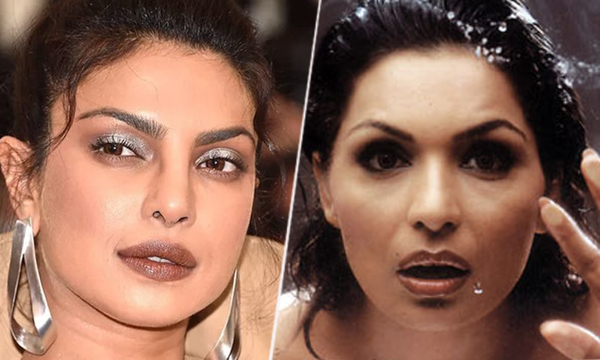 The queen of scandals and all-things-bizarre, the Lollywood lady "Meera" never fails to make us laugh!
It is never her work or accomplishments that make her grab the limelight! The actress is like a firecracker, seeking attention with her quirky 'angreezi', hilarious statements and shocking controversies.
Over the years, Meera has been pretty vocal about how much she hates Mahira Khan.
Often, she has blasted the Raees actress and blamed  Khan for her career downfall.
"Signing up Mahira Khan alone for all projects is a big injustice to all the female artists in Pakistan who are more talented and good-looking than her. However, a particular lobby in the entertainment industry is preventing them from coming forward"
Her rivalry with Mahira Khan still seems understandable as they both work in the same industry.
But who knew Meera considers herself even better than the stars working in Bollywood and Hollywood.
Just recently, the news of Priyanka Chopra signing yet another Hollywood movie with Chris Pratt is making rounds on social media. The update caught Meera's attention and her views about PeeCees's massive feat has shocked us!
In a hilarious tweet to Hollywood, Meera dissed Priyanka Chopra and made us go ROFL!
I m better actress then #PriyankaChopra #universalstudios #Hollywood please consider me.
I m better actress then #PriyankaChopra #universalstudios #Hollywood please consider me. https://t.co/z8MmHYtolZ

— Meera (@TheMeeraJee) July 31, 2018
Of course, her followers were bound to react to this hilarious quip by the Pakistani actress!
Aisa confidence har ek ko nahi milta

— Ali (@KhattakMj) July 31, 2018
People are reminding her that she is poor at English.
Woh to theek hai translater ap hire karogi ya universal studios se karwao gi

— Raza Ali Khan (@thecainmosni) July 31, 2018
And Meera jee didn't even realize that she made a grammatical error in her tweet!
Its "than" not "then". And what kind of a stupid msg was that? Im a better actress so consider me !! Childish!

— Jawad Khan (@ImJawadKhan) July 31, 2018
Consequently, people are mocking her like there is no tomorrow!
Aise bhik mangnese kaam nahi milata pagal aurat😂😂😂😂😂😂#PriyankaChopra pic.twitter.com/dEK9WYnVfG

— Believer❤️ (@Beliver58558797) July 31, 2018
And trolls are having a field day over her tweet!
sanity is too precious nowadays 🤦‍♂️

— Ahsan Javed (@EssenJaved) July 31, 2018
But somebody finally stood up for her!
she is just speaking her heart out , no doubt she is a good actor. At least her tweet is not full of "hate and humiliation" for another human like ur's . Plus language or grammer mistakes cant define her acting skills .

— Bae (@SnowykhaliqSnow) July 31, 2018
What do you think about Meera's tweet about Priyanka Chopra? Let us know in the comments below.