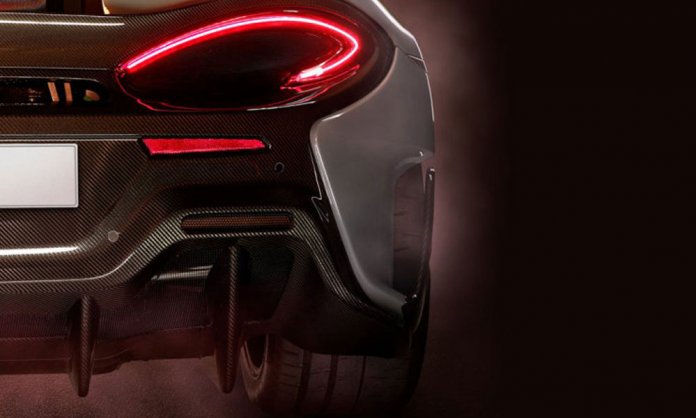 Although most of us will never be able to afford one or even get to drive one, a new model from McLaren is always exciting news. This time it comes in the form of a teaser image hinting at the upcoming 570LT, which will be a hardcore version of its already incredibly potent 570S that's part of the British supercar company's entry-level Sports Series.
The released image is of the rear of the car, which is clearly very similar to the familiar and distinctive rear of the 570S. In this case though, the car pictured has much more aggressive tires than the regular car, and styling changes include side blades for improved aerodynamics and the major omission of an exhaust.
The lack of a conventional exhaust pipe where it would be expected to be seen suggests a top-exit exhaust instead, which as well as producing a fabulous sound is also a good way of saving weight for improved performance.
Existence of a 570LT was unearthed back in March when it was being reported by the UK's Autocar publication the car was finished, but was awaiting an appropriate gap in the busy McLaren launch schedule to open up for a reveal. It's now believed the car will get a full reveal this summer.
As should be expected with any McLaren, especially a hardcore version of an existing model such as this, the numbers associated with the 570LT are impressive. It's believed the powerplant will develop more than 600 bhp, but that's only a relatively minor part of the story as it's McLaren's fanatical dedication to weight-saving and aerodynamics that will contribute most to the expected staggering performance of this car.
The good news is that because the 570LT belongs to the Sport Series of McLarens it won't cost anywhere near as much as the 675LT, which put an additional £65,000 (about US$ 87,000) onto the already eye-watering £195,250 (about US$262,000) price tag of the 650S it was based upon.
Even so, it still won't come cheap as the 570LT could still push the £200,000 barrier, and that's before buyers start adding options such as extra lightweight carbon fibre.