McDonald's seems to be too inspired by Burger King and its latest innovation. Are we on board?
The Bizarre Burger
Mcdonald's has launched a bizarre new burger. It is something you could never have imagined before. It is also something others are showing to each other as punishment, saying that if I saw it, you have to too. 
Meet the new burger complete with Spam, crushed Oreo pieces, and a creamy sauce. Yikes!
Several influencers are sharing the photos as part of Mcdonald's China's promotional campaign. However, they are just dividing the internet further. People aren't sure whether they love it more than anything or hate it more than anything.
More Details On The Oreo Mash-Up Burger
McDonald's China is introducing a new Oreo x Spam burger on December 21. There will be 400,000 produced and sold.

(Look, I saw this, so you have to see it too. Sorry, that's how it works). pic.twitter.com/QCiog64wAY

— Daniel Ahmad (@ZhugeEX) December 18, 2020
 'McDonald's China is introducing a new Oreo x Spam burger on December 21. There will be 400,000 produced and sold,' tweeted Daniel Ahmad. We guess Mcdonald's should keep a wastage place ready to store 400,000 pieces! Keep in mind; this is Mcdonald's China— it is not available elsewhere.
In a follow-up tweet, Daniel claimed people in China 'hate this too'; they are not too happy with this. He also quickly pointed out that McDonald's is an American chain.
'Some of y'all saying 'Why would China do this' seem to have forgotten that McDonald's is an American company,' he added humorously. It's not as if America hasn't had its share of the most strange food combinations!
The Internet Is Divided (Not)
People are not too keen on the new creation. One netizen said: 'Doesn't sound even remotely tasty. Suppose they said just SPAM, ok….odd but ok. But Oreos on a burger of any type is disgusting.' Well, we don't make the rules?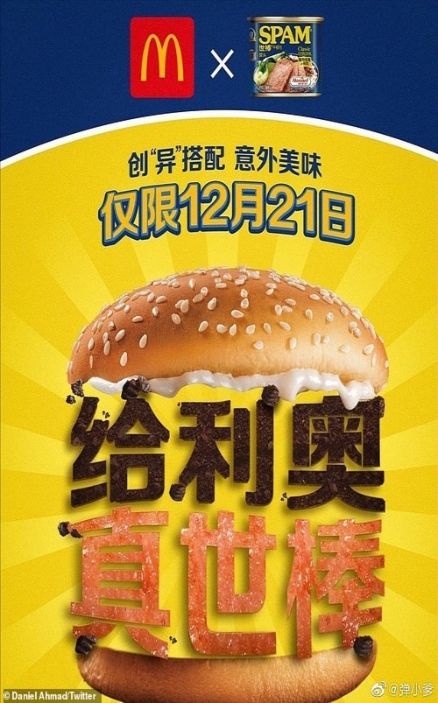 Another netizen also rocked the same boat and said: 'That's disgusting, but China's McDonald's and KFC actually have pretty good creative burgers, but this is just weird.'
However, some are interested in it and wanted to know what form of Oreos are in this burger.
Oreos or No Oreos?
'Are that generic Oreos? Because the fine print on the McDonald's China site points out that SPAM is a registered trademark. Oreo is one, too, but the fine print doesn't mention it. So, are those Oreos?' A Twitter user named Brian asked excitedly.
Moreover, Brian also pointed out there was a similar brand that sells Oreo-like biscuits. He has suggested it might be that on the burger. If that is the case, will there be any reason left to have the burger?
Stay tuned to Brandsynario for the latest news and updates.