In June this year, McDonald's Italy came up with an ad campaign that targeted students. Leo Burnett Milan took this ad campaign to social media to attract students who had been studying for finals. Maria Chiara Alegi is the senior copywriter of the ad.
Along with highlighting the importance and need for breaks from studying, the ad also presents educational facts. The fast-food company presented several posters, all saying, "Is hunger confusing you? Have a tasty break with McDelivery."
McDonald's 2020 Graduation Campaign
Here are some of the posters from the campaign: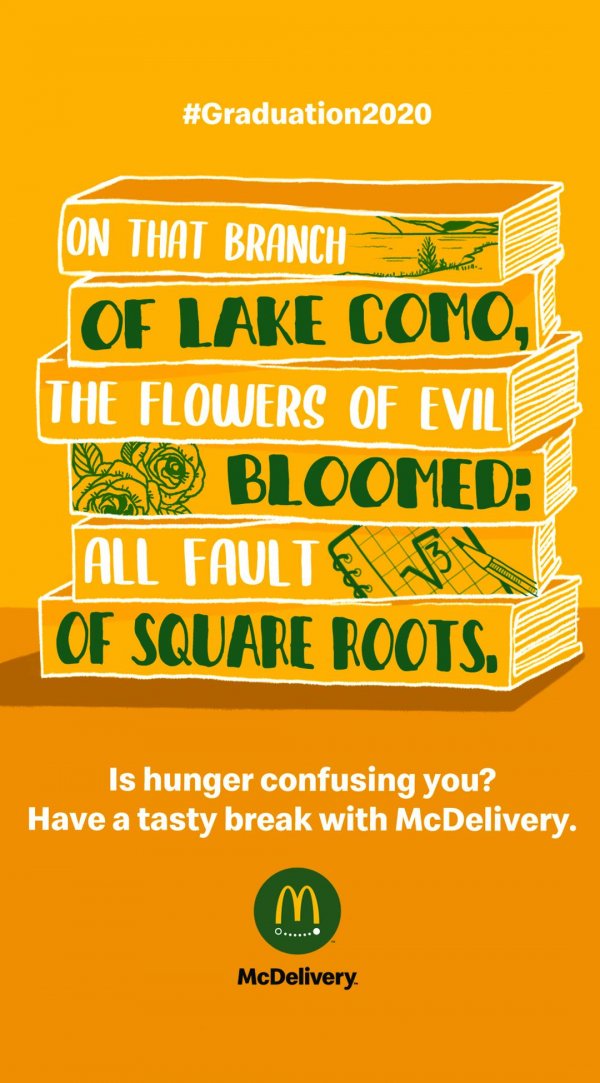 This poster is about the famous artist, Pablo Picasso, and his painting called Demoiselles d'avignon.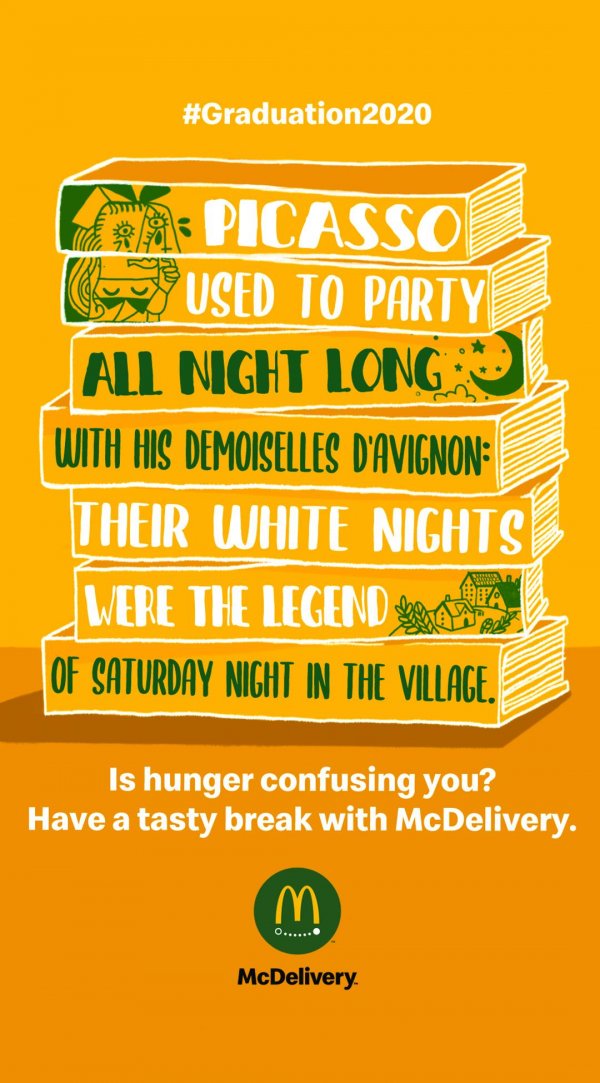 This ad is about Animal Farm, the acclaimed novel by George Orwell.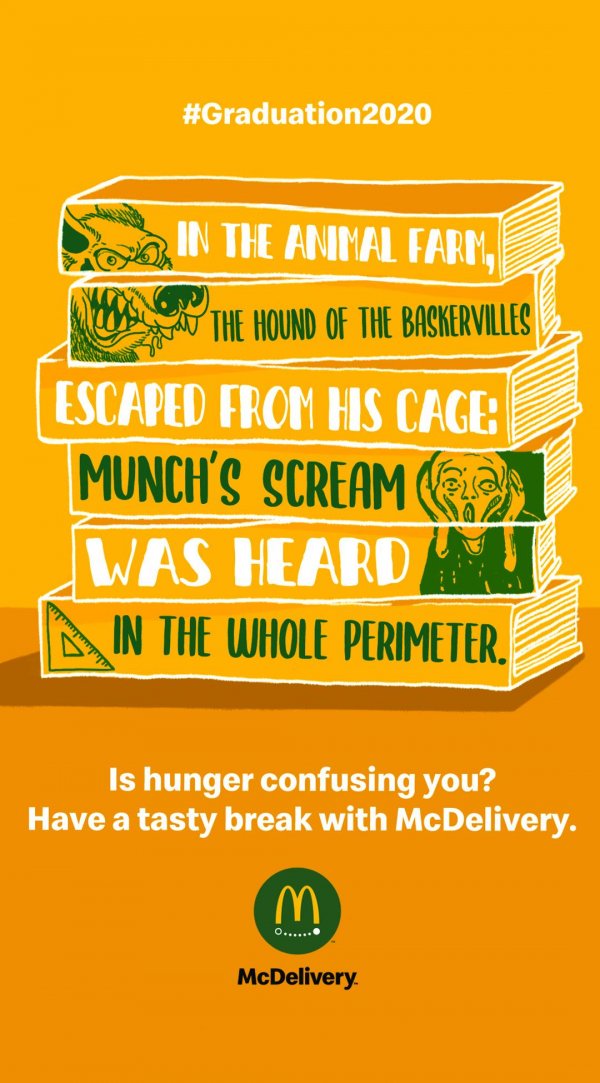 This poster is about the famous Greek myth of Achilles, who died when an arrow was shot at his heel.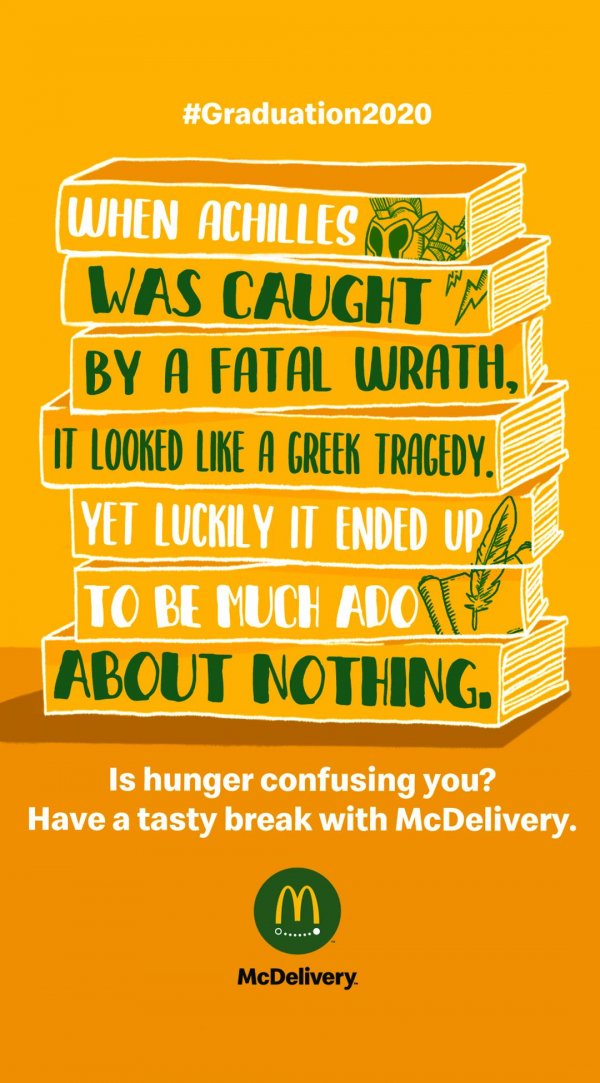 This one talks about renowned Italian poet Dante Alighieri and Alberto Moravia, who was an Italian novelist.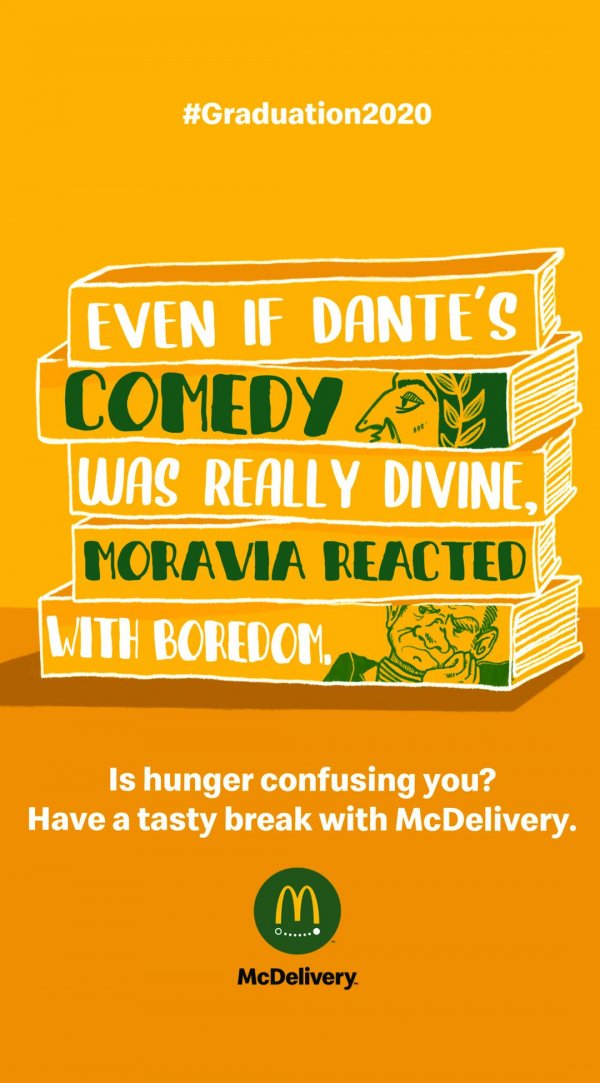 All these ad posters carry facts about historical figures, paintings, and books that are well known to students.
A well-appreciated campaign
The campaign has gathered positive responses from all over the world.
If you think hunger confuses you, imagine how it feels to be (H)ANGRY and patiently waiting for your McDelivery order, that's us everytime (but it's worth the wait!).

We're loving this creative by @McDonalds Italy that focussed on students cramming in for their finals. pic.twitter.com/zSqIGqLBPL

— VIOOH (@VIOOH) July 7, 2020
Targeting the exam stress
Bringing the stress students to feel before and during the exam season to everyone's attention and targeting them through an ad campaign is a great idea. Teenagers and young adults feel the most anxious and stressed, mainly because of their studies.
According to statistics, about a third of teenagers aged between 15 of 19 reported that they feel stressed. Additionally, almost half of survey respondents teenagers said that they feel worried in their daily life. Study and exam stress is not only one of the many factors that affect these teenagers but is, perhaps, the most prominent one.
McDonald's did a tremendous job by targeting students. In Italy, exams before leaving school are considered extremely difficult and is a cause of stress among not only students but their families as well.
What do you think about this ad campaign? Let us know in the comments below.
Stay tuned to Brandsynario for more news and updates.