Engaged to Ali Ansari in the past, Mashal Khan had to endure a breakup. But not every time does it happen that if your ex gets in a relationship, you have to get into a counter relationship. At least Mashal Khan did not do that.
But what's the story?
Suno Chanda actress Mashal had recently taken to her Instagram posting a picture of her. In the pose, one can see her hand with a ring on her engagement finger. Of course, the caption read, "Working on a weekend like usual." It should be clear that she must be in her character getup for whatever project she is a part of. However, netizens took it as her flaunting her ring. And they connected her with another celebrity she keeps appearing in public with, Kasim Khan.
Ali Ansari and Saboor Aly
Netizens also said that this could be a counter-move now that Ali Ansari has gotten engaged to Saboor. The new couple (Ali and Saboor) does seem happy and getting engaged just to show that you are also happy is a very low move that one cannot expect from Mashal.
Before we move on, we would just like to say, Saboor looked gorgeous that evening.
And she proved us right.
She took it to her Instagram story and her statement is just love!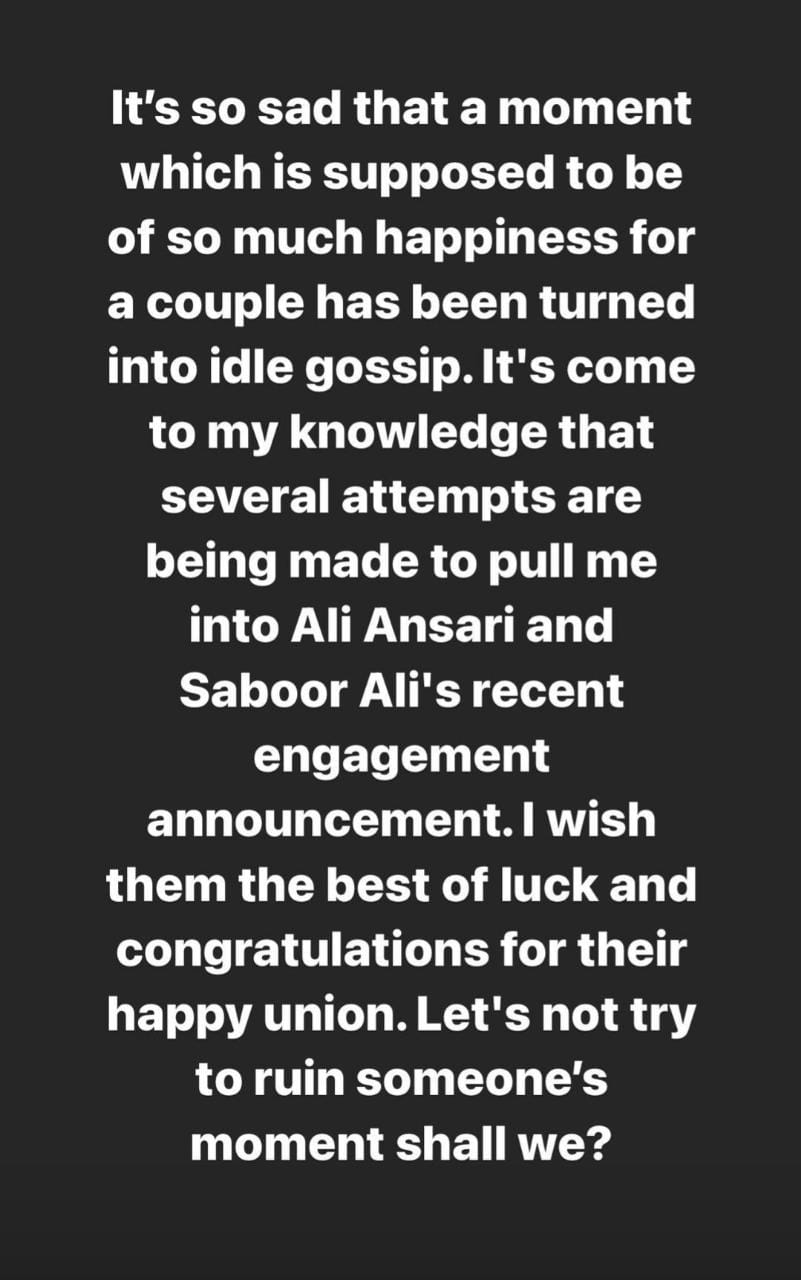 Mashal – Kasim Khan
It could be understandable why people thought that Mashal Khan and Kasim Khan are in a relationship given their pictures and captions that they share. While Kasim Khan called her angel on planet Earth, Mashal called him cutie. Galaxy Lollywood shared their picture on their Instagram account to which Mashal Khan commented, "brother from another mother."

And with that comment, Mashal has dispelled all the rumors of Mashal getting in a counter relationship with Kasim just because Ali Ansari is happily engaged with Saboor Aly.
Stay tuned to Brandsynario for the latest news and updates!