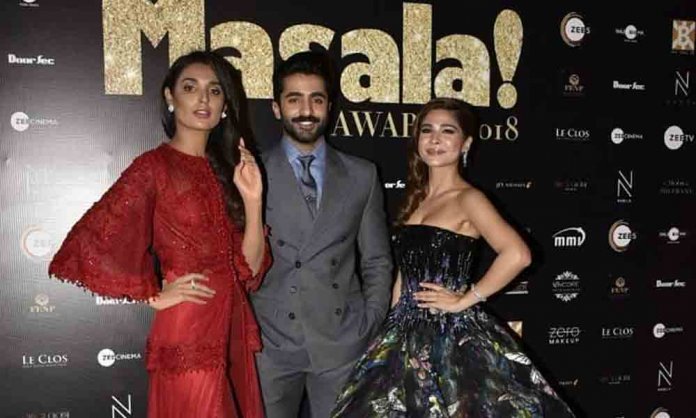 The glitzy and glamorous Masala Awards 2018 took place last night in Dubai, bringing superstars from the Asian entertainment community under one roof together!
Many Pakistani stars, along with Bollywood celebrities, were there to dazzle this ostentatious night, bigger and more glamorous than the last year.
Some of our favorite stars have also received awards for their outstanding contribution to the entertainment industry and we can't be more proud of them!
And of course, they all were dressed up like a dream, ensembled in gorgeous outfits designed by world famous designers.
Mahira Khan Shuts Down Troll Over Viral Pictures With Ranbir Kapoor!
Where ladies were all about flaunting gowns, our handsome gentlemen went for a dapper look in 3-piece, bringing an extra charm to the evening!
Here are all the stars that were spotted at the event!
Ayesha Omar
Wearing this navy blue gown by Michael Cinco and with a sleek hairdo, Ayesha Omar looked oh-so-flawless last night.
The diva has also won the award for the Most Stylish Star at the Masala Awards 2018 and she totally deserves this!
And these picture of Ayesha Omar, Sheheryar Munawwar and Kartik Aaryan having fun together at Masala Awards 2018, will make your day!
2. Sheheryar Munawar Siddiqui
The neat and dapper look of Sheheryar Munawar Siddiqui in this 3-piece by Ismail Farid was to die for! The 7DMI actor has also grabbed the award for the Most Versatile Actor last night.
3. Amna Ilyas
The supermodel rocked her sassy blood red ensemble last night like a boss!
Wearing this red hot outfit by Faraz Manan at Masala Awards 2018, the supermodel turned actress looked absolutely stunning, winning the award for the Agent of Social Change.
4. Osman Khalid Butt
If someone can rock this glittery gold jacket while looking as dashing as ever, he has to be Osman Khalid Butt!
The Balu Mahi actor has also won the award for the Agent of Social Change along with Amna Ilyas, his co-actress in the upcoming film Baaji.
5. Ali Rehman Khan
And then there was Ali Rehman Khan with his dazzling blue eyes, looking all handsome in this suave black suit.
7. Frieha Altaf
Ensembled in this gorgeous outfit by Maheen Karim, here's the look of Frieha Altaf all ready to attend Masala Awards 2018.
6. Kareena Kapoor
If we talk about Bollywood celebrities, Kareena Kapoor was certainly the highlight of the day.
The ever-gorgeous diva of Bollywood flaunting this lovely outfit by Faraz Manan and became the center of attention at Masala Awards 2018.
Kareena knows just right how to slay in every look and she has also won the award for the Asian Icon of the Year.
7. Kartik Aaryan
Kartik Aaryan, the trending actor of Sonu Ke Tittu ki Sweety, went for an all gentlemen look and have a look at how he rocked the stage while performing with the famous Punjabi singer Navraj Hans.
These Pakistani Celebrities Took Up iDisconnect Challenge & Here's What Happened!
Originally published on Veryfilmi.com